Nestled between Manhattan, Queens and the Bronx, Randall's Island and Wards Island have had a long history of providing public services for the city of New York.

Prior to being conjoined in the 1960s when the Little Hell Gate channel that separated them was infilled, the islands were the site of institutions, including a boys' home, a hospital, and a home for Civil War veterans.
The islands were first designated for recreational use by Robert Moses – New York's "Master Builder" of the 20th century – and parkland began being developed in the 1930s. Since then, the island has become one of the city's main recreation hubs that includes biking and walking paths, baseball and soccer fields, tennis courts, a golf center, and Icahn Stadium, a dedicated track and field facility. Additionally, the island hosts police and fire facilities, as well as a wastewater treatment plant.

To ensure a reliable supply of water for the multiple public buildings located on the island, the New York City Department of Environmental Protection (DEP) undertook a $19 million project to upgrade the drinking water supply connection by building a tunnel under the Bronx Kill, which separates the island from the Bronx on the mainland. In addition, a new gas main for ConEdison was constructed adjacent to the new water main.
"This investment will help to ensure a reliable supply of water for the many critical facilities that operate on Randall's and Wards Islands," said DEP Acting Commissioner Vincent Sapienza.

DEP funded the project, turning project management over to the Department of Design and Construction (DDC). Project planners turned to microtunneling to construct the new pipeline. Microtunneling was selected due to its non-invasive qualities in the park area and wetlands along the shoreline. On the Bronx side, microtunneling reduced disruption in an industrial and commercial area that included railroad tracks along the alignment.
RELATED: NAMA – Shaping the Microtunneling Market

The project was initially envisioned as a 36-in. diameter microtunnel that would house the 20-in. water line. However, due to the difficult, weathered rock anticipated along the alignment, the contractor, Colts Neck, New Jersey-based Cruz Contractors, proposed upsizing the bore to 60 in. to be able to use a more powerful machine better capable of navigating the difficult ground. Cruz also proposed using a single tunnel to house both the water main and ConEdison's new gas main, but the agencies decided to keep the tunnels separate.
Ultimately, planners decided to move forward with twin 60-in. diameter microtunnels, each approximately 920 ft long and 40 ft apart. The preliminary plan was 600-ft long tunnels, but the drives were extended to reduce disruption on the Bronx side.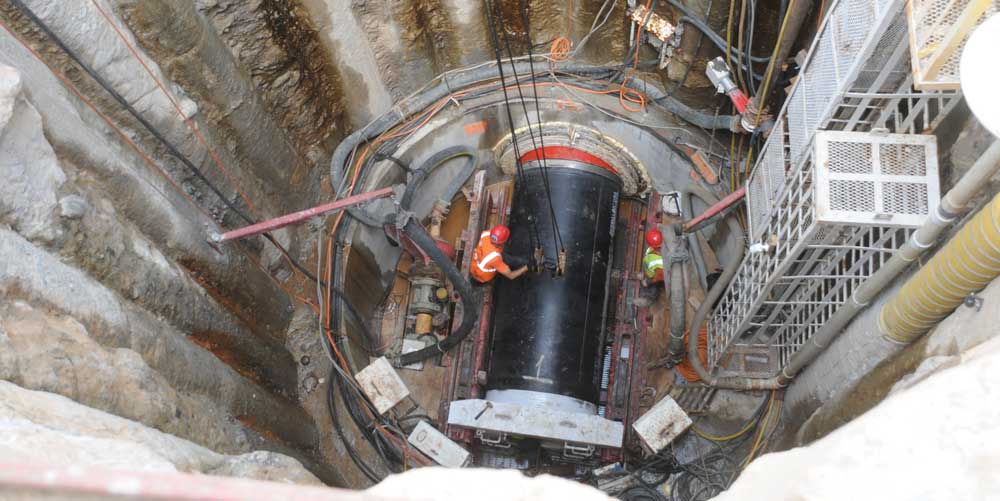 Two 20-ft diameter, 58-ft deep launching shafts were constructed on Randall's Island, and two 64-ft deep receiving shafts were constructed on the Bronx side. One receiving shaft was built in an elliptical configuration to reduce the footprint and avoid impact on a 100-year-old box culvert in the area. Shaft support was performed by Kiewit Foundations Group using a secant pile support of excavation system.

RELATED: Interceptor Installed Using Microtunneling in Baltimore Park

Shaft excavation was in the wet with tremie base slabs. While excavating the shafts, Cruz Contractros encountered fill material that proved to be very challenging. "We ran into cobbles and boulders the size of cars, it was very challenging to excavate," said Cruz's Franco Cangialosi.

Tunnel excavation – using a Herrenknecht AVN 1200 – presented challenges too. The expectations were that the alignment would cross glacial till on the Randall's Island side and transition to weathered rock on the Bronx side. However, a section of fine sand was encountered in the middle of the alignment that that increased friction and jacking forces that crews were successfully able to manage.

After tunnel excavation, a 20-in. diameter ductile iron pipe water main was installed in one tunnel and a 12-in. diameter HDPE high pressure gas main in the other. The project also includes 1,200 ft of near-surface water main and two miles of gas main, flow meters and valve chambers, all constructed by open-cut.

McMillen Jacobs Associates provided resident engineering and inspection services as prime consultant to DDC.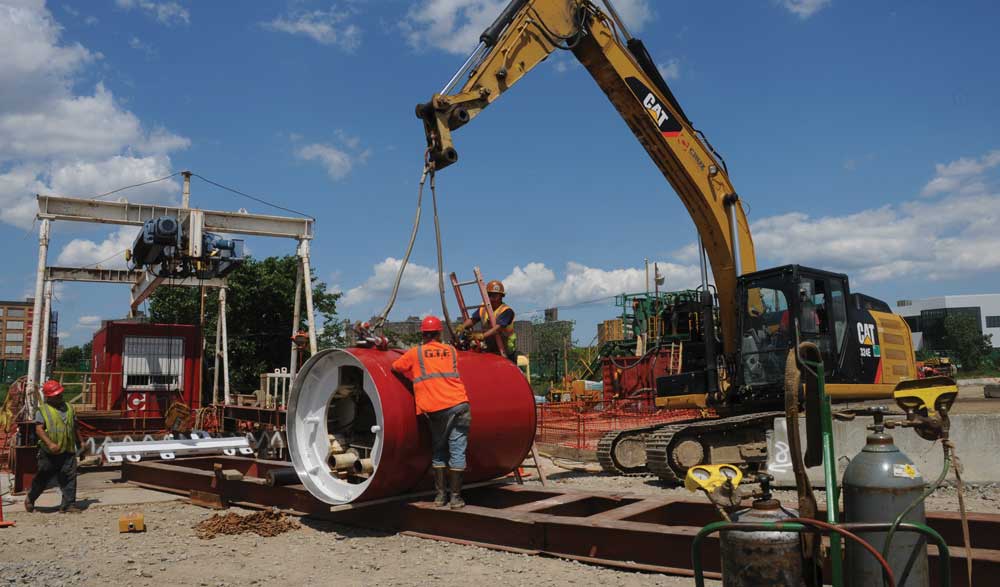 DEP manages New York City's water supply, providing approximately 1 billion gallons of high-quality drinking water each day to more than 9 million residents, including 8.5 million in New York City. The water is delivered from a watershed that extends more than 125 miles from the city, comprising 21 reservoirs and three controlled lakes.

RELATED: 2019 Trenchless Technology Project of the Year New Installation Runner-up: South Surrey Interceptor Johnston Road Section

Approximately 7,000 miles of water mains, tunnels and aqueducts bring water to homes and businesses throughout the five boroughs, and 7,500 miles of sewer lines and 96 pump stations take wastewater to 14 in-city treatment plants.

The Department of Design and Construction is the City's primary capital construction project manager. DDC provides communities with new or renovated public buildings such as firehouses, libraries, police precincts, new or upgraded roadways, sewers, water mains in all five boroughs.

"With the tremendous number of events and activities being offered, as well as crucial City services such as the FDNY training academy, it's important to improve the redundancy of the water supply to these islands," said former DDC Acting Commissioner Ana Barrio, who now serves as Deputy Commissioner of DEP's Bureau of Engineering Design & Construction.