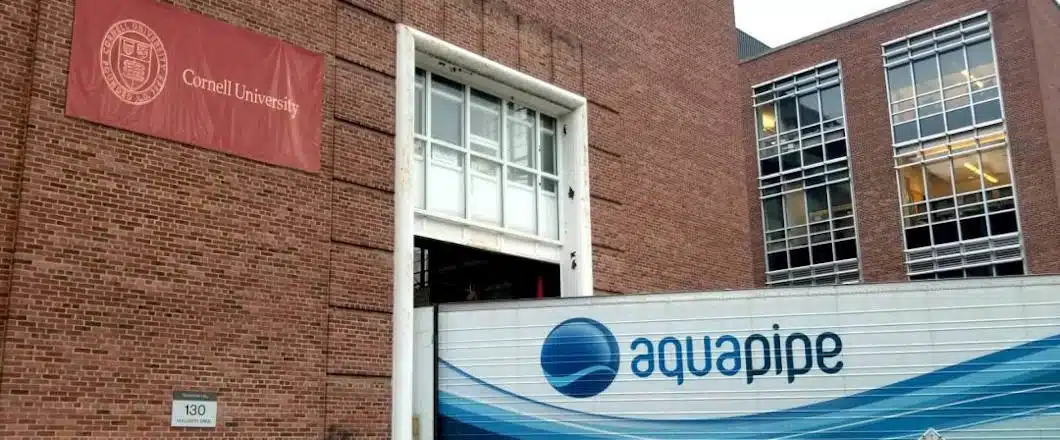 On June 2, Cornell University's School of Civil and Environmental Engineering issued its report "Performance Evaluation of Aqua-Pipe under Earthquake-Induced Ground Deformation."

The report details technical findings confirming that SANEXEN Environmental Services Inc's Next Generation Water Technology is proven to withstand severe earthquake conditions. The complete report can be found here.
RELATED: Attend the "Delivering Reliability, Resiliency and Sustainability" Webinar on June 16.

Rigorous testing at Cornell's Geotechnical Lifelines Large-Scale Testing Facility in Ithaca, New York this past December, investigated the performance of SANEXEN's Next Generation Water Technology under large ground deformation. The tests were performed on new ductile iron (DI) and older cast iron (CI) pipes lined with Aqua-Pipe Next Generation. Test scenarios included among other factors, axial force (tension and compression), four-point bending and large-scale fault rupture. These are all forces that are present during seismic events and other events causing large ground deformations.
The tests confirmed conclusively that the pipe lined with SANEXEN's Next Generation Water Technology, with an internal water pressure of 80 psi, is able to withstand large degrees of ground deformation and abrupt ground rupture. The pipe would have kept its integrity through the most severe levels of liquefaction-induced ground deformation that occurred during the 1906 San Francisco earthquake, which caused extensive damage to the San Francisco water distribution system.

RELATED: Next Generation of Aqua-Pipe Technology Now NSF 61 Certified
"As confirmed within our report, the resilience achieved by the Aqua-Pipe technology has surpassed everything we have tested so far. This is the best result we have seen and actually achieved the maximum we could test," explained Thomas Denis O'Rourke, professor of engineering in the School of Civil and Environmental Engineering at Cornell, and who oversaw the testing. "This Next Generation of Aqua-Pipe performed extremely well under extreme seismic forces."

Martin Bureau, vice-president, innovation at SANEXEN stated, "We are pleased to share the results of testing on our Next Generation Water Technology. These results far exceed what we had expected for Aqua-Pipe Next Generation resilience, and, most importantly, communities and cities now have a clear and proven solution that can protect and secure their underground lifelines with certainty for everyday use and in cases of extreme seismic activity."
RELATED: Last Word – Canada Is a World Leader in Structural Lining of Watermains

"This will be of particular interest for cities and towns facing aging water main infrastructure and that are located in earthquake-prone areas of the USA and Canada, and for many other communities that are seeking the industry's most proven solution for resilient water infrastructure," reinforces Benoît Côté, president, SANEXEN Water Inc.

SOURCE – LOGISTEC