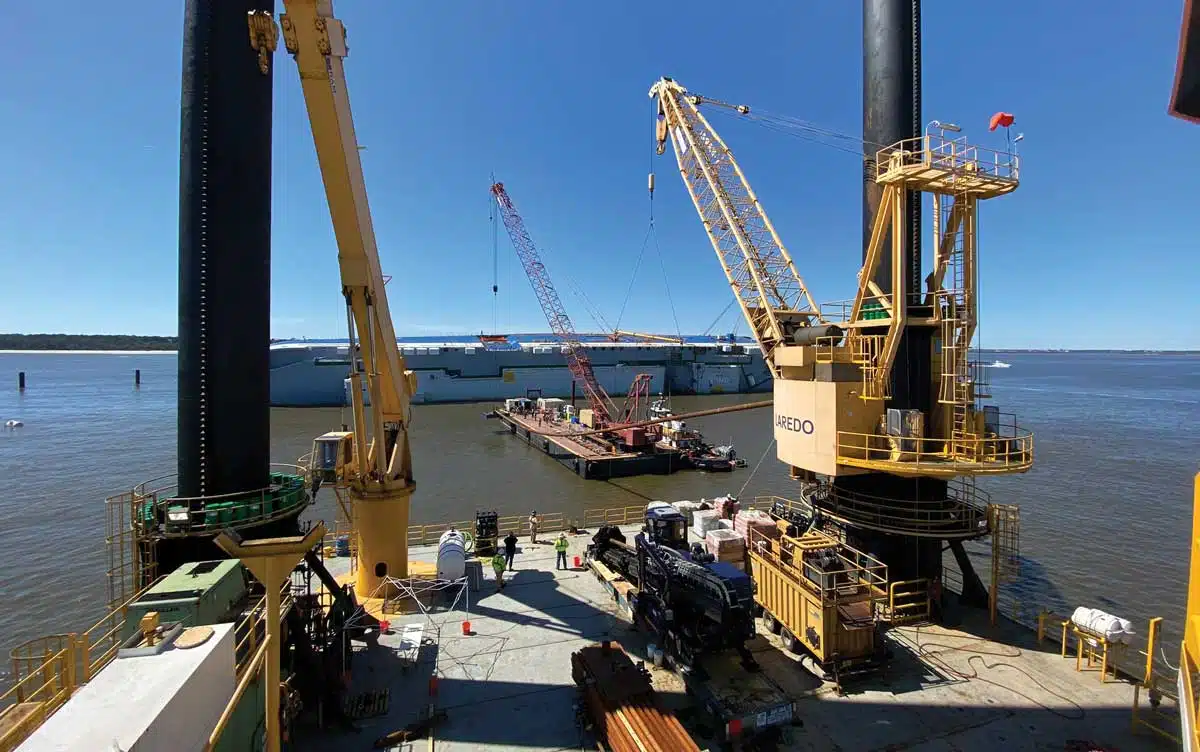 You have to know where you are going when drilling underground — obvious, but important.
Steering technology has played — and continues to play — a vital role in the growth, expansion and success of the horizontal directional drilling (HDD) market. From incredibly long crossings under water to just a few hundred feet beneath railroad tracks, ensuring the accurate location of the pipe being drilled during pilot hole operations is the objective of this game-changing technology. Period.
Brownline USA has been a leading manufacturer and supplier of gyroscopic steering tooling (GST) since 2007, when the company was known as SlimDril International and partnered with Netherlands-based Brownline to bring and adapt the European technology known as the DrillGuide to the United States. Brownline acquired SlimDril in 2018, becoming the catalyst for the Texas company to extend its reach throughout the United States, as well as into Mexico and Central and South America.
Initially slow to win over customers already accustomed to magnetic steering technology, today, GST is a proven, unduplicated and key component in many HDD projects around the globe. In fact, the use of the Brownline gyroscopic technology has been utilized in at least 17 Trenchless Technology Project of the Year winning projects between 2011 and 2022, creating a "wow factor" buzz about the technology. Between 2007 and 2022, per company figures, the GST has been a part of over 21,000 projects worldwide — numbers that continue to climb.
Brownline USA is led by a trio of experienced and respected HDD veterans in president Jim Cloud, vice president of operations Rollin Boyd and business development manager Tom Forconi — whose combined HDD experience total more than 100 years. Together with the rest of their team, Brownline USA has a laser-focused mission to provide HDD drillers the technology they require to complete their complex projects, no matter the size or length. That the company is 100 percent focused on the HDD market, gives them an edge in the highly competitive world of steering tool technology, they say.
"We are 100 percent dedicated to HDD operations. That's what we focus on," says Forconi, who brings the perspective and expertise of an operator to the Brownline USA table, from his years prior working for a HDD contractor. "We committed ourselves to this industry and to the development of equipment 100 percent for this industry," he adds. "Our gyroscope [technology] is not used anywhere else but in HDD. That is what makes Brownline successful and unique."
Once just a staple of the HDD oil and gas pipeline market, the DrillGuide's reach is finding its way to other types of utility work, such electric, water, sewer, as well as alternative energies. "A look at our history, it's predominantly been oil and gas," says Boyd, who joined the trenchless market in 1982. "We used to be 99 percent oil and gas work but now about 10 to 15 percent involves 'other' type work, such as electric distribution."
And Brownline USA sees that percentage continuing to grow through a more educated customer and potential customer base — with company leaders taking active roles in sharing their expertise with the HDD market. They don't want to just advocate for their technology but for HDD and the trenchless industry as a whole.
Cloud explains their business this way, "Today, as we speak, our tools are being used on an 8,000-ft crossing and on another that is 350 ft. The size or the length does not matter."
Brownline USA – Getting Started
Home for Brownline USA is Brookshire, Texas, a small, rural town located just west of Houston — the heart and soul of the oil and gas industry. As noted above, Brownline USA was first known as SlimDril in the early days of HDD, providing HDD drilling tools to the trenchless industry and later forged into the magnetic steering sector of trenchless in 1988. Boyd and Cloud joined the company in the early 1980s and by 1998, they were running it, which was rebranded to solely focus on the HDD market.
Fast-forward to 2007. Brownline leadership was eager to bring its innovative gyroscopic steering tool technology to the United States' growing HDD landscape. Brownline was formed in 1994 by Hans DeBruin, who himself was an HDD contractor. According to Boyd, DeBruin adapted a military grade gyroscope for use in the HDD market and the technology had made its mark in Europe. Brownline officials traveled to the United States, looking for a strategic partner to market the steering tool. Enter SlimDril and a partnership was soon finalized.
Initially, SlimDril continued to sell both its own magnetic steering tool services, as well as the Brownline DrillGuide Gyro services. But by 2010, the switch was made to just the Brownline GST. By 2018, Brownline acquired SlimDril, rebranding the company as Brownline USA.
Today, the Brownline USA team services HDD contractors all throughout the United States, as well as Mexico and Central and South America. Where there is HDD work, there is Brownline USA. "Wherever the work is, wherever our customers are working, that's where we are going. We follow the HDD contractors," Forconi says. "And right now, it is all over."
When the DrillGuide was first introduced to the U.S. HDD market, the reaction from HDD contractors was tepid, at best — but that was not unexpected. The GST technology was new and, in the minds of drillers, unproven. "It was definitely guarded at first," Cloud remembers. "No one had ever punched a gyro out of the ground before. In the oil field, you never miss a target when it's 10,000 ft deep. Here, it has to come out of the ground so you can see how accurate you are. But through hard work and R&D, [customers] came around.
"It took awhile to get accepted and we've had a lot of success," Cloud continues. "It took awhile but we've done nothing but drawn straight up from there with acceptance and success of the tool."
What exactly does the gyroscope steering tool do? Simply put, the technology tracks the location of pipe during pilot hole operations and sends back all the data (such as depth and left and right) to the drill operator and engineer, stopping at various points to log and send the data. Whereas a magnetic steering tool requires a surface coil and uses the magnetics of the earth to drill, the GST does not and isn't susceptible to magnetic interference.
"Gyroscopic bases everything on true North, which is a constant, one point that the earth spins around that never changes," he says. "Magnetic North changes all the time and is affected by manmade objects underground. While those [underground] anomalies have an adverse effect on a compass, the gyro will stay in that direction."
Previously with magnetic anomalies, if you were not able to install a surface coil or induce an artificial magnetic field to supercede the magnetic anomaly, a traditional magnetic tool became complicated or impossible to use with a major decrease to the accuracy. "And that was a big impact, coming from an operator's perspective," Forconi says.
In recent years, Brownline has introduced more innovative technology, such as a wireless magnetic steering tool, in addition to its Radar Intersects technology, which allows for longer HDD intersect crossings. With the latter technology, modules are added to the gyro steering tool. The Radar systems communicate with each other to accurately determine the position relative to each other. With this positional information, a quick and seamless connection can be made between the two bore holes. "One of the single biggest evolvements of HDD has been the ability to extend the crossing lengths to 15,000 and 16,000 ft lengths and beyond," Forconi notes about intersect work.
Cloud says the Brownline team has more technology under development, including a wireless gyroscopic steering tool and gyroscopic steering tool for smaller rigs. Currently, the Brownline technology is used on rigs 80,000 lbs in size and larger; technology under development right now is for rigs as small as 20,000 lbs. "We are in the testing phase for these new technologies that will broaden our horizons and expand our [customer base]," says Cloud.
Contractors today are doing bigger jobs with smaller rigs and Brownline intends to be able to support this growing trend. "We're going to evolve with the industry," Boyd says. "You have to grow and keep your technology in line with what the contractors are doing."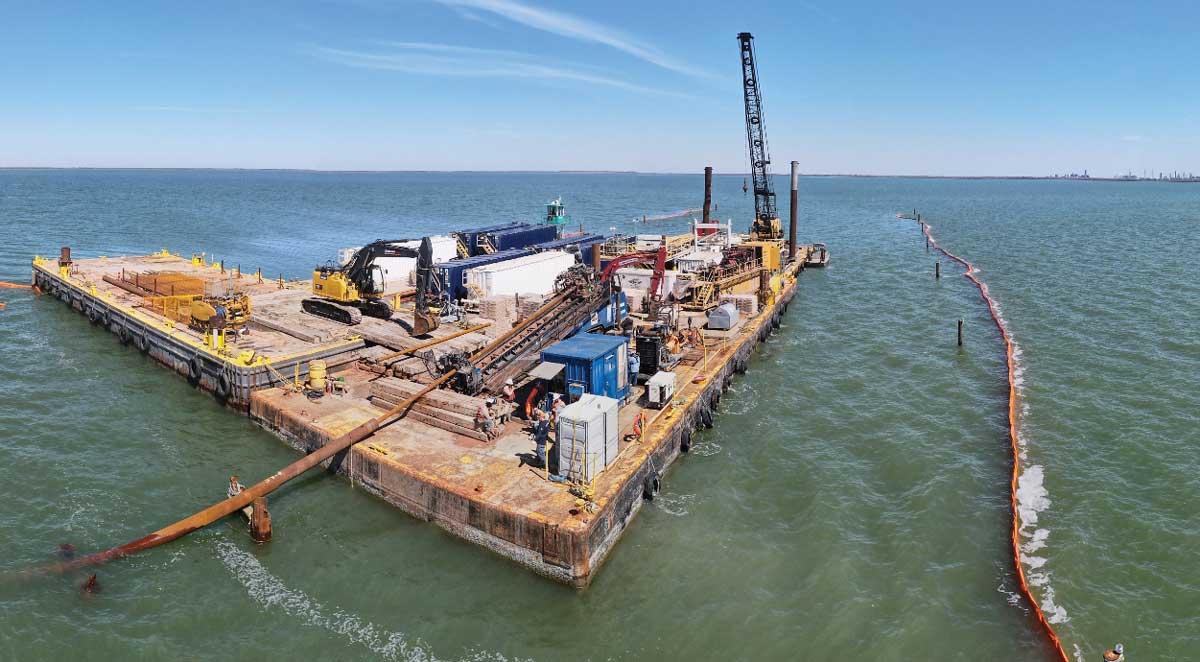 Education and Love of HDD
Simply put, the Brownline USA team loves the HDD market and all its moving parts. They want to see it continue to grow and expand into more market segments. They want to share the knowledge they have gained over their tenure in HDD with the current and next generation of trenchless technologists — be an advocate for what HDD is and what it can do. That's why they make time to attend and participate at the various trenchless association conferences, such as DCA and NASTT's No-Dig Show.
"We don't want to go out and just say our tool is better than that one or this one," Forconi says. "The people we are educating in those sessions are the future. They are the ones who are stepping up and we want them in our industry. We're trying get education to a higher level and bring and keep people in the industry."
Cloud and Boyd concur, noting that it's not about singing the praises of the company's equipment but sharing what they have learned over the years about HDD and trenchless — an industry they love being a part of. Education is a critical component for the industry to move forward and expand, they say.
"We spend a lot of time with the engineers and oil and gas companies about choosing the right tool for their project," Boyd says. "But we are educating even more on the use of trenchless technology as a whole. There are people in the up-and-coming markets, such as electric and carbon capture, etc., who don't know what HDD is about."
What is unmistakable in talking with the Brownline USA team is their genuine respect and admiration for trenchless technology and the longstanding relationships forged with customers, colleagues, and even competitors. "You have to love trenchless to stay in it as long as we have. What we love about this industry is that even though it is a multi-billion-dollar industry, it's small, [meaning] over time you run into the same people whether competitors or not and you become friends. It's an odd industry in relation to that."
Future Plans
Trenchless technology — and the HDD sector in particular — is in a strong position currently and going forward. And the industry continues evolve. That's the perspective offered by the Brownline team. "And our customers are doing the same. Our customers are literally changing their names to names outside of drilling," Cloud notes, adding they are removing that reference and including the term "infrastructure" to reflect they do more than just pipeline work. "We are evolving with them."
They don't downplay or sugarcoat the challenges that HDD faces going forward, noting in particular recent activism against pipeline drilling. "The political landscape is 180 degrees different than what it was three years ago," Cloud says, adding that the permitting process, once stalled, is beginning to open up again. "People hear the word drilling and right away they think of the worst-case scenario. Pipeline as a whole has taken a big hit whether through political or environmental activism and ignorance of what we do. That's why it all circles back to our educational philosophy."
As a company, the team is looking to continued growth through business development, education and research and development. "The market coming up right now, due to the [Infrastructure Investment and Jobs Act]," says Boyd. "2021 and 2022 was very competitive for the industry because the work was way down. Now, in the last of the fourth quarter of 2022, we saw an uptick and, definitely in 2023 we are seeing marketing coming up."
And Brownline USA plans to be ready for whatever its customers need. "As long as our customers have something to put underground, we're there for them," Forconi says.