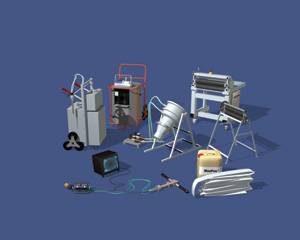 For many, the word "trenchless" brings to mind a variety of technologies that enable us to repair and rehabilitate underground pipes without excavation. But the application for trenchless technologies — particularly cured-in-place pipe (CIPP) — is expanding into an above-ground industry that many have never considered before: commercial and residential buildings.
In underground applications, CIPP has established itself as an economical, effective and non-intrusive way to repair pipes with minimum disruption. CIPP is a relining process that creates a new pipe within an existing pipe. It starts with a quality felt liner that is measured to the exact specifications and dimensions of the pipe to be relined. The liner is saturated with a specially formulated resin through vacuum impregnation to ensure that the resins are evenly distributed and all potential for air pockets are removed. The saturated liner is then inverted or pulled into the existing pipe. Next, hot water or steam is used to cure the resin and form a tight-fitting, highly structural replacement pipe. Any side connection areas that may have been covered with the lined pipe are then reinstated, and the new pipe within a pipe is renewed, repaired and ready to be put back in service in a fraction of the time of traditional replacement methods.
Lateral relining, in particular, has become especially attractive to homeowners because of the non-destructive nature of the process, enabling pipe repair without digging up expensive landscapes, driveways or sidewalks. These benefits are multiplied when it comes to the CIPP repair and rehabilitation of vertical pipes within buildings. This process eliminates the need to break through and replace drywall or expensive plaster, brick and even concrete, minimizing disruption to tenants and residents.
Bill Kane, a trenchless industry expert with more than 10 years experience in vertical CIPP relining, was quick to answer when asked about the advantages of CIPP over traditional replacement methods. "That's easy," he said. "Time and money. Time is especially important when it comes to buildings such as hospitals and universities. They can't shut down for the week or two it would take to replace the pipes. Instead, the CIPP process allows minimal disruption, and the job is done in just a day or so."
"Money is also very important to building owners," Kane continued, "and when CIPP is used to reline verticals, basic replacement costs are avoided. It's faster, easier, cleaner, and less expensive, with very little downtime. Once the lining is done, you have a much tougher line that doesn't require replacement for up to 50 years. But another, less obvious benefit is the ability to maintain the integrity of historical buildings. With traditional replacement methods, the walls are destroyed and the cost to open up a wall and put it back together in its original condition is not only expensive, it is impossible. The building will lose its historic value, but this can be avoided when the pipes are relined, preserving the integrity of the original structure while saving both time and money."
The opportunity this new market opens up for the trenchless industry is remarkable, because the market  potential in the building industry is astronomical. The variety and types of buildings primed for vertical CIPP repair include educational, government, correctional, airport, military, hospitals, hotels, industrial, retail, warehouse, office buildings and even parking structures. According to the 2009 Modernization and Construction Building Trends in the Building Industry Market (a research report conducted by Buildings Magazine), 41.4 percent of respondents within these categories planned to modernize at least a portion of their plumbing systems in 2010.
While current awareness of this trenchless technology among building facilities managers and owners (those who typically make decisions regarding building repairs and improvements) is relatively low, both existing and newly created CIPP companies are beginning to market to this segment through compliance to stringent code requirements. Code compliance to accepted industry standards is a critical measure in providing building managers and owners with the confidence they require that the relining job will be done right.
A leader in this effort is MaxLiner LLC, which has received confirmation from ICC Evaluation Service Inc. (ICC-ES) — the country's leader in evaluating products for compliance with building codes that MaxLiner's CIPP System complies with the provisions of the 2009 International Plumbing Code (IPC) and the 2009 International Residential Code (IRC). ICC-ES further confirms MaxLiner's compliance with a number of standards, including:
ASTM F 1216, Standard Practice for Rehabilitation of Existing Pipelines and Conduits by the Inversion and Curing of Resin-Impregnated Tube, ASTM International;
NSF 14, Plastic Piping System Components and Related Materials, National Sanitation Foundation; and
LC 1011, ICE-ES PMG, Listing Criteria for the Rehabilitation of Existing Building Drains and Building Sewers by the Inversion and Curing of Resin-Impregnated Tube.
MaxLiner is currently the only CIPP system to be listed under ICC-ES PMG-1050, which is the Sanitary Waste and Vent Piping Plumbing Specialties product category. MaxLiner is leading the way for the trenchless industry to raise the quality of CIPP rehabilitation in a new, relatively untapped market outside of traditional applications in the municipal arena.
A nonprofit, public-benefit corporation, ICC-ES, does technical evaluations of building products, components, methods and materials. The lengthy and strenuous evaluation process culminates with the issuance of reports on code compliance, which are made available free of charge to code officials, contractors, specifiers, architects, engineers and anyone else with an interest in construction and the building industry.
ICC-ES president Mark Johnson explains why ICC-ES PMG listings are so important. "A company that receives the code can now reference the listing to ensure code officials and the building industry that the product meets code requirements as well as other applicable standards. Code compliance is an added feature not normally offered in a listing program. Our program also stands out because of the tremendous technical knowledge of the ICC-ES staff and the Product Listing Committee, and ICC-ES's sharp focus on technical issues and code compliance. The PMG Program is a tool that the code official may use in making a final decision on approving the product. Final approval of building products, of course, is always in the hands of the local regulatory agency."
"This is an exciting time for the CIPP market," explains MaxLiner director of business development Gil Carroll. "And perhaps the greatest benefit is the significant market expansion opportunity this provides for the industry as a whole, and specifically our MaxLiner installers. This was an exhaustive evaluation process, and it has taken us many years and a significant investment in capital and manpower to meet ICC-ES' strenuous requirements. But we feel the pay-off will be enormous. We have always had the capability to provide vertical lateral rehabilitation. Now, with ICC-ES standing behind the MaxLiner System, our entrance into this alternative market creates incredible opportunities for our installers, and makes the MaxLiner System even more attractive to potential customers who have been evaluating an investment in our system."
Sheila Joy Thomas is president of New Phase Marketing Inc., in Reston, Va.