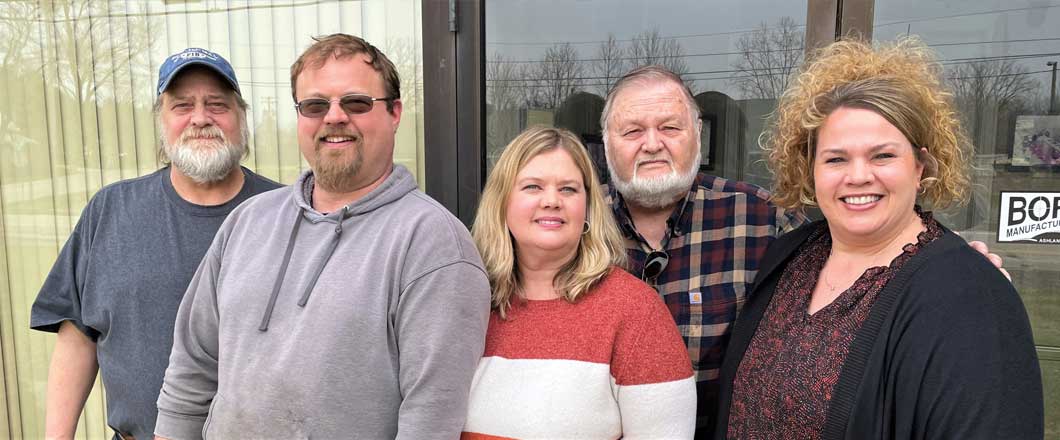 Family-owned and operated Bor-It Mfg. celebrates its 35th anniversary in 2022, a milestone attained by focusing exclusively on auger boring technology. The company made its mark in this trenchless segment even before the term "trenchless technology" became mainstream and there was a trenchless media presence to share its products and story.
The Ashland, Ohio-based manufacturing company carved out its place and reputation with the auger boring market by building high-quality and reliable equipment and in the process cultivated long-standing relationships with its customers — some going back as far as when Bor-It opened its doors in 1987.
The company may have had earnest beginnings but today, Bor-It manufactures nine auger boring machine models, ranging size from 4-in. diameter to 72 in. diameter, all sporting the company's orange brand colors. The brand also produces augers and cutting heads.
All of this began with the idea of company founder Michael Albers, a U.S. Army veteran, who used his determination and understanding of the horizontal earth boring market to establish Bor-It Mfg. as one of the leading auger boring brands.
"By the grace of God and the generosity of our customers we are still here and I appreciate every one of them," says Albers.
RELATED: Bor-It Stays Grounded in Auger Boring
Albers turned over the reins of the company to his daughter Michelle (Albers) Eberling in 2010 but has remained a strong presence at the manufacturing facility, serving in an advisory role. The company also touts Albers' son Michael, who is in charge of the machine shop, as well as his daughter Melissa (Albers) Stewart, who works in the accounting department. Albers' brother Jay is the shop supervisor, lead machine builder and has worked at Bor-It for more than 20 years.
"All we manufacture is auger boring equipment. That's all we do," says Eberling. "He's always wanted to stick just with auger boring and didn't want to pursue [other installation methods] such as horizontal directional drilling. He wanted to stay with what he knew and what he knew worked well out in the field."
Getting Started
After his discharge from the service in 1970, Albers joined Richmond Mfg., a horizontal earth boring company that was based in West Salem, Ohio. He was initially hired as the company's pilot but that position meant spending countless long and unproductive hours waiting at airports. He turned his attention to drafting and later went into equipment services and demonstrations, finally landing as the company's sales manager.
A turning point came in the mid-1980s when Richmond Mfg. was put up for sale. Not wanting to start over under new owners, Albers chose to leave. Electing not buy his old company, Albers embarked to create his own, selling horizontal earth boring equipment.
"That was in 1987 and Dad started from scratch," says Eberling.
Bor-It Mfg. focused on designing, manufacturing and selling auger boring machines and augers and cutting heads. Based a few miles from his old stomping grounds, Albers steadily grew his company from its then 8,000-sq ft facility and has since expanded by more than 4,000 sq ft to accommodate the machine-building orders. Its customers are from all over the United States with the majority located in Virginia, Georgia, Alabama, Florida and the Carolinas; Bor-It also has customer overseas.
During those early days, Albers lived and breathed the Bor-It company, wearing multiple hats to ensure the business succeeded. "When he first started [Bor-It], my dad used to do the sales during the day and then go out in the shop and weld at night," Eberling remembers.
Family Affair
At its core, Bor-It was and is a family business. Over the years, 11 family members have worked in various capacities at Bor-It, including Albers own father, Cletus, after he had retired. "My grandfather worked here part-time for 15 years after he retired. He would come into work for a few hours every day and do some drafting," Eberling says. "It gave him something to do [after he retired] and it was really nice to get to work with your grandfather every day. Not every one can say that."
Eberling's own path to the head of Bor-It was not how she initially envisioned her professional future — her sights initially set on a career in finance. After her mom passed away unexpectedly in 1992, she left college to help with her younger siblings. She returned to school a year later and after she graduated in 1993, she started working for her dad in the accounts receivable department. She's been with the company ever since, taking on more responsibility as time went on. When Albers retired 2010, she was named his successor.
"This was not plan when I went to college but my mom's passing changed everything," Eberling explains. "I came home to Ashland. It's worked out pretty well."
Eberling notes that family members aren't the only ones who have invested in the company, with several employees spending 20-plus years working for Bor-It. "Obviously we could not have done [it] without all our employees over the years," she says. "We have had a lot of good employees who were here more than 20 years before they retired. And we have a lot of good employees today."
And the Bor-It team doesn't take for granted the loyalty and trust of its customers. Eberling shares that one of their original customers recently told them that the first machine they purchased from Bor-It is still being used today. "That is 35 years of operation. The machine is a Model 24 [24-in. diameter]. I think that is pretty cool!" she says.
Looking Forward, Not Back
What does her dad think about how far Bor-It has come from its early days? She says they haven't talked a lot about that as they are so engrained in the day-to-day activities. "You're too busy thinking about what needs to be done next to think about how much we've accomplished," Eberling says.
Eberling sees stronger days ahead for the auger boring market, with work starting to pick up after the last two COVID-19 strained years. "We're seeing more and more requests for equipment, especially overseas," she says. "Things are looking up."
Sharon M. Bueno is the editor of Trenchless Technology.