American Augers' auger boring roots trace back to 1963 with the construction of one auger boring machine that was built in a small garage in a rural Ohio community.
Today, the company is a worldwide leader in auger boring and maxi-size horizontal directional drilling (HDD) equipment with international product dealers representing all corners of the globe. With a milestone anniversary just a few months away, American Augers has grown exponentially from its modest garage beginnings, as has its reputation and position in the trenchless marketplace.
Al Richmond may have started this manufacturing venture by building one auger boring machine, but in 2009, American Augers is a multi-million dollar manufacturing company with eight different auger boring machine models and six different maxi-size horizontal directional drilling rigs leading its product fleet. American Augers also produces HDD mud systems, auger sections and cutting heads and in recent years has added vertical drilling rigs for the oil and gas market, tapping into that growing market.
The American Augers campus — once comprised of just Richmond's garage — now spans 240,000 sq ft (including a recent 100,000-sq ft addition) and has grown from a handful of employees in its inception to 150 today, making the company one of the largest employers in the West Salem, Ohio, area.    
"I never had the opportunity to meet Mr. Richmond but I'm sure he would be amazed if he walked through here today to see the products we build, the quality of our engineering department and the worldwide support," says American Augers president James Pfeiffer. "I'm sure he had a vision for where auger boring could go but I'm sure he never had a vision for how far it has come."
While today's technology has made equipment faster, bigger and more powerful, not much has changed since Al Richmond built that first auger boring machine when it comes to quality, customer service and ingenuity — they are ingrained in the American Augers' philosophy.
The Early Days
As its name suggests, American Augers made its reputation on its auger boring machines. But before it was known as American Augers, it was first Richmond Mfg. and it was run by Al Richmond right out of his garage in rural West Salem and for a time, he was the company's only employee. In a bit of auger boring symmetry, the American Augers manufacturing site today is the former Richmond Mfg. facility, albeit a little larger in building size and product scope.
"Al [Richmond] was approached about building auger machines by two gentlemen for the oil and gas industry," Pfeiffer says. "He did such a good job that they decided they wanted more and he started building them in his garage. It grew from there. He acquired the property next to his house and he built the building that is now our warehouse. Our warehouse is actually his true manufacturing facility."
American Augers was spun off in 1970 by four Richmond Mfg. employees in Wooster, Ohio, to produce auger boring machines and the company later expanded to include equipment for pipe jacking, tunneling equipment and directional drills. In 1989, Augers Unlimited purchased  Richmond Mfg. American Augers purchased Augers Unlimited in 1995, relocating the company back to its original home in West Salem.
"We really came full circle as a company," Pfeiffer says.
In 1999, American Augers was purchased by Chattanooga, Tenn.-based Astec Industries, a manufacturer of continuous and batch process hot mix asphalt plants and asphalt recycling equipment, as well as a holder of companies that produce rock crushing machinery, road paving equipment and other soil remediation products. Once acquired, American Augers became part of Astec's underground division.
Over the years, as American Augers continued to grow, it expanded its walls at its West Salem facility, with the first coming in 1996 when 30,000 sq ft of factory space was added to the existing building, as well as a state-of-the-art paint booth. A second expansion began in 1999 to increase office, manufacturing and storage capabilities. The most recent addition just finished up this summer, after a 100,000-sq ft building was constructed to meet the needs of its vertical drilling manufacturing operations.
Trenchless Markets
With "auger" right in the company name, it's no surprise that auger boring remains at the core of the company product base. "We were the first to focus on auger boring from the beginning," Pfeiffer says. "American Augers is well identified with the auger boring growth of the trenchless market — from our name to our branding position. We are known for our auger boring machines. It is still a core part of our business to this day. Our name is synonymous with auger boring machines."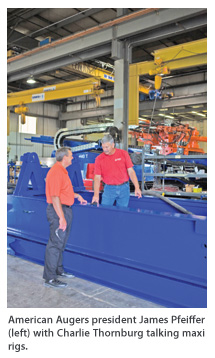 Today, eight models of auger boring machines are available from 24 to 96 in. in diameter, where in the early days, 12-in. machines were the norm. While those are still made, American Augers has evolved with the changing market. "We have seen the work become more involved with larger diameter projects and we've been able to develop larger diameter machines with more horsepower to meet the needs of our customers," Pfeiffer says.
Auger boring will always be a key product — it's what the company was founded on — but the HDD market has grown to be its largest asset and perhaps most critical to the continued success and survival of American Augers. Its first HDD rig was produced in 1988 and in 1991, American Augers became the first HDD rig maker to eliminate chain drives on the rigs and instead use a rack-and-pinion carriage design, which is now an industry standard. In 2002, its maxi-size rig line was introduced.
With the overwhelming growth of the HDD market over the last 20 years, this facet of the company offers a higher dollar benefit to its bottom line. Six different maxi rigs are manufactured (all in excess of 100,000 lbs of pullback with some reaching beyond 1 million lbs of pullback).
Today with a push toward large pipeline projects for natural gas, maxi rigs, such as those produced by American Augers, are tied to that market. But the growth of the oil and gas market drew the company into another aspect of it: vertical drilling.
In 2006, a customer approached American Augers about taking one of its HDD rigs and modifying it for use as an oil and gas rig. That first rig was a slanted one, not a true vertical rig but its success gave company officials the impetus to dive into the vertical drilling market in 2007. The current model — called the VR500 — was released in 2008.
Pfeiffer came to American Augers in 2005, taking the helm of a company that held a high standing in the auger boring market. And he arrived with a name of his own known to the trenchless market, having spent some 18 years with the Charles Machine Works/Ditch Witch.
"This is truly a very small niche industry. [The trenchless marketplace] isn't like Coca-Cola where you have millions of customers. We have a few hundred," Pfeiffer notes. "Many customers who I knew years ago, I know today."
And with that experience, Pfeiffer has lived through the HDD industry's ups and downs, viewing the market as cyclical. Companies need to prepare for the down times to ride them out. "We go through a rollercoaster ride like a lot of companies," he says. "We had great growth in the 1990s and early 2000s. With the downturn of the fiber-optic business, that had a real impact on our industry. Now we are going through one of those swells again where the [HDD] market has slowed."
One aspect of American Augers that has proven to be an integral part of its success is its international base, which represents 45 to 50 percent of its business and is at a point that Pfeiffer is comfortable with. While it does some international auger boring work, it's the HDD side of things that makes up its overseas sales. In 2008, American Augers exported drills to 19 different countries, including China, Australia, Brazil, Saudi Arabia, India and Turkey, to name a few.
"One of the keys internationally is that you have to have distributors or agents in the countries you are working in," Pfeiffer says. "In North America, we sell direct to the customer and that's one of our strengths — direct contact with the customers. Internationally, with the culture and language differences, we have found it easier to have a dealer or strong agent to help with sales."
Key Issues
American Augers is not unlike many of the U.S.-based manufacturing companies that have taken a punch to the gut with the downturn of the economy. Like its competitors, American Augers has been forced to downsize its workforce in the last year as the manufacturing sector slowed.
"The economy has had a huge impact on the trenchless market," Pfeiffer says. "If you look at the sheer numbers from the Association of Equipment Manufacturers' [AEM] reports, the number of unit shipments is down drastically. The economy is having a huge impact on all of our businesses. People are so nervous about what is going on in the economy that they are just not willing to make the investment in new equipment, more so than any other time that I've been professionally involved… These are unchartered, extremely difficult times."
While the economy remains the manufacturing industry's No. 1 concern, there are other challenges facing companies like American Augers. Pfeiffer sees the new EPA emission regulations — called Tier standards — for off-highway diesel engines, particularly those with more than 175 hp, as having an effect on manufacturers. For the construction industry, off-highway diesel engine Tiers are coming to a head.  The final and most stringent set of regulations (Tier 4) are already here. The Tier 4 standards for all horsepower ranges are fast approaching in 2011 through 2015.
"The Tier 4 engines will create many challenges for manufacturers," Pfeiffer says, noting the problem today is that — in his view — the "engine manufacturers are not as far along as we hoped they would be."
Another challenge Pfeiffer sees is the ability for companies to keep up with the ever-changing technology but not going overboard with it. "There's a challenge within all of our organizations to keep up technically and continue to add more sophistication in machines and at the same time keeping them simple enough and basic enough that the average user can work and maintain them," he says. "This industry is really starting to face the challenge of 'Are we getting more sophisticated than we need to be?'"
With all the turmoil in today's market, Pfeiffer does see American Augers coming out of this period stronger and better equipped to handle whatever comes its way.
"We're still optimistic about our products and the market. We've got a lot of support from our parent company and we've made a big investment [with the new addition]," Pfeiffer says. "We still believe there's an opportunity for a lot of growth in the vertical, HDD and auger boring markets. We recognize that this is a down market but we know that there's a lot of water and sewer infrastructure that needs replaced. I personally believe natural gas will be the clean fuel of the future for the next 50 years and a lot of natural gas pipelines are going through. We're still optimistic that we'll come through this period stronger than when we went into it and better prepared to grow and support our customers."

Sharon M. Bueno is managing editor of Trenchless Technology.