When groundwater and stormwater enter city collection systems, treatment plants become strained and less efficient which adds unplanned expenses. The key is uncovering whether an issue is present or imminent, then determining the best path forward.
Here are several warning signs and proactive steps to identify inflow and infiltration (I&I).
RELATED: Locating I&I Through Smoke Testing
3 I&I warning signs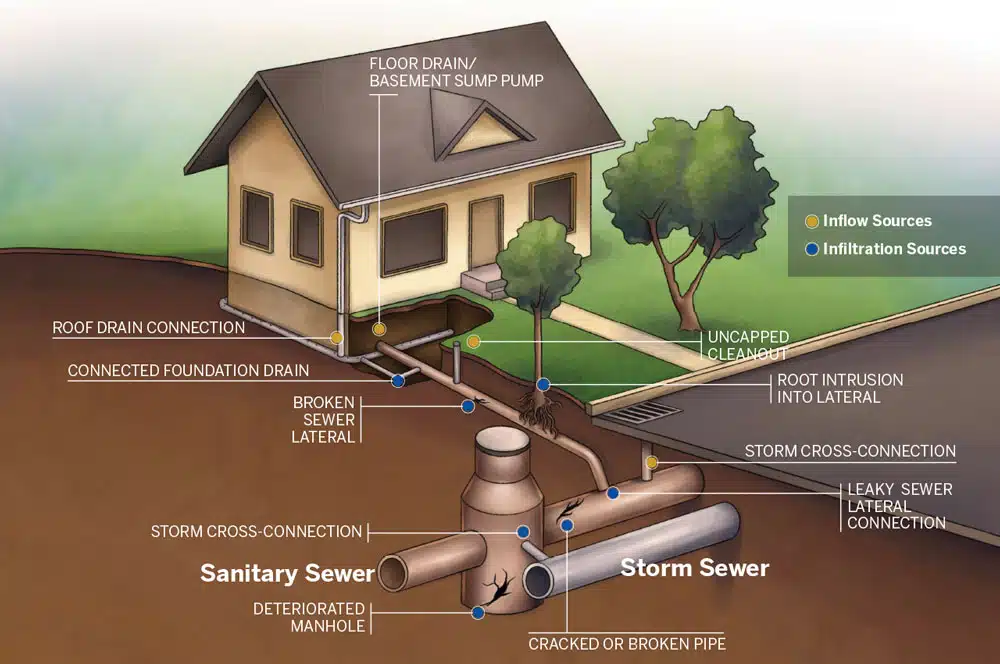 You may have an underlying I&I issue if you experience some of the following warning signs:
Your lift station pumps run continuously. There may be an issue if your lift station pumps run at an increased frequency following a rain event. This likely means stormwater has entered your sanitary sewer system, is on its way to be treated and is perhaps taxing system capacity.
Your pipes are backed up. Backed up pipes are often a clear indicator of an impending I&I issue. There is likely an issue at hand if, during a rain event, manholes are spilling wastewater on to local roadways or green space and/or various basements begin to flood. These issues need to be identified and addressed quickly.
You see significant spikes in flow. As you measure and evaluate the effectiveness of your wastewater treatment plant during precipitation or high groundwater conditions, readings that return spikes in flow likely indicate an I&I issue. While small amounts of I&I are to be expected, significant spikes rarely happen unless there is a deeper issue at hand.
6 Ways to Identify I&I
Warning signs are helpful but only offer surface-level indicators of potential problems. Once you're certain I&I issues are present, there are multiple methods you can rely on. Here are six proven methods.
Sanitary sewer flow monitoring
The first step in identifying I&I is to uncover where problems are occurring, then isolate the most vulnerable areas or the areas experiencing the highest amounts of I&I. Flow monitoring is one of the most effective ways to do this.
Flow monitoring can help you identify the presence, quantity and type of I&I issues that exist within your sewer system, and provides you with the information needed to support your efforts of fulfilling the requirements defined by the Clean Water Act.
Manhole Inspections
Manhole inspections can identify joint leaks and provide the opportunity to evaluate drainage near structures where manholes are located. Designed as an access point into the sewer for maintenance, manholes can provide the same access for clear water intrusion if the proper precautions are not taken.
Aging manholes can contribute significant I&I through leaky covers, deteriorated concrete and missing joint sealant. If manhole inspections reveal an issue, there are several actions you can take to resolve them:
Action 1: Replace the manhole covers
Cost: Approximately $200 per cover
Cost savings: Could reduce I&I costs by $350 per year per manhole
Action 2: Chemical grouting to seal up leaky joints
Cost: $500+
Cost savings: Could reduce I&I costs by as much as $5,000 per year per manhole
Action 3: Line the manhole
Cost: Approximately $5,000
Cost savings: Could reduce I&I costs by $20,000 per year per manhole
Smoke Testing
Smoke testing is most practical in commercial areas with flat roof buildings, parking lots and other large drainage areas that can be improperly connected to the sanitary sewer. This approach can be completed in residential areas; however, it would mostly be focused on the right-of-way areas rather than the residential properties themselves.
Smoke testing involves setting up a blower, then pumping non-toxic, simulated smoke through a community's sanitary sewer line. The smoke is pressurized and follows the path of any leaks within the system – revealing points of entry for I&I.
These sources can be cracks in the sewer pipes, roof drains, damaged or faulty manholes, or a cross-connection between a storm sewer and sanitary sewer.
Dye testing
Dye testing can be used to identify leaks in your infrastructure and can also be used to confirm smoke testing results. Dye testing involves the use of water mixed with a non-toxic dye. The colored water is then pumped through the groundwater and stormwater systems being evaluated, and appears in the sanitary sewer collection system where leaks occur.
Notably, each of these methods for identifying I&I often work best when used in conjunction with another.
Pipe inspection/closed circuit television inspection (CCTV)
The use of CCTV provides communities with direct access to the inside of their pipes. The camera sends real-time visuals to the CCTV operator, who then uses the visuals to identify leaks through a monitor viewed at the surface. CCTV inspections can reveal whether there is a need for rehabilitation of leaky pipes.
The rehabilitation options are many, including cured-in-place pipe (CIPP) rehabilitation, chemical grouting to seal up leaks and open-cut replacement of pipes. CIPP rehabilitation provides a solution without disruption (e.g., having to dig up city streets).
Private property inspections
Residential sump pumps and foundation drain lines are often one of the biggest contributors of I&I into a collection system when improperly connected to the nearby sanitary sewer laterals. A single sump pump can send more than 7,000 gallons of water to the system during a rainfall event – which is roughly the same amount as the average daily flow from 18 homes!
If the results from your private property inspections indicate I&I, here are three proven solutions:
Action 1: Sump pump discharge relocations
Cost: $100-1,000
Cost savings: Could reduce I&I costs by up to $500 per year per pump depending on amount of flow through the sump pump.
Action 2: Foundation drain disconnections and sump pump installations
Cost: $500-5,000
Cost savings: Could reduce I&I costs by up to $1,000 per year per pump depending on the amount of flow.
Action 3: Service lateral lining and/or replacement
Cost: $5,000-15,000
Cost savings: Could reduce I&I costs by up to $750 per year per lining depending on the amount of flow through the lateral joints and cracks.
RELATED: The City of Naperville Puts the Plug in Inflow and Infiltration
Each of these tactics are effective, but the appropriate approach for your efforts depends on the state of your infrastructure, the amount of flow and your budget. Partnering with a trusted, experienced consultant is the best way to identify which approach is right for you.
Spencer Cossalter is a project design leader who oversees SEH's sanitary and storm sewer infrastructure inspection and evaluation services team.