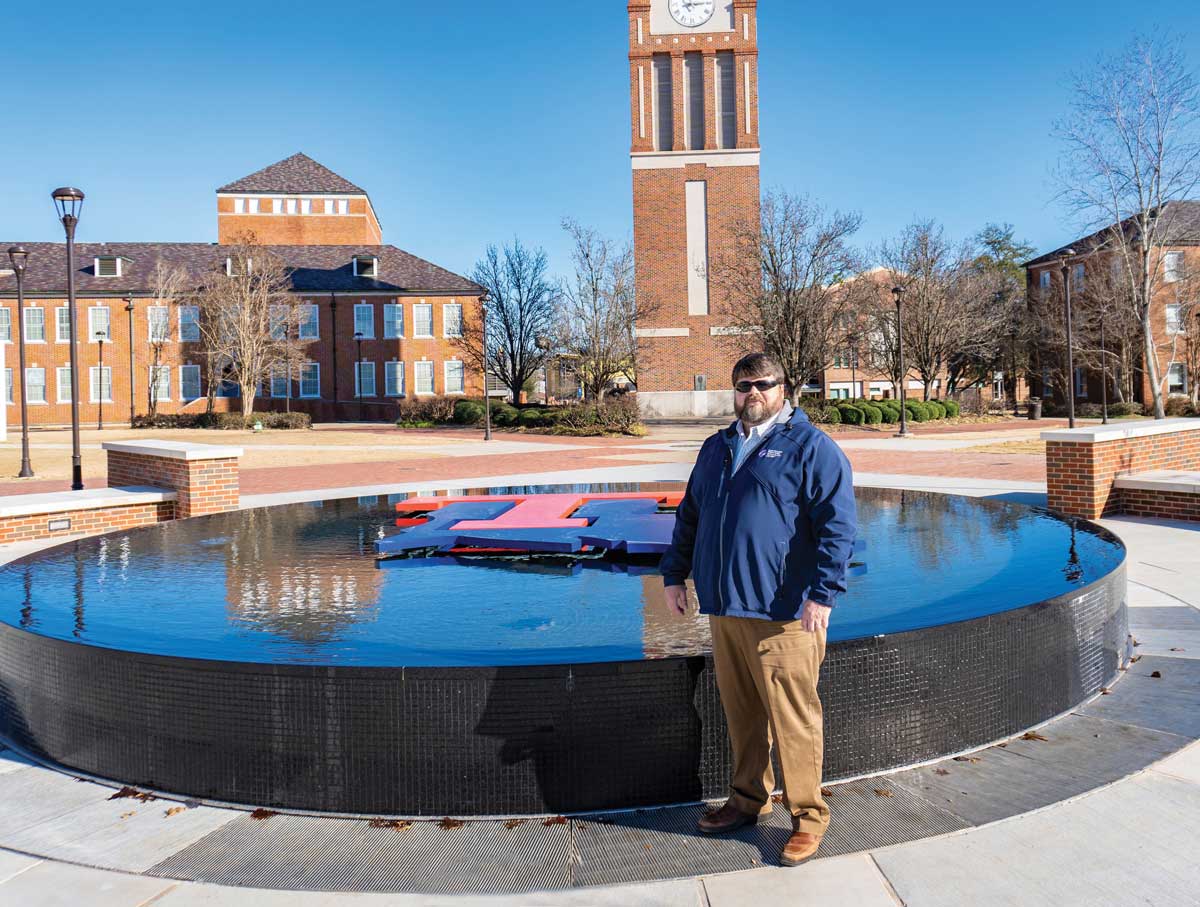 When Dr. John Matthews stepped onto the campus at Louisiana Tech University (LA Tech) in Ruston, Louisiana, 23 years ago, he had no idea it would become the home of his professional career.
It was at LA Tech where he was first introduced to trenchless technology and where he developed and honed his skills in applied research. Today, he is the director of the Trenchless Technology Center (TTC), located on the LA Tech campus, and has forged a widely-respected leadership role in the trenchless industry as an educator, mentor, engineer and researcher.
At just 41, Matthews has more than 18 years of experience in rehabilitation and inspection of infrastructure systems. In addition to his duties as director of the TTC and professor of civil engineering and construction engineering technology at LA Tech, he has worked on various research projects relating to water and wastewater rehabilitation and condition assessment for various technology vendors, research organizations and industry associations, including the U.S. EPA, Transportation Research Board, Water Research Foundation (WaterRF), NASSCO and NASTT.
He's been at the forefront of the cured-in-place pipe (CIPP) styrene emissions research the last five years, with TTC partnering with NASSCO to research and recommend safer work practices related to steam curing CIPP projects. These recommendations have been incorporated into NASSCO Best Practices and have made their way into specifications across North America. This work was recently recognized by the International Society for Trenchless Technology (ISTT) at the ISTT No-Dig Show in Finland. Additionally, TTC and Matthews have patent-pending technology that can be implemented onsite to further mitigate any potential styrene emissions from steam stacks.
In addition to his styrene work, he has teamed with the U.S. EPA to broaden the use and impact of trenchless technology on a national level through written reports, as well as innovative technology demonstration projects and reports that has exposed industry users to new trenchless methods.
Matthews' tenure and relationship with TTC dates back to his undergraduate years at the University, where he earned his bachelor's degree in construction engineering technology (2004), his master's degree in civil engineering (2006) and his Ph.D. in civil engineering (2010) — all of which had a trenchless technology- focus. During those years, Matthews worked as a graduate assistant and post-doctoral research associate at TTC, crossing paths with then-TTC director and industry pioneer Dr. Ray Sterling.
He joined the private sector in 2010 but returned home to TTC when the role of director opened in 2017, with the retirement of Dr. Tom Iseley. And he's hasn't looked back, taking on the role of professor and mentor to the next generation of trenchless technologists — a role he takes to heart.
Through his mentorship of young, aspiring trenchless professionals to his leadership in taking on challenging and innovative research projects that make the industry better and stronger, Dr. John Matthews is the 2023 Trenchless Technology Person of the Year.
"I have definitely been lucky in my career in that I have been able to work with some great people in the trenchless industry as mentors, collaborators and partners," Matthews says. "And I've been lucky enough to be in that position to do so much over a relatively short period of time. I've been in this industry my entire career, starting out as a 21-year-old, and here I am 20 years later still exclusively working in trenchless.
"It's a privilege to work in an industry that I enjoy so much. Hopefully, I can pay it forward and have the same type impact on others and their careers."
Growing Up in Construction
You can say construction work is in the Matthews family DNA, as he watched from an early age his father Mike earn his living in the field. Matthews was born and raised in Heflin, Louisiana — just 45 minutes from TTC. Heflin is the epitome of a small, rural town, with a population of just a few hundred residents. Mike Matthews was a contractor/carpenter by trade, handling mostly residential type work, such as framing and exteriors. Matthews got his taste of construction work when he and his brother Jack would join their dad on jobs.
"My brother and I would help him out during the summer and other school breaks," Matthews says, noting that he enjoyed the work and the experience led him to pursue a construction engineering technology (CET) degree. "I knew I was going to go to a school that had an engineering program, as well as being tailored to construction. At the time, that was pretty rare but Louisiana Tech [had those]."
The term "trenchless technology" didn't enter the picture for Matthews until his junior year at LA Tech University. The school had a construction engineering technology program and was closely aligned with the civil engineering program. The CET program already had an active NASTT student chapter by the time he became a student in 2000.
"I didn't know anything about trenchless when I first came here," Matthews says. "I [along with other classmates] joined the [NASTT] student chapter my junior year and I still didn't know anything about it. We went to a few conferences that year, including the No-Dig Show [in Las Vegas] and UCT [in Houston]. Going to those conferences immediately piqued my interest into trenchless. I thought it was really interesting and it had a lot of opportunities."
Taking in those conferences led Matthews to an internship that involved doing construction inspections on trenchless projects and he was hooked by what he learned, the technology that was used and future the industry had. "I thought to myself, 'This stuff is cool!' I came back to school in the fall and spoke with Ray [Sterling] about it and expressed my interest in focusing on [trenchless technology] in grad school," Matthews recalls.
"That first No-Dig Show I attended, I was 21 and it really changed everything. I met a lot of people and loved the technology. That was 20 years ago and I've never left," he adds, laughing that having that his first No-Dig experience being in Las Vegas didn't hurt.
People have different reasons for choosing trenchless technology as a career path. For Matthews, it was the opportunities for innovation and research that the industry presented. "That's what drew me in," he says simply. "By the time the internship was over, I was pretty much set on going to grad school and studying trenchless technology."
With so many engineering options, why focus on applied research? From the start of his college career, Matthews knew applied research was the direction he wanted to pursue. He loves the idea of taking a problem, diving deep to find a solution and then applying the answer sooner vs. later, as what happens with theoretical research. "It's really fulfilling to see your research applied so quickly," Matthews says. "You're constantly looking for a solution that hasn't been tried before. That makes the job exciting, challenging and fulfilling."
Next Professional Phase
After spending 10 years within the comfortable confines of TTC as a graduate assistant and post-doctoral research associate, Matthews left to work in the private sector, which offered him a different view of research and expanded his professional skillset. His first stop was at Battelle, which primarily works with companies and government agencies across multiple markets. There, he interacted directly with clients and wrote proposals. "I really enjoyed the work but a lot of what [Battelle] did didn't involve trenchless technology other than my projects," he remembers. "I really wanted to get back into the trenchless arena."
Wanting to return to the trenchless technology fold, Matthews joined condition assessment provider and innovator Pure Technologies. "Everything they do is trenchless," Matthews says. "I worked with some really cool people, doing really unique projects and I got to travel all over the world. I would probably still be there if it wasn't for a call I got from Tom [Iseley]."
That call came in 2017 and Dr. Iseley was getting ready to retire as TTC director. He reached out to Matthews, gauging his interest in the soon-to-be open position. "The offer to come back to TTC was just too good to pass up," Matthews says. The job brought him back to where he got his start in the trenchless industry and allowed him to focus on his first love of applied research. With the director's position, also came a professorship in the civil engineering program.
Simply put, Matthews loves his job. "It's a really unique position as TTC director, as you get to interact with so many different people and help them meet their goals from the manufacturing side and a research side," he says. "TTC is such a unique position in our industry."
He says the trenchless industry is in a great position, with so much work happening now and that TTC is in the thick of all of it. "We get to interact with all segments of the industry. The market is strong," Matthews notes. "The work flow is strong and backlog is strong."
One of the limitations for even more substantive growth, he says, remains retaining and recruiting the workforce, an issue that has plagued all facets of the construction industry for many years. His role as TTC director and educator places him in direct contact with the next generation of trenchless engineers, allowing him to mentor and guide them as make their way through the program. And Matthews understands the importance of that role. "I've had a lot of good mentors when I was coming and still do," he says, specifically noting retired Sterling at the top of his list. "I tried to pass what I know to the next generation. I feel like we have a really good pipeline for supplying people to our industry."
And working with the younger generation keeps him young…or does it? Depends on your perspective. "Working at a university long enough, you realize how old you are. [The students] are very young and they don't see me as a young guy," Matthews laughs. "[On the other hand,] the people in the industry who've known me from the start, still see me as young and they've known me for 20 years."
After Hours
While his TTC role and professorship take up a great deal of time, Matthews always has time for his family. He and his wife Elizabeth met while both in grad school at LA Tech and have been married for 10 years. Elizabeth is also a professor on the LA Tech civil engineering faculty. The Matthews are also parents to three children: Michael, 10, AJ, 7 and Mary, 3. While this trio definitely keeps them busy, Matthews says he also manages to squeeze in a golf game or two, as well as having fun actively supporting the University's athletic teams.