You've made the decision to add a brand-spanking new HDD rig to your fleet of drilling rigs — Fabulous! Now comes the time choose which rig and brand. Do you stay with the same manufacturer or do you check out what others have to offer?

Where do you begin? This section can help you get started with your search.
Each year, we invite the industry's drill rig manufacturers to give our readers a basic look at what they have in their drilling rig showrooms. The information here covers the compact, midsize and maxi rig product lines of the top HDD rig manufacturers. The information presented comes directly from them. For more specific details, you need to contact the manufacturer — they are ready, willing and able to discuss your needs and all the bells and whistles you are after.

As always, all the information in this section comes directly from the rig manufacturers. No direct comparisons between equipment and manufacturers are made or implied.
Now let's get shopping!

Sharon M. Bueno is managing editor of Trenchless Technology.
American Augers
135 State Route 42 | West Salem, OH 44287

Ph: (419) 869-7107 | Web: americanaugers.com

History: The American Augers line of underground construction equipment consists of: auger boring machines, maxi rig and mid-size directional drills, mud pump and cleaning systems and tooling and accessories. The products are manufactured at the company's 241,000-sq ft facility in West Salem, Ohio. Since the founding of American Augers in 1970, there has never been a change in the company's core value: having products developed by a can-do workforce that focuses on mechanical, technological and customer based design improvements. American Augers was the first HDD manufacturer to use a rack-and-pinion carriage design, which is now the industry standard.
Products Summary: American Augers currently manufactures five different drill models ranging from the 100,000 lbs class to the 1,000,000 lbs class. The most popular models being the DD-440T which has been a go-to for contractors around the world for various pipeline and utility jobs. The newest model is the DD-240T which was introduced to the market at ICUEE 2017 and noted as the most configurable rig in the industry. Contractors can customize the rig to their jobs without the custom price tag.

Advice to Buyers: The HDD market has really taken off in 2018 and uptime is more critical than ever. In our industry the decision to purchase a rig shouldn't end at the rig itself but extend down the line to what can the company offer after the sale. Contractors should make sure, no matter their size, they are a valued partner long after the sale.

Recent Trends: Currently we are seeing customers that want rigs that are true work horses with minimal downtime. Their rigs should be backed by companies that can get them back up and running quickly if and when they go down.


Barbco Inc.
315 Pekin Ave., SE | East Canton, OH 44720

Ph: (800) 448-08934 | Web: barbco.com

History: Barbco, Inc. was founded by James S. Barbera in August,1989. Jim had many years of experience in the auger boring industry having been a utility contractor and having built and sold auger boring equipment. His first shop was located in Twinsburg, Ohio but that location was quickly outgrown. The company then moved near Massillon Ohio, where Barbco manufactured auger and boring machines. In 1992, the company moved to Canton Ohio. While there, Barbco expanded its product line with Boring Machine Tunnel Attachments (BMTA's) and Directional Drills. In December of 2002, Barbco moved to its present location in East Canton, Ohio. The eight-acre facility provides Barbco with ample manufacturing space with room to expand. Since its founding, Barbco has brought many innovations to the trenchless industry including TriBor, a hybrid boring machine and FlexBor, a method and line of tooling aimed at being more cost-effective and environmentally friendly.

Products Summary: Tribor is a first in its class 3-in-1 machine with the ability to accommodate any job large or small. With the ability to use about any downhole steering system, this multi-purpose, hybrid design offers the functions of a guided boring machine, auger boring machine and an HDD drill. With three models T30, T36 and T48 ranging from a mini rig to a maxi rig, TriBor will be able to get the job done without a doubt. This multi-purpose machines offers a minimum pull back force of 186,532 lbs and a maximum of 592,191 lbs accompanied by a thrust force the ranges between a minimum of 282,743 lbs and a maximum of 737,961 lbs. Tribor also boasts a rotary torque range between 33,741 ft/lbs and 80,620 ft/lbs.

Advice to Buyers: Be willing to listen to and trust service technicians when they are called upon to service your machine. Technicians sent to service your machine are experts on that particular piece of equipment and their only goal is to get you back to the bore keeping the job smooth and profitable.

Fun Fact: In fall 2018, Leo Barbera and Barbco founder Jim Barbera will be honored at Louisiana Tech's TTC with Lifetime Achievement Awards for their contributions to the trenchless industry. This award ceremony will also induct TTC's new state of the art boring school that is set to debut that very week.

Ditch Witch
1959 West Fir Ave. | P.O. Box 66 | Perry, OK 73077 Ph: (800) 654-6481 | Web: ditchwitch.com

History: Since its founding in 1949, the Ditch Witch organization has grown from inventing the first mechanized, compact service-line trencher to being a one-stop source for underground construction equipment. Introduced in 1990, the original Ditch Witch horizontal directional drill (HDD) has advanced based on industry changes and direct customer feedback, now including a lineup of 12 different units. The latest generation of Ditch Witch drills provide operators advanced machines with innovative technology for improved performance, power and productivity for a variety of jobsite conditions. The Ditch Witch organization also provides the industry's widest range of downhole tooling options to help handle hard rock, mud, tree roots and dense ground. In addition to its lineup of quality HDD equipment, the organization also offers a range of other underground equipment, including trenchers, vibratory plows, backhoes, chains, teeth and sprockets, vacuum excavation systems, and mini skid steers and offers certified training to safely equip novice and skilled operators for today's evolving jobsites.

Products Summary: The AT40 All Terrain unit is the latest addition to the Ditch Witch family of directional drills. It features an advanced, two-pipe All Terrain drilling system that provides 33 percent more torque than competitive units. At 160-hp, it gives operators 20 more hp in a smaller footprint over competitive units, helping operators install pipe in the most challenging conditions and more confined spaces. Operators on compact jobsites can depend on the JT5 and JT10 units to provide exceptional power and a reliable platform in a small package to easily tow between jobs and navigate in urban and residential areas. The JT100 and JT100 All Terrain are ideal for challenging and long bores and installation of larger-diameter pipe. Beyond power, an exclusive dual-pivot drill frame allows for steeper angles of entry without having to raise tracks off the ground, which provides improved machine stability and overall operator comfort.

Advice to Buyers: Overall, operators can benefit from working with experienced underground construction professionals who understand their unique jobsite needs and challenges, offer training and education on proper drilling techniques and offer a full range of service and support.

Recent Trends: At the Ditch Witch organization, we continue to hear about the need for trained HDD operators. A consistent need for operators in the underground construction market has helped the current workforce become more familiar with HDD equipment, improving how efficiently they work. Since that market is showing no signs of slowing, there is constant demand for novice operators, and they need to quickly get up to speed. Training methods that appeal to the next generation of operators are helping fill that need – such as the Ditch Witch virtual reality simulator and online training courses.

Herrenknecht
Schlehenweg 2 D-77963 | Schwanau, Germany

Ph: +49 7824 302-9570 | Web: herrenknecht.com

History: In1977 Martin Herrenknecht founded the Herrenknecht GmbH (limited liability company) which became a joint stock company (AG) in 1998. Today, Herrenknecht delivers cutting-edge tunnel boring machines for all ground conditions and in all diameters – ranging from 0.10 to 19 meters – and technical solutions to sink vertical shafts as well as to excavate sloping shafts. In the year 2016, the Herrenknecht Group achieved a total operating performance of 1,208 million Euro. It employs around 5,000 members of staff worldwide including up to 180 trainees. In the area of modern Trenchless Technology Herrenknecht can look back on around 30 years of experience on projects worldwide. In addition to HDD, Herrenknecht is continuously developing new technologies for the pipeline industry, e.g. E-Power Pipe, Direct Pipe and Pipe Express.

Products Summary: The maxi and mega rigs developed and manufactured by Herrenknecht exert pulling forces of between 180,000 and 1,323,000 lbs and achieve a maximum torque of between 44,250 and 147,500 ft-lbs, depending on the model. All Herrenknecht HDD rigs have their own diesel-powered energy supply housed in sound-proof 20-ft containers. The capacity of these power packs, as we call them, can vary from 300 to more than 1,300 hp, depending on the application. These rigs are remarkable not only for their performance capacity but also for their construction design. We offer frame, trailer, crawler and modular rigs. Herrenknecht has collaborated with recognized HDD specialists to develop innovative downhole tools. With these, crossings can be carried out more quickly and economically. We are also specialized in manufacturing tailor made HDD rigs according to customers specification.

Advice to Buyers: Within the Herrenknecht rental fleet, HDD rigs and other HDD equipment, like high-pressure mud pumps, etc., can be rented. This enables the client to test the equipment before buying.

McLaughlin
2006 Perimeter Rd. Greenville, S.C. 29605

Ph: 864-277-5870 or 800-435-9340

Web: mclaughlinunderground.com

History: McLaughlin, a Vermeer company, has been a leader in the underground construction industry for more than 95 years. McLaughlin's product line includes a full-line vacuum excavators, utility locators, Hole Hammer pneumatic piercing tools, Mighty Moles, pit launch directional drills, auger boring machines and 360-degree On-Target steering systems. McLaughlin manufactures vacuum excavators with spoil tank capacities ranging from 250 gallons up to 3,000 gallons to provide the right solutions for contractors' applications. Its vacuum excavators feature the exclusive 3-stage cyclonic filtration system that allows for both wet and dry vacuum excavation while prolonging filter life and helping keep maintenance costs low. As well as the McLaughlin patented cam-over hydraulic rear door that provides a 360-degree positive seal, without additional internal clamping requirements to keep fluids securely in the debris tank. When the job is done, the patented in-tank wash down system makes it easier to remove debris and saves contractors tank cleanup time.

Products Summary: McLaughlin offers two pit launch drills: 5- and 7-ft models. The 5-ft model is ideal for limited access job sites and smaller entry pits. This model is popular in Europe and for use in downtown areas that cannot be accessed with traditional surface-launch directional drills. The 7-ft model is best suited for projects with more access. This model offers enhanced productivity because there is less making and breaking of rods. Both models have 1,030 ft-lbs of torque and 13,250 lbs of pullback. They use a standard locator-transmitter beacon, HDD drill head and HDD tooling. Mud mixing system and hydraulic power pack accessories are also available. Pit-launched directional drills are frequently used by non-traditional HDD contractors. They are straight-hydraulic machines that are simple to operate and very reliable. Like with any piece of equipment, it's important that operators receive proper training and follow standard HDD practices and OSHA regulations for pit set up.

Advice to Buyers: Before you purchase any piece of equipment, make sure it is appropriate for the application. A pit-launched drill provides a good solution to set-back and easement issues but can be more time-consuming to set up than a traditional surface-launched drill. Make sure you understand proper pit excavation, leveling and shoring procedures. Because many users are non-traditional HDD operators, it's also important that they receive proper HDD training to ensure safe and productive operation.

Recent Trends: With the growing concern surrounding aging infrastructure across the country, the demand for pit-launched HDD rigs has been steadily increasing. Often road crossings and curb-to-home trenchless pipe installations require the distance and accuracy of a directional drill but are restricted by the narrow easements in urban environments. Small footprint pit-launched drills like the McLaughlin MCL10 allow contractors to work in the narrow easement and bore up to 150 ft. Contractors are able to reduce some of the issues with private access and eliminate surface landscape concerns.

Prime Direct, LLC / Prime Drilling
1642 40th St. | Somerset, WI 54025

Ph: 612.867.6940 | Web: prime-drilling.de

History: Since 1999, Prime Drilling has been a global leader in design, development and production of advanced horizontal directional drilling rigs and allied equipment. A successful crossing is dependent on the reliability of your equipment, which is why Prime Drilling focuses on superior technology, robust and low maintenance drill rigs that provide top performance in the most demanding environments. Based out of Germany, Prime Drilling has built over 200 HDD drilling rigs which are used in successful operations worldwide today. All rigs are still running with some clocking in more than 40,000 hours, except one which was destroyed by fire. Prime Direct is passionate about delivering customer satisfaction while focusing on providing timely, responsive service with integrity, simplicity and a passion for excellence while meeting or exceeding the customer's expectations.

Products Summary: We are not only selling "standard" HDD-Rigs with its components like pump, mixing or recycling units and reaming tools, drill pipes or anything you need for a successful bore. For example, Prime drilling offers compact rigs. The special feature of our compact rig is the "on board" pump. The PD-X.1.000-C impresses with its robust and low-wear design. This saves space during transport and onsite and offers greater flexibility. In addition, the new Rock Drilling Rig is a highlight of Prime Drilling. This HDD compact rig for rock drilling is equipped with double pipe magazine. It is the first rock drilling rig in this high-performance category (> 110,250 lbs). Two rotary heads independently drive the inner and outer rods. You can use any common locating system possible with a high torque up to 66,000 ft-lb. You can also use the "wire-line locating system" with our rigs.

Recent Trends: We see more and more, that our customers are looking for equipment that lasts over decades with a low maintenance character. One of the must-have features is a diagnose system, that allows our technicians to dial into a machine to diagnose from our office at a rig anywhere on the planet, which reduces down-time and the time to locate a problem.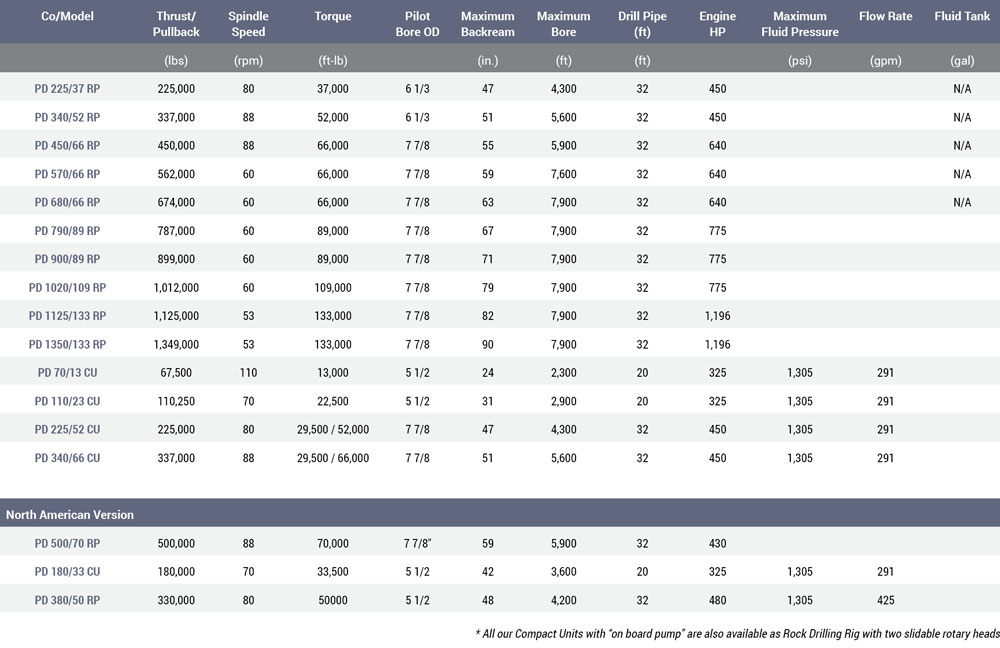 The Toro Co.
8111 Lyndale Ave S. | Bloomington, MN 55420

Ph: (952) 948-4197 | Web: toro.com

History: At the 2013 ICUEE show, Toro broke into the underground segment by unveiling its new line-up of horizontal directional drills and other underground products. Since that time, Toro has continued to enhance their underground product offering, recently introducing the DD2226, which provides 22,000 lbs of thrust and pullback and 2,600 ft-lb of torque. Over the past year, Toro has also taken an aggressive approach to enhancing directional drill operating software. Our most recent innovation is TDOS-1 with SmartTouch, an operating system that allows pipe-handling functions to be performed using a single input on the joystick.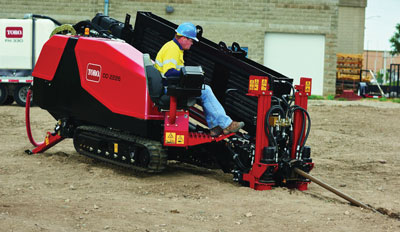 Products Summary: The largest and most powerful drill in the Toro lineup, the Toro DD4050, features 40,000 pounds of thrust and pullback, 5,000 ft-lbs of rotary torque and restyled guards around the boring site. As of 2017, utility and underground contractors have a new solution to save time and streamline operations with the introduction of the innovative Toro DD2226 directional drill. The DD2226 delivers 2,600 ft-lbs of rotational torque and 22,000 lbs of thrust and pullback for outstanding versatility, allowing the machine to pull back and turn larger reamers in tough ground conditions. Dual rear stabilizers provide additional stability in uneven terrain. Both models utilize a dual sided rack and four-pinion carriage design that spreads carriage load evenly and ensures smooth and efficient carriage travel. Additionally, the gear track is welded to both sides of the thrust frame for added reliability. Unique to Toro HDD models, the track is propelled by forward-mounted track drive motors with planetary gears, which deliver superior traction in all types of ground conditions. Also unique to Toro is TDOS-1 with SmartTouch, Toro's newest drill operating system. This system streamlines pipe handling by allowing the operator to use the cam rocker switch to advance through the pipe handling process. Each push of the switch corresponds to a sequence of pipe handling functions. This makes the pipe handling process easy to learn, improving the operating experience for new operators.

Advice to Buyers: The three most important factors for contractors when purchasing an HDD rig include quality of the machine itself, service after the sale, and increased uptime and productivity. When it comes to quality, selecting a reliable machine is really a no-brainer for contractors. Equipment working in tough conditions like those utility contractors experience every day needs to be rugged and durable. Equally important is the level of support and service that dealers and manufacturers can provide if and when it's needed. Parts availability, field service and on-site troubleshooting and drill operator training are all things to consider when making an equipment/dealer selection, as even just a few hours of equipment downtime can seriously impact the profitability of a job. When it comes to selecting equipment, contractors may want to work with their dealers to determine which productivity-focused features are most important for their specific application, and use them as a resource to figure out which brand and model are best suited for their operational needs.

Recent Trends: Thanks in part to increasing demand in the underground utility market, equipment manufacturers have put substantial investments into further developing their HDD product lines. Out in the field, the formula is simple, utility contractors are looking for technical advances that can help enhance productivity.

TT Technologies, Inc.
2020 E. New York St. | Aurora, IL 60502

Ph: (630) 851-8200 | Web: tttechnologies.com

History: TT Technologies Inc., Aurora, Illinois, is a manufacturer of trenchless technology equipment for the installation and replacement of water, sewer, gas and electric utilities. The equipment is field proven, logging more than 45 years of experience. With more than 200 patents worldwide, TT Technologies is a leader in trenchless applications ranging from pipe pulling, pipe ramming, pipe bursting, sliplining, and directional boring. A nationwide network of regional customer service offices and distribution locations assures products and expertise are always nearby. Comprehensive hands-on training seminars are held at the corporate offices in Aurora, Ill., as well as regional shows, seminars, and demonstrations throughout North America each year

Products Summary: TT Technologies full line of trenchless equipment includes: Grundomat piercing tools, Grundodrill directional drills, Grundosteer guided piercing tools, Grundocrack pipe bursting tools, Grundoram pipe ramming tools, Grundomudd bentonite mixing and delivery systems, Grundowinch constant tension winches and Grundopit minidirectional drill rigs.

Advice to Buyers: The best advice for someone looking to purchase a directional drill is do your homework. You have to know what it is that you need to accomplish and then research the available drills to match the work you're doing. Don't try to make an undersized drill do more than it's capable of and don't get a drill that's too big for the type of work you're doing. And if you're going to be in it for the long haul, buy a machine that's going last.

Recent Trends: See we're seeing a resurgence in last mile work for the smaller drills. That seems to be coming around again. A lot of shorter subdivision type work. Also, the gas industry continues to be replacing old infrastructure and updating mains and services. There's a lot of movement in that industry right now. Again, in subdivisions, neighborhoods, etc. It seems that everyone wants that type of work done by directional drill because it's become very popular and effective.

Universal HDD
1221 Flex Ct. | Lake Zurich, IL 60047

Ph: (847) 955-0050 | Web: unihdd.com

History: With leading position in engineering and production of custom horizontal directional drills and equipment, we are continuing our growth strategy with the new models and product lines at the new state of the art facility. The great demand from the global market of our equipment, our old Ohio facility has reached the limit of its capacity with regards to the production capacities and technological innovation. It was therefore clear that it would not be possible to continue expanding our product line in Ohio. A new production site which would meet the requirements of the brand name Universal HDD had to be found. For Universal HDD the philosophy of creating highest quality equipment and services is not enough. We must continue to push the limits of the industry.

Products Lineup: Universal HDD remains to be the leader in design and manufacture of custom horizontal directional drills and equipment. In 2017 we introduced new and upgraded line of rigs: UNI 23×36, UNI 80×100, and UNI 250×400. These drills feature the most advanced technology in the industry, while maintaining the simple design, high productivity and reliability. Today, more than ever, we are committed to utilizing every resource, to provide the highest quality products and to push industry's standards. Our machines have drilled all over the world and in all manner of soil and hard rock conditions. We're not afraid to get our hands dirty. We've worked along side our customers, making crossings on nearly every continent, under the biggest, widest rivers, and under hill and dale. It is this diversity of environments that has taught us what works best in virtually every type of geology. We've taken what we've learned to design and build the best equipment we know how.

Advice to Buyers: We begin with common platforms, but we engineer and construct horizontal directional drilling machines that meet the specific needs of our customers. Pound-for-pound, at Universal HDD we provide more value to our customers, both in the equipment and customer support.

Vermeer Corp.
1210 E. Vermeer Rd. | Pella, IA 50219

Ph: 641-628-3141 or 888-VERMEER

Web: Vermeer.com

History: Vermeer started manufacturing horizontal directional drills (HDD) in 1991 and is on its S3 generation of drills. These drills have enhanced speed, simplicity and sound reduction. Most Vermeer HDD models available today have received high performance specs and can be equipped with Vermeer productivity tools like Vermeer Fleet and Vermeer Fleet +Edge for improved diagnostics. Also, Vermeer has made major improvements for planning bores and reporting as-built information to customers. Vermeer Projects helps contractors manage their business with organized, electronic job records. From a web browser, they can capture and manage jobsite documentation, as well as share it with others. Upgrading to Projects +Mapping allows a contractor's team to mark utility lines, plan bores and export professional as-built reports.

Products Summary: Vermeer has 17 models in its North American horizontal directional drill product line. A couple of the latest additions to the Vermeer horizontal directional drill product line are the Vermeer D8x12 Navigator horizontal directional drill and the Vermeer D40x55DR S3 Navigator horizontal directional drill. The D8x12 is a compact HDD machine intended for service installation work primarily installing gas, water, power and comminution. The D40x55DR S3 model delivers excellent productivity in a broad range of ground conditions, from hard, medium and soft rock to loam, dirt and clay. This rock drill features dual rod technology that uses an inner rod to provide torque to the drill bit, while the outer rod offers steering capability and rotational torque for reaming. The combination provides powerful downhole cutting action and the flexibility to select the appropriate tooling to best match the ground conditions, which can allow the entire install to be completed with one machine.

The Vermeer D23x30 S3 Navigator horizontal directional drill and D24x40 S3 Navigator horizontal directional drill are also notable models. The D23X30 S3 can generate 24,000 pounds (106.8 kN) of thrust/pullback and is one of the quietest drills on the HDD market. The D24X40 S3 has 28,000 pounds (124.6 kN) of thrust/pullback and 4200 ft-lb (5694.4 Nm) of rotational torque and helps operators get the job done faster, and its 270 rpm rotational speed rivals larger drills in a footprint ideal for urban or narrow jobsites.

Recent Trends: New HDD machine models produced today utilize the latest engine emissions equipment. With these engine emissions requirements, machines have typically gotten heavier. Because of weight and footprint increases, there has been a trend toward smaller drill models doing the work larger rigs once completed.