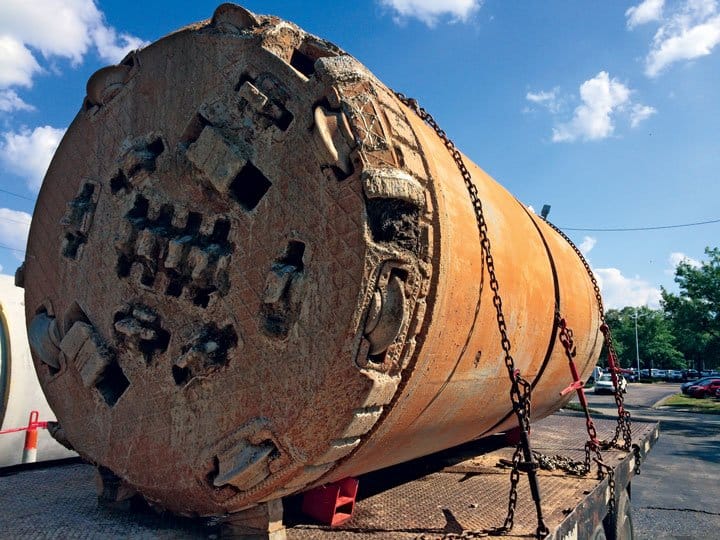 This Raleigh, North Carolina project involved 2,880 lf of 75.4-in. and 60-in. using microtunneling in 10 tunnels by both two-pass and one-pass pipejacking. Ground conditions were highly variable, ranging from very soft ground to rock of 25,000-plus psi UCS.
Many tunnels were in environmentally sensitive areas by Crabtree Creek and affluent neighborhoods. Tunnels crossed under railroads, interstate highways, and busy local roads.
This project was let as a separate general contract to encompass the tunneling portion of the sewer work, with the open-cut to be bid later. Because of that, the owner was able to use a prequalified tunneling contractor as the prime contractor. This enabled Bradshaw Construction, as the prime, to work directly with the owner/engineer to alleviate construction problems rather than going through another contractor.
There were challenges on this project due to required reverse grade tunneling, highly variable ground conditions, utility conflicts, and restrictive work areas. In spite of these challenges the project was completed efficiently and safely- with zero recordable accidents.
The Paulsboro Natural Gas Pipeline Co. (PNGPC) hired Mears Group Inc. through Otis Eastern LLC to install a 24-in. pipeline under the Delaware River by horizontal directional drilling (HDD) to supply the Paulsboro Refinery in Paulsboro, New Jersey with natural gas.
The project required the replacement of an existing natural gas pipeline that was damaged during dredging activities of the Delaware River navigation channel. The new pipeline was constructed using HDD under the Delaware River. The new pipeline runs under the Delaware River to connect the Paulsboro Refinery in Paulsboro, Gloucester County, New Jersey, to tie-in with an existing Spectra 16-in. diameter pipeline in Tinicum Township, Delaware County, Pennsylvania.
The HDD crossing was 8,663 ft in length and installed through challenging soils with a 50 degree horizontal curve. The previous pipeline delivered 38 million standard cu ft per day of natural gas; this would increase to 57.7 million standard cu ft per day. Mears worked with STV Energy Services, the project engineer, throughout the design phase to provide construction feasibility consultation and input on many of the project constraints.
On the north side of the crossing in Tinicum Township, Pennsylvania, the alignment crossed runway 9R of the Philadelphia International Airport, a wetland, and a railroad. The pipe also crossed beneath an archaeological site on the south bank of the Delaware River. To further add to the complexity of the project, the pipe had to be installed above a sensitive aquifer that serves as the local drinking water source.
Mears' execution plan required drilling from both sides of the river to intersect the pilot holes with gyro steering tools. After successfully performing the pilot hole intersect, the hole diameter was increased to 40 in. through two ream passes before a swab pass and pulling the pipe. Three intermediate welds were required during pullback due to limited pipe layout area.