The 2010 No-Dig Show closed its three-day run (May 3-5) with record-attendee numbers for a non-international show and a positive outlook for the trenchless industry. Attendance numbers for the 2010 show tallied at 1,666, looking over the technology of 137 exhibitors on the 66,000-sq ft exhibit hall at the Schaumburg Renaissance Hotel and Conference Center, just outside of Chicago.
From awards handed out for innovative products, outstanding industry service to technical papers, the 2010 No-Dig Show lived up to its billing as the leading trenchless tradeshow and the place to be for trenchless information. The show celebrated the North American Society for Trenchless Technology's (NASTT) 20th anniversary.
Keith Hanks was formally presented with the 2010 Trenchless Technology Person of the Year Award at the Opening Breakfast on May 3 by Benjamin Media publisher Bernard Krzys. At the Gala Dinner on May 4, Jason Lueke, P.Eng., assistant professor at the Del. E. Webb School of Construction at Arizona State University, was presented with the Trent Ralston Award for Young Trenchless Achievement. Also at the dinner, Marlin O. Gonzales, longtime NASTT member and president of National Liner Co. LLC, was presented the 2010 NASTT Chairman's Award for Outstanding Lifetime Achievement.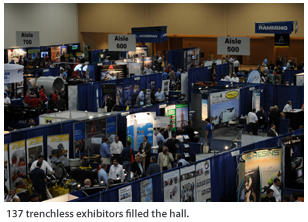 The Ninth Annual Educational Fund Auction was held May 3 and raised a record-setting amount: $52,000. The auction raises financial support for NASTT's 11 student chapters while having a great time bidding on amazing items. Since 2002, the auction has raised more than $364,000.
The 2011 No-Dig Show is slated for March 27-31 in Washington, D.C.—be sure to mark your calendars. A much larger presentation of photos will be available online shortly (www.trenchlesstechnology.com) but here is a sampling of the good times had by all at the Schaumburg Show.