It's rare to see plans for two separate pipelines to be constructed in tandem along the same right of way for any distance, especially across the North Woods of the Upper Midwest.
For Michels Directional Crossings, it's even more unusual to send more than half of its large capacity drill rig fleet to the same region within a 150-mile radius. For Enbridge's Alberta Clipper and Southern Lights projects, though, that's exactly what happened last fall.
Starting just east of the town of Neche, N.D., near the intersection of the Minnesota, North Dakota and Canadian borders, Michels Directional Crossings installed 33 directional drilled crossings for the 36-in. Alberta Clipper and the 20-in. Southern Lights projects.
The 36-in. crossing of the Pembina River provided the springboard into a project that consisted of 20 additional 36-in. crossings along the Alberta Clipper corridor and 12 crossings that were 20 in. in diameter along the Southern Lights corridor.
Michels Directional Crossings has a fleet of 75 directional drill rigs, of which 14 are classified as large capacity. At any one time during the projects, Michels committed up to nine large-capacity drill rigs. That made the projects the first time in the history of Michels Directional Crossings that such a large number of large capacity drill rigs were resourced out for one contract.
Mainline work on the Alberta Clipper began in the United States in late August, with horizontal directional drilling work (HDD) beginning in September. Work in Canada, meanwhile, largely wound up as work in the United States began. U.S. work commenced near the Canadian border and ran south parallel to U.S. Highway 75 before turning east and running parallel to U.S. Highway 2 to its final destination in Superior, Wis. The first 11 crossings of 36-in. each were installed throughout the countryside between Neche and Bemidji, Minn., which is 190 miles northwest of Minneapolis.
The project as a whole was built in phases and began in Wisconsin and Illinois, and the first 11 of the 20-in. Southern Lights crossings were installed previously with the pipeline in the 2007-2008 construction season. For Michels Directional Crossings, that meant that dual HDD installations began on crossing No. 11 at West Four Legged Creek near Leonard, Minn., with dual installations continuing from there to Superior.
Project Background
Enbridge's Alberta Clipper involves the construction of a 36-in. crude oil pipeline from Hardisty, Alberta, Canada, to Superior, Wis. The 1,000-mile segment is expected to be in service by mid-2010, with initial capacity expected to be 450,000 barrels per day (bpd) and an ultimate expected capacity of 800,000 bpd. Supply from Western Canada's oil sands is expected to grow by as much as 1.8 million bpd by 2015, and with demand from oil sands producers and refiners increasing, the Alberta Clipper is a response to their request to serve the U.S. Midwest markets. The total cost of the Alberta Clipper is expected to be roughly $3 billion.
The Southern Lights project was conceived to transport light hydrocarbons from the Chicago area to Alberta's oil sands. These light hydrocarbons, called diluents, are necessary to dilute heavy crude oil and bitumen in order to transport it via pipeline. The project will bridge the gap between the available supply of diluents at U.S. refineries and the demand for diluents in Western Canada. Like the Alberta Clipper, it is expected to be in service by mid-2010.
The project was constructed in a location generally parallel to existing pipelines (six for the northern portion and four south of Clearbrook, Minn., to Superior), with initial lines installed across the same rivers starting in 1949.
Project Challenges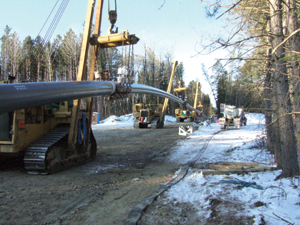 Perhaps the most challenging part of the dual projects was the weather, with temperatures spanning from the mid-80s to 20-below F, a range Michels Directional Crossings Western operations manager Ted Foltz said was not conducive to playing in water.
"It was challenging, but our friends at Enbridge have been great to deal with when there has been a problem," Foltz said. "All parties have worked together to solve problems as quickly as possible, and this has helped immensely with keeping the project on schedule."
All told, Michels installed 47,600 ft of 36-in. pipe, with installations varying in length from 1,300 to 5,200 ft. For the Southern Lights project, Michels installed 30,837 ft of 20-in. pipe, with lengths spanning from 1,000 ft all the way up to 5,200 ft.
The 5,200-ft crossing for both projects came at Superior's Pokegama River. A second assist rig was used on both of those crossings, as well as both crossings of the 1,825-ft crossings of the Mississippi River in Bemidji.
The Alberta Clipper line also required a second assist rig at the 2,468-ft Clearwater River crossing in Red Lake Falls, Minn., the 2,550-ft Red Lake River crossing in Thief River Falls, Minn., and the 2,886-ft Red River of the North in Bowesmont, N.D.
Foltz said the proximity and scale of the jobs provided a lot of advantages for Michels, and their past experience in completing several crossings in the region — many in the exact same locations — was another plus.
"Our internal management for the work was maximized," Foltz said. "In the case of site-specific delays, having the capability to move drill rigs as necessary within the project to answer any problems as they arose was paramount for maintaining the critical path."
One of the most difficult parts of the project occurred when three HDD pullbacks were executed in one day. Despite the extensive coordination and communication required on even just one pullback, the proximity of the jobs helped all three go off without a hitch.
"Work could not have been completed on time without the excellent crews working hard every day to complete the project ahead of schedule," Foltz said. "It was a pleasure to work with Enbridge on this challenging and successful project."

Bob Wothe is corporate writer and marketing specialist for Michels Corp., based in Brownsville, Wis.