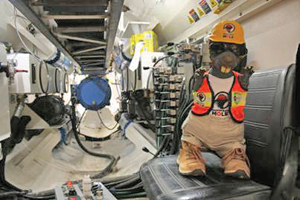 Mortimer, the famed sewer rat, was offered up once again for the Education Auction at the No-Dig Show in Chicago. In a joint venture, Mortimer was purchased by Dan Liotti of Midwest Mole and Ray Post of Michels Corp. The joint venture brought the largest bid to date and gives Mortimer the chance to spend more travels across the country raising awareness for a great cause and offer more exposure to the education funding efforts.
Mortimer spent the summer with Midwest Mole based out of Indianapolis. His first week on the job was not that of play but of hard work as he spent his days in Cincinnati, christening and launching the new TBM machine named "Jane" on Midwest Mole's Shayler Run project that consists of 9,000 ft of 72-in. rock tunnel. He wasted no time popping the champagne bottle in celebration and jumping right in to work with "Jane."
"Jane" is named after Jane Liotti, the late wife of Len Liotti, who founded Midwest Mole in 1982, and the mother of current company president Dan Liotti. Jane was instrumental in the success of the company in the early years by handling the office accounting and paperwork while Len Liotti developed and built the work. In 1987, Jane Liotti passed away of breast cancer.  
Mortimer got his first taste of Hoosier hospitality by joining the company at the famous Indianapolis 500 race on May 30.   Mortimer was to spend his spring/summer with Midwest Mole, and he will head to Wisconsin for the fall and winter. Michels Corp. will host Mortimer and his travels to finish out the year, so continue to be on the lookout for Mortimer, you never know where he will show up!