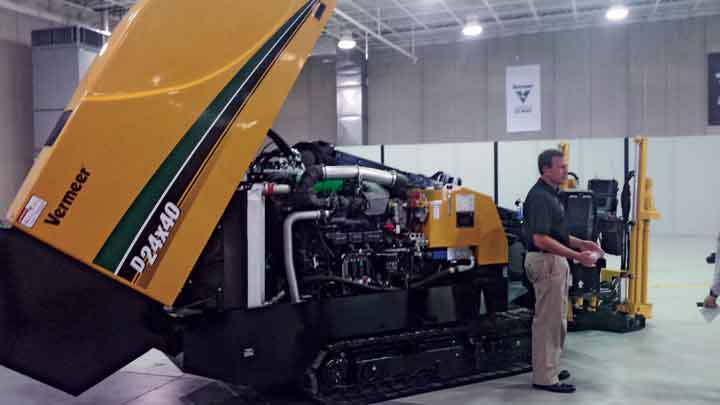 After five years of querying customers and working at the drawing board,
Vermeer Corp.'s
Underground Division is finally ready to pull the wraps off a trio of S3 Navigator horizontal directional drills (HDDs).
The D23X30, D24X40 and the D40X55 S3 drills are built with speed, simplicity and sound (noise) in mind — all three of which are key when contractors are looking to complete more jobs, in congested urban areas.
Vermeer hosted a media preview for the drills, along with the new InSite Productivity Tools, in June at the company's headquarters in Pella, Iowa. The drills and InSite will be part of Vermeer's display at the ICUEE Show Sept. 29 to Oct. 1, as well.
Simplicity is necessary as contractors are facing a shortage of operators. By making the new S3 drills easier to operate, experienced and new operators alike can switch from one drill to the next and use a similar control system.
This S3 trio is built for speed because with increased speed comes productivity and profitability in the competitive telecommunications, water and gas distribution markets. Tracking is faster as are the cycle and rack times on the drills.
As for sound, Vermeer heard from contractors that when working in congested urban settings, noise is a big concern — not only for the operator but also those living and working in proximity to the jobsite. All three have had significant sound reductions with the D23X30 at a 99 dBA guaranteed sound power level and an operator ear rating of 78.7 dBA; and the D24X40 and D40X55 at 104 dBA guaranteed sound power level and an operator ear rating of 82.9 dBA. To put that into perspective, a blow dryer, kitchen blender and food processor are all in the 80-90 dBA range.
With 24,000 lbs of thrust and pullback and 3,000 ft-lbs of rotational torque — an increase over its predecessor, the D20x22 Series II Navigator HDD — the D23x30 S3 is equipped to maximize machine and jobsite efficiency. The D23X30 is ideal for utility installations.
A carriage speed of 206 ft per minute, a rotational speed of 219 rpm and enhanced rod breakout efficiency will help contractors install more linear feet per day. The D23x30 S3 also offers a ground tracking speed of up to 3.3 mph to help contractors get from one project to another faster.
To power the D23x30 S3, Vermeer has selected a 100-hp, liquid-cooled, turbocharged diesel Deutz TCD 3.6L4 Tier 3/Tier 4-compliant engine, which is capable of producing greater power than its predecessor.
The D24X40 S3 builds upon a rig that set the industry in 1993. With 28,000 lbs of thrust and pullback and 4,200 ft-lbs of rotational torque — along with improved ground speed, carriage speed, rotational speed and rod breakout efficiency — the D24x40 S3 is built to help maximize machine and jobsite productivity.
A carriage speed of 240 ft per minute and a rotational speed of 253 rpm help contractors install more linear feet per day, maximizing jobsite efficiency. The D24x40 S3 is powered by a 125-hp, liquid-cooled, turbocharged diesel John Deere 4045 4.5L Tier 4 engine.
Rounding out the trio is the Vermeer D40x55 S3 that can complete a wide range of installations from 2- to 16-in.
The D40x55 S3 has 40,000 lbs of thrust/pullback and 5500 ft-lbs of rotational torque, the D40x55 S3 offers a more than 10 percent increase in thrust and rotation over its predecessor, the D36x50 Series II.
The D40x55 S3 features a carriage speed of 188 ft per minute, which is 7 percent faster than its predecessor, helping contractors install more linear feet per day.
The versatility of the D40x55 S3, allows contractors to select the ideal drill configuration for the specific need. They can choose from three drill rod options: 10-ft rod in 2.38 in. or 2.63-in. diameters and 15-ft rod with a 2.63 in. diameter.
A 140-hp, liquid-cooled, turbocharged diesel John Deere 4045 4.5L Tier 4- compliant engine delivers robust power, while a redesigned excavator-style climate-controlled cab allows operators better visibility, more legroom and greater comfort in unfavorable climate conditions.
This trio of new S3 drills isn't the only thing Vermeer is introducing in 2015. The company also updated its InSite offerings to create a true bid-to-bill system for HDD contractors. Vermeer unveiled the original InSite system in the 2013 ICUEE show.
The new InSite Productivity Tools include InSite Fleet and InSite Fleet Edge, InSite Projects, InSite Mapping, InSite BoreAid Design Tool and InSite BoreAssist. The tools work individually or can be can be bundled to create a complete HDD productivity system.
InSite Fleet, available now on the D24X40 S3 through D220X300 drills allows HDD owners to gain real-time GPS location of the equipment for routing, as well as track and plan maintenance of the equipment and monitor fuel usage and idle times. Fleet Edge, available in January, will add to that actionable machine information. By using Fleet Edge, the HDD operators can track productivity, prioritize maintenance, estimate fuel usage and log data like forces, pressures and flows.
InSite Projects is a planning tool used to map a jobsite and plan a bore using an application that can be accessed via a computer, tablet or smartphone. All project data can reside in one repository and be shared electronically with project owners and inspectors to speed up approvals. Once the job is complete, the user can export a professional report on all aspects of the project, helping to expedite invoicing.
InSite Mapping, is a GPS-enabled mapping application is used to white-line or mark a proposed bore path accurately and help document the position of existing utilities. Data is entered into InSite Projects to generate a visual map (bird's-eye view) of proposed and existing utility lines or landmarks. The mapping application is compatible with a variety of GPS devices.
InSite BoreAid Design Tool, available today, is a planning and design software package that guides the user through a bore planning process using soil information, product type and properties, physical obstacles and other key elements to provide a comprehensive understanding of feasibility and identify issues that may arise during a drilling operation.
InSite BoreAssist, developed in collaboration with Digital Control Inc. (DCI), this on-rig application allows a bore plan to be viewed on the DCI Aurora display, eliminating the need for paper plans. Locate data is logged from the DCI F5 locator directly into the application. Users simply load the bore plan into the Aurora display and then can follow the rod-by-rod plan. The operator can also note deviations to the plan based on field conditions and potential in-field bore plan modifications, as well as design a simple bore in the field using templates that can be transferred via flash drive back to a desktop computer.
Mike Kezdi is an assistant editor for Trenchless Technology.