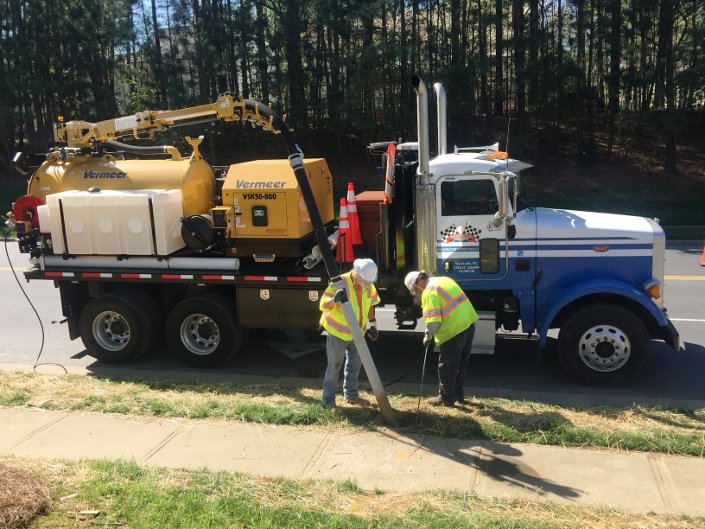 Like locating a utility, it would be irresponsible to judge Victory Construction on the surface. Among the visible, obvious facts: the company was founded less than a year ago, and it is small, by some standards, running just one crew. Digging a little deeper, though, it becomes apparent that president and owner Tim Victory brings with him more than 35 years of industry knowledge, experience in managing 500 employees across 14 states and an unshakable enthusiasm for the underground industry.
Located in Charlotte, N.C., Victory Construction finds itself poised for success in the middle of an expanding fiber market. Victory himself has an impressive resume with experience serving clients in the power, telecommunications, water and gas industries. After selling his stake in his previous company to a large public contractor, Victory saw an opportunity to start over with an emphasis on specialization.
"I consider Victory Construction to be a specialty contractor," he says. "We take on the jobs a lot of other guys can't get done. Difficult crossings, hard rock, crowded utility locates. When no one else can do the job, that's where we go."
The young company has the capacity to work on a variety of projects but is choosing to focus on local fiber installation across the Charlotte area for the time being.
"We're a small mom-and-pop company just getting started again," says Victory. "But my customers recognize that I go the extra mile to protect not only my reputation but theirs, as well."
Gearing Up for New Start
Victory Construction might only have one crew, but it has an impressive cavalry when rolling up to a job site. A four-vehicle caravan hauls Victory's recent equipment purchases.
RELATED: McLaughlin Vacuum Excavators Helping with Oil Spill Cleanup Efforts
One of the company's first equipment investments was a truck-mounted Vermeer VSK50-800 vacuum excavator by McLaughlin — also known as the ECO50-800* — for both potholing and drilling fluid management applications. Also in the lineup is a Vermeer D24x40 Navigator horizontal directional drill with air hammer tooling.
The vacuum excavator is new to Victory's fleet but already has nearly 90 operating hours on it. Victory says he's using it every day around the clock on the jobsite.
"The McLaughlin excavator has been essential," says Victory. "It's a good piece of equipment and we use it more than anything else right now. When we're not using it for potholing, we need it to handle fluid management for the drilling we're doing."
The McLaughlin unit has the capacity Victory Construction requires while still maintaining a compact footprint.
"The vacuum truck is great because it's self-contained," says Victory. "We can go anywhere we need to go with it."
Fiber Project Brings Opportunity, Challenges
Recently, the Victory Construction crew, along with its vacuum excavator, took on a major fiber install in the Charlotte area. The crew was called in to locate and expose all utilities on the project site before the fiber line could be installed. A slew of challenges kept Victory's crew on its toes throughout the project, including tough ground conditions and strict regulations coupled with an acute awareness of recent utility strikes in the area.
The ground conditions the crew encountered on the project didn't exactly lend themselves to easy locating.
"For the past three weeks, we've been working in fairly hard rock," says Victory. "It's a super high compression of blue granite. That's been a real challenge."
In addition to the project's ground conditions, Victory Construction had to factor significant regulations into its project planning. The Underground Utility Safety and Damage Prevention Act adopted by the North Carolina General Assembly in 2014 states that contractors responsible for the excavation of underground utilities must provide an anticipated start date of the digging process along with an estimated duration of the project. Further, the type of excavation and the location of the excavation within one quarter mile must also be specified before work can begin.
RELATED: Digging into the Unknown: Contractors Use Variety of Tools to Efficiently Locate Utility Lines Underground
These strict guidelines, along with the rest of the requirements specified in the legislation, are an organized attempt to minimize damages to underground utilities, as well as the safety implications that can arise from a damaged utility.
The legislation also demands excavation contractors take ample cautionary measures before digging to ensure current utilities remain intact. It states contractors must "plan the excavation or demolition to avoid damage to or minimize interference with facilities in or near the excavation area." For Victory, the regulations confirm vacuum excavation is the only method he trusts when it comes to spotting a utility.
"Everything circles around locating and the vacuum," says Victory. "The biggest problem is avoiding all the other lines in the ground. Our goal is to not hit anyone's power, gas, water, cable, TV, telephone, you name it."
Seeing Is Believing
Safety is Victory's top priority, followed closely by limiting damages for both Victory Construction and its customers. While soft-digging using a vacuum is required by his customer on the fiber project, Victory says he would use this method regardless. If his crew were to hit an existing utility, Victory Construction absorbs those damages. Even with more than 30 years of locating experience, Victory says a visible confirmation of the utilities is absolutely necessary. With the kind of specialty crossings his crew takes on in particular, there are simply too many obstacles in the ground to rely on locator technology alone.
"Your job is to get from point A to point B and miss everything in between," says Victory. "That's where the vacuum comes in. If I can pothole the jobsite and get my eyeballs on the utilities, they're easy to avoid."
Staying Safe, Swift
On high-profile fiber installments, approximations and estimates simply won't cut it. Utility locates need to be carefully executed, but Victory admits there is still pressure to achieve that precision in a timely manner.
"Time is money," he says. "I bought this particular vacuum excavator because it allows me to do my due diligence in accurately locating the utilities. But it's the amount of labor and time savings, the ability to dig easier and safer that makes this piece of equipment worth the investment."
Hindsight Is 20/20
Looking ahead, Victory is focused on staying competitive by continuing to exceed customer expectations and expanding his services. He remains steadfast in his optimism for the utility industry as a whole.
"Right now is probably the best period I've seen for our business in a long time," says Victory. "There's plenty of work out there, and there's plenty of customers looking for good contractors, so all I'd say is be a good contractor — be a good neighbor."
Victory believes hindsight plays a special part in being a good contractor and neighbor. He likes to reflect on each job and determine what he and his crew could have done better. He thrives on identifying opportunities for improvement.
RELATED: McLaughlin Hires Jake Jeffords as Regional Sales Representative
"That hindsight's good stuff," he says. "When you can look back on any project and see what you could have done better — I live by that idea."
*Model number currently changing to ECO50-800 to reflect the proven fuel efficiency offered by the 49-hp auxiliary engine compared to a 270-hp diesel truck engine.
Meredith Augspurger is a features writer at Two Rivers Marketing, Des Moines, Iowa.