As a niche industry, the trenchless technology field is regularly checking its pulse – gauging the health of the market and touting the new equipment and methods that help maintain our underground infrastructure. After all, the industry has experienced quite a bit of growth over the past few decades, and that growth continues today.

Aside from the technological aspects, advancements and breakthroughs in trenchless engineering have led to innovative and groundbreaking projects. In fact, the design of trenchless projects for both new installation and rehabilitation has reached a new level of acceptance. A trenchless approach is not only considered a viable solution, but in many cases, a first option on a project. Leading engineering companies now have individuals with expertise specifically in trenchless technology. Some of these engineering firms have just a handful of specialists who handle trenchless design. Others have hundreds. In any case, project owners expect engineers to fully understand the ins and outs of a project, how to mitigate risk and to apply solutions to any unforeseen challenges.
Each year our December issue takes a closer look at engineering in the trenchless marketplace. This year marks the 23rd annual ranking of Trenchless Technology's Top 50 Trenchless Engineering Firms in North America.

This ranking is compiled every year based on data submitted by engineering companies via a survey. The task of compiling the revenue figures and data we ask for is not easy, and Trenchless Technology would like to thank all firms that participated in this year's survey. Only revenue figures submitted to Trenchless Technology were used to compile this ranking.
In ranking the top 50 trenchless firms, Trenchless Technology's goal is to give readers a snapshot of the scope of work completed by top trenchless engineers, thereby offering a general impression of annual market performance. The ranking examines firms' trenchless revenue relative to total company revenue, the number of employees in trenchless design and projects completed in the past year.

We also examine the number of projects completed in various market disciplines. This year, we've added some new categories to that question, asking companies to report projects using Direct Pipe, Guided Boring/Pilot Tube methods and utility tunneling among others. Utility tunneling is a category we have not tracked for the past few years to avoid receiving revenue figures and project totals that incorporate conventional tunneling. For this survey, we define utility tunneling that can be considered trenchless as being 10-ft diameter or less.
The top 50 are ranked by trenchless revenue in 2018 or the company's previous fiscal year. On the survey, trenchless revenue is defined as the total revenue generated by a firm from trenchless professional services including design, construction oversight and inspection using new installation or rehabilitation methods you see listed in Figure 1.
The Top 50 for 2019
Dallas, Texas-based Jacobs ($238 million in trenchless revenue) takes the top spot in 2019 for the second consecutive year following its 2017 acquisition of CH2M, which had typically frequented the No. 1 spot.

Edmonton, Alberta-based Stantec has moved into the No. 2 spot, reporting more than $215 million in trenchless revenue, making Stantec again the highest-ranked Canadian firm in the top 50. This also marks the first year multiple firms have reported $200 million-plus on Trenchless Technology's survey.

Mott MacDonald ($126 million) comes in at No. 3 while AECOM ($114 million) retains its position at No. 4. Hatch ($100 million) and Black & Veatch ($78 million) switch spots from a year ago in the No. 5 and 6 spots, respectively, while CDM Smith ($75 million) remains at No. 7.

At No. 8 is T2 Utility Engineers ($42 million), which becomes the highest-ranked 100 percent trenchless firm following its separation from Cardno effective October 2019. T2 Utility Engineers is one of four 100 percent trenchless firms to appear on this year's ranking (the others are BlueFox Engineering, $8.1 million at No. 33, J.D. Hair & Associates, $3.1 million at No. 49 and Staheli Trenchless Consultants, $2.9 million at No. 50).

Rounding out the top 10 are GHD ($38 million) at No. 9 and HDR (36 million) and No. 10.

RELATED: Top 50 Trenchless Engineering Firms of 2018: Trenchless, by Design

Rummel, Klepper & Kahl (RKK) based in Baltimore, experiences the biggest jump on the top 50, nearly doubling its trenchless revenue from a year ago and moving up from No. 20 to No. 13 this year.

Overall, the 2019 figures – which, again, refer to revenue in 2018 or the previous fiscal year – continue to show the slight upward trend of recent years. Looking specifically at trenchless revenue, this year's Top 50 trenchless firms did more than $1.5 billion in trenchless work, up from about $1.4 billion a year ago. Of the Top 50 firms' collective revenue of roughly $45 billion, 3.4 percent was in trenchless engineering. There's also some positive news on the workforce front as this year's survey revealed more than 5,650 engineers specializing in trenchless design amongst the Top 50 firms – an increase from 5,200 in 2018.

RELATED: The Year in Trenchless Engineering – Top 50 Trenchless Engineering Firms of 2017

What Do the Results Reveal about the Trenchless Market?
Simply put, the industry is moving in a positive direction. Ultimately, the results of Trenchless Technology's Top 50 ranking are going to include a range in size of engineering companies. Some are among the largest engineering firms in the world and others are smaller, more specialized firms. The results from year-to-year can be affected by a number of factors, such as mergers and acquisitions. Additionally, some firms may not submit revenue figures to Trenchless Technology, keeping them from making the ranking.

There is some good news based on this year's numbers. Notice the $1.5 billion figure of total trenchless revenue for the Top 50. This number has consistently increased since Trenchless Technology began publishing the ranking 23 years ago. The total trenchless revenue among the Top 50 is a 9 percent increase over last year and a 26 percent increase over the last five years ($1.1 billion was reported from the top 50 in 2014).

RELATED: 2016 Trenchless Technology Top 50 Trenchless Design Firms Survey Results

While these numbers are specific to the trenchless engineering revenue of the 50 companies on this list, they do show – at least in terms of dollar amount – that trenchless work is in fact on the rise at a steady clip. Since 2014, the total trenchless revenue among the Top 50 has exceeded $1 billion, increasing by more than $100 million each year.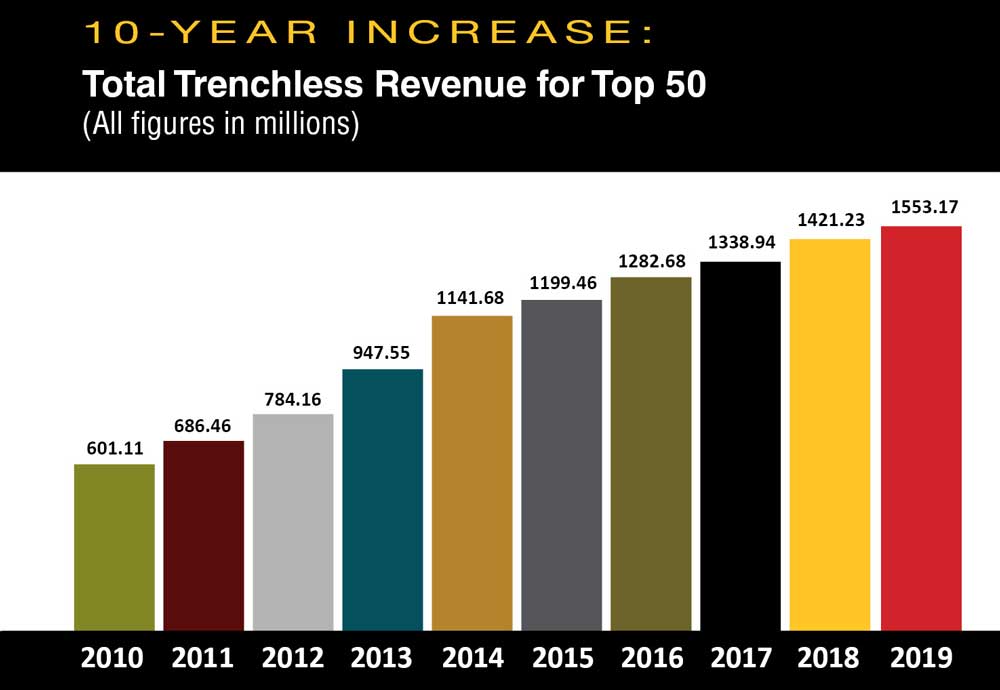 Project Breakdown
Also of note in Trenchless Technology's survey is the number of projects completed in the past year. We ask for a project breakdown by trenchless method used. Those figures were totaled to get an estimate of the number of trenchless projects completed by the top 50. The total figure of 17,000-plus given on the top 50 ranking is a rough estimate from companies. A more specific total is given in Figure 1, which totals 18,200 trenchless projects by the top 50 – an increase from the 17,065 projects reported in 2018.

According to the survey results, of the reported projects this year, more than 5,000 subsurface utility engineering projects were completed amongst the top 50. Horizontal directional drilling (HDD) also remains a top market discipline with more than 4,577 completed projects. Next is sanitary sewer evaluation studies with 1,793 projects, followed by pipe rehabilitation (1,744+), pipe jacking (604), microtunneling (570+), auger boring (400+), Direct Pipe (400+), utility tunneling (383) and pipe bursting (192), with 2,794-plus projects reported in the "other" category.

Participating in the Top 50 Survey
Submittals from engineering companies are imperative to making Trenchless Technology's annual Top 50 ranking as comprehensive as possible. If you are a trenchless engineering company and would like to learn more about how to participate, please contact Sharon Bueno, managing editor, at sbueno@benjaminmedia.com.