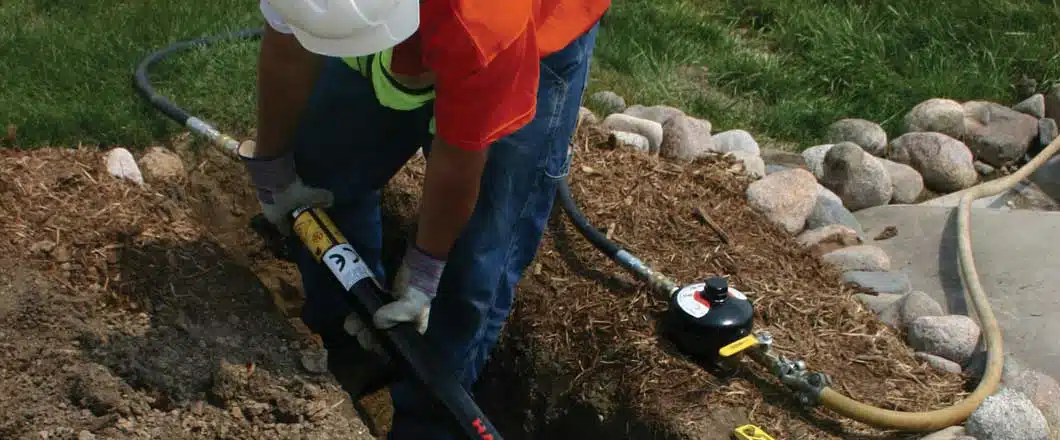 For decades, pneumatic piercing tools have been a popular and practical choice for contractors and utility companies to install utilities under existing structures and landscapes. With a variety of manufacturers and models of tools to choose from, how do you select the right tool for the job?
"One of the major considerations when choosing from different types of piercing tools is finding the right kind for the soil conditions you're working in," says Will LeBlanc, global accounts manager for HammerHead Trenchless. "While the 'wrong' type of tool may still work, it won't perform as well, and the job will take longer. With the right tool and proper maintenance, you can extend tool life, sustain peak performance, and increase overall productivity."
HammerHead Trenchless and other piercing tool manufacturers generally offer tools with two head types to choose from: a stationary head for softer soils and a reciprocating (or moving) head that is designed for harder soils.
For Harder Soils
Reciprocating head (also called moving head) designs are best suited for working in tougher ground conditions like clay or cobble. HammerHead Mole Active Head piercing tool models have a specially designed retaining system and replaceable rings on the bit shaft and head so they will last longer and sustain their performance level over time, LeBlanc explains.
For contractors who work in multiple soil types, LeBlanc recommends the Catamount models of tools ranging in size from 2.5 to 5.125 in. "If you're always working in harder soil conditions, Active Head tools are high production and economical to own," says LeBlanc. "But if you're doing work in both hard and soft soils, Catamount tools might be a better option because they're designed to perform well in the widest range of ground conditions."
"On HammerHead Catamount tools, the head is driven by air that resets the head, eliminating the need for mechanical springs which can cause failure in some other piercing tool designs," he says. "Plus, Catamount tools were designed with the user in mind so they're easier and faster to start."
Catamount piercing tools have a patented quarter-turn reverse feature called the Power Port Reverse that locks the tool in either forward or reverse gear, preventing any accidental direction change during the bore. "That lock is important because if a tool were to suddenly go into reverse during a bore, you lose time and money, and you could even lose the tool itself if it reverses over the air hose which would require excavation for you to retrieve it and digging may not be an option depending on the job site," LeBlanc explains.
For Softer Soils
While moving head designs are ideal for harder soils, they don't perform as well in softer conditions making stationary head tools the preferred choice. HammerHead offers a stationary head, also called replaceable head, tools in a variety of sizes ranging from 2 to 8 in. and the heads are interchangeable. All models run at 110 psi.
"Reciprocating head tools from any manufacturer are going to underperform in soft ground," says LeBlanc. "They tend to 'swim' which slows down the job, hindering productivity. Replaceable head tools will outperform any other type of tool in soft grounds."
The rear anvil design on HammerHead Mole piercing tools features valve and head options that don't require specialty tools to change. "We've always strived to design our tools to be a lasting investment with a lower cost of ownership. For example, our design allows you to service the tool from the back of your truck and not have to take it into a shop to change the heads," he says. "We also have fewer working parts than other tool designs so there are fewer possible failure points."
Keeping Up With Maintenance
Matching the type of piercing tool to the type of soil is important to maximizing productivity but so is regular maintenance. "It's like maintaining your car or truck," LeBlanc says. "You get the oil changed after so many miles, so the vehicle continues to work. It's the same thing with piercing tools. Servicing your piercing tools will keep them performing reliably."
Manufacturers, including HammerHead, typically provide a prescribed course of service for the tool based on how much its being used. "As an example, if a contractor is installing 400 to 500 ft of cable every day, the tool should be checked every few months," LeBlanc says. "At HammerHead, we make sure that contractors receive service training when they purchase a piercing tool so they can take care of the tool and make it last as long as possible."
Servicing the tool often involves the simple replacement of various wear items. "Always inspect the tool before you use it so you can identify possible issues before they cause bigger problems during a bore," says LeBlanc. "For example, look for wear on the head of the tool and monitor the wear rings on the striker and valve to determine if its time to replace them."
Pneumatic earth-piercing tools continue to gain popularity as a cost-effective solution to install underground gas, water, cable, irrigation, fiber or electrical lines under yards, buildings, or streets. With increased use, contractors should use a tool designed for the ground conditions and service the tool regularly to maximize their investment.
Chelsea Denissen is the marketing coordinator at HammerHead Trenchless.