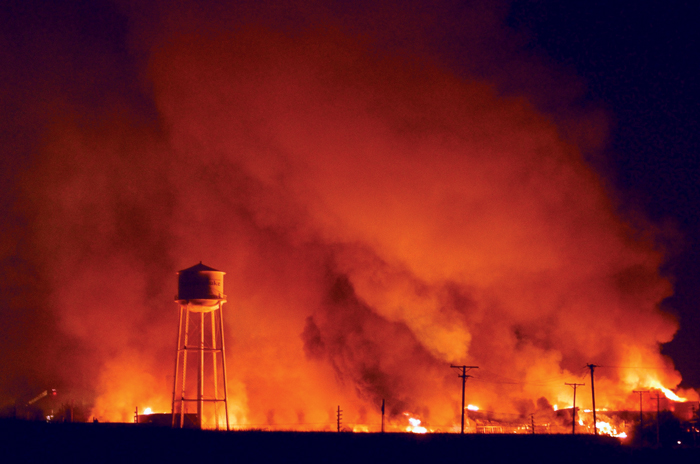 Ten years ago, Spartan Tool nearly burned to the ground.
It was an accidental fire that happened overnight, and by morning, 250,000 sq ft of the company's manufacturing facility was destroyed. "It was a major challenge to satisfy customer needs in both the short- and the medium-term while we struggled and raced to get back into business," said Spartan Tool president Tom Pranka.
Luckily, Spartan did make a swift recovery from the fire, and it's just one of many challenges the company has faced in keeping up with the rapid pace of the sewer cleaning industry. Spartan Tool, now enjoying its 71st year of business, is a major player in the sewer and drain cleaning equipment market.
A privately-held company, Spartan Tool has been on the rise since the company was founded in the early 1940s. Specifically, Spartan has seen progression across the industry in the production of cable machines, drain cleaners and inspection equipment, of which Spartan itself has been involved in some industry-leading equipment innovations. But Spartan's staff will tell you it has been the hard work and dedication of its sales force that has grown the company into what it is today.

Beginnings
While none of the original founders of Spartan are involved in the business today, the company's history can be traced back to 1943. Spartan began as the offshoot of a manufacturing company out of Wisconsin that, at the time, saw market potential in the sewer and drain cleaning industry. Since that manufacturing company was based in the City of Sparta, Wis., it was natural for the founders to call the spinoff company, Spartan Tool.
Spartan initially set up shop and began manufacturing equipment in a facility outside of Chicago. By the mid-1950s, the company moved from Chicago to its current headquarters in Mendota, Ill., and since the fire, now develops its products in the United States out of its manufacturing facility in Mishawaka, Ind. Spartan is a privately-held company owned by The Heico Companies LLC, a holding company involved in several other diverse manufacturing markets ranging from wire manufacturing to heavy equipment, concrete construction and airplane freight automation.
"The one thing you can say about Heico is that all the companies make something," said Pranka, who is now in his 16th year with Spartan Tool, having worked for the parent company, Heico, since 1984.
Commitment to Core Products
Spartan Tool's product line has long consisted of a full line of sewer and drain cleaning equipment, notably cable machines and hydro-jetters. More recently however, Spartan has begun to heavily market its condition assessment equipment for inspecting pipelines, as well as offer a line of pipe bursting equipment in an effort to expand the business offerings of customers. The company defines its product line as consisting of four major sections of core products:
Mechanical Drain Cleaners/Cable Machines
The use of mechanical drain cleaners — also called cable machines — is perhaps the most common method of cleaning a sewer, and essentially consists of feeding a rotating spring down a sewer line to clear blockages. Spartan manufactures a full line of cable machines suited for application in drains ranging from 2 to 10 in. in diameter.
All of Spartan's cable machines are built with rust-resistant enclosed drums, as well as operator safety features to protect against hazards such as electrical shock, heavy lifting and cable entanglement and breakage. Spartan's cable machines are also designed to be customer friendly with low noise motors and dirt containment within the drum itself. Typical cable machine applications range from household sinks and tubs, commercial kitchen drains and office or residential complexes.
"These machines have been around since the start of Spartan Tool in one type or another," Pranka said. "There have been refinements, changes and additions over time, but the core technology is still the same. It's the most common methodology of cleaning drains still in use today."
Hydro-Jetters
Spartan Tool's hydro-jetters range from small cart-mounted units to massive dual-axle trailer-mounted units as well as skid-mounted hydro-jetter units that go on the back of trucks. These systems use water pressure and water flow to clean drain lines. These machines are sized relative to the size of the pipe to be cleaned.
"I most often describe these as gigantic pressure washers specialized for the drain cleaning industry," Pranka said. "Whereas mechanical drain cleaners will flop around in a line and clean the line and open the blockage, a hydro-jetter will scrub the interior of that pipe and leave it in pristine and like-new condition when properly operated."
Spartan jetters feature heavy-duty pumps to ensure accurate water pressures and flows, EPA-compliant engines and built-in protections against low-water pump failure, low engine oil and engine overheating.
Inspection Systems
Inspection cameras for sewer condition assessment, having become more accepted and applied for small diameter sewer cleaning, are one area of Spartan's product line the company has been particularly excited about. Pranka said the large majority of the inspection cameras offered by Spartan are used for direct application for sewer and drain cleaning. "These take the mystery out of drain cleaning," he said. "Now you can show a customer exactly what's wrong with a pipe."
Pipe Bursting
Spartan Tool's product line also includes its UnderTaker trenchless pipe bursting machine, capable of bursting 2- to 6-in. pipe, predominantly used for residential sewer laterals going between a residence and mainline sewer. While somewhat separate from the area of sewer cleaning specifically, Pranka said Spartan's development of pipe bursting equipment has offered customers a new opportunity to grow their business.
"It is a core portion of business expansion for our customers," he said. "For the plumbers and drain cleaners who want to expand their businesses, this is a core way of doing it. If you're talking about $400 or $500 to clean a line vs. $4,000 or $5,000 more to replace it, this offers an increase in revenue for them."
Innovation in a Competitive Market
The sewer and drain cleaning market has experienced growth on the basis that cities can save money and avoid replacing sewer lines by proactively maintaining the ones they have.
"[Sewer cleaning] is a strong market and a very competitive market," Pranka said. "There are a lot of players and the manufacturers offer everything from the Yugos to the Lamborghinis, and there are needs in the market for all of the above. Some people buy on price, other people buy on performance and other people buy on quality."
One of the main reasons Spartan has been able to remain competitive is the quality of its products and the innovation the company has pushed over the years. Spartan has also made strides in taking advantage of technology in the manufacturing process, such as applying the use of 3D printing.
"On the manufacturing side, we now use components that weren't even available 10 years ago," Pranka said. "The tank constructions on our jetters and hose constructions on our jetter hoses are brand new developments in the last decade. On the camera side, the miniaturization of the video cameras has been a boon for us. [Similar] technology 10 years ago was four times the size."
Nearly 30 years ago, Spartan patented the first automatic feeder for cable machines in the industry. This type of automatic feeder is now commonplace across the industry due to the safety aspects and the ability to clean a sewer or drain quicker and more efficiently.
"It's the product development, engineering and innovation that sets us apart, Pranka said. "We focus on the safety and quality of our machinery. [Our equipment] is engineered by drain cleaners for drain cleaners and it's engineered in a way to make them as safe as possible in the everyday use of the equipment."
According to Pranka, the overall technological advancement of smart phones and camera phones has impacted the communication capabilities between Spartan and its customers, whereas in the past, barriers existed between figuring out a customer's needs and diagnosing a solution. Now, customers with a problem can simply send photos of a faulty sewer line to Spartan employees who can then get an idea of what that customer's needs are. Pranka also said one of the challenges has been keeping up with the changes in technology in regards to how data from a condition assessment is viewed and analyzed, now culminating in the use of tablets to view this data.
Customer Relations
Despite consistent product development, Spartan prides itself on its relationships with customers and its direct-to-the-end user sales methodology. Spartan has employees who still make house calls and go directly to the customer with a van or truck stocked full of equipment or repair parts. These employees have the ability to repair equipment, replace equipment, sell new equipment, diagnose equipment and perform product demonstrations right at the customer's location.
Spartan Tool customer service manager Bill Madden says Spartan's process of selling directly to the customer works well because people are receptive.
"The key is the distribution of equipment and the way we sell to the end-users," said Madden, who has been with Spartan for more than 35 years. "When you pull up at a customer's facility and they don't have to deal with a supply house because you have the equipment sitting on your truck, they absolutely love that."
Madden said continuing to educate customers and the public has also been crucial for Spartan, most notably in the time the company has ventured into offering pipe bursting equipment.
"The key is education," Madden said. "If you can get out there and demonstrate, and show these people what a bursting machine actually does and how it works, they can make lots of money. People just want to be called on, people want to be treated properly and they want to be able to buy a quality product at a fair price and make money on it."

Moving Forward
The future of Spartan Tool appears in good hands as the company has been able to adjust to changes in the market, particularly on the side of technology and offering easy access to information to effectively communicate with customers. Spartan even points to the fire at the company's manufacturing plant as a major testament to company's ability to make adjustments and overcome challenges regarding its manufacturing and sales process.
"We were buffered somewhat by the fact that all the sales people we have around the country actually had inventory in their possession," Pranka said. "So even though our inventory and all of our raw materials and all our manufacturing equipment burnt, we still had the ability to deliver product the next day." After the fire, Spartan was manufacturing products from its Mishawaka, Ind. facility less than 120 days later.
"When you look at the future, it's an incredibly diverse kaleidoscope of things that will help us stay competitive," Pranka said. "Product innovation has been key over the years, and it remains key. Leading the market in that direction is how you prosper long term. That will continue to be one of our main keys to success."
Andrew Farr is assistant editor for
Trenchless Technology
.