For more than 20 years, the Laney name has been synonymous with the horizontal directional drilling industry, particularly in the oil and gas pipeline market. But change has been under way the last few years at Laney Directional Drilling, bringing with it a renewed swagger and pride among its leaders and employees.
The HDD contractor remains distinctive in an industry where diversity has kept other contractors afloat during turbulent economic times. Instead of adding other construction methods, such as auger boring or microtunneling, Laney Directional Drilling remains focused as an HDD contractor — period. Laney officials consider themselves as purists of the industry.
"We have no other profit centers other than directional drilling," says Laney Directional Drilling president and CEO Kevin Fox, who joined Laney in October 2010 after 19 years with another successful Texas-based contractor. "We have stayed the one entity that focuses on HDD and now engineering of HDD. We are probably one of the oldest, continuous operating HDD companies in the United States."
With its proximity to the expansive petroleum industry of the Gulf Coast area, it comes as no surprise that more than 90 percent of Laney's business serves the pipeline construction market. Its strong reputation within HDD and pipeline circles is one that company officials take great pride in. With its recent addition in engineering services and technology, change is also something they take pride in.
Fox has been the impetus of change at Laney since he took the reins nearly two years ago. He was hired after the retirement of Marcus Laney, the longtime company president who stepped down from the company's day-to-day operations but remains on the board of directors. Fox has brought a new attitude, vision and ideas to Laney Directional Drilling, breathing life into a stalwart of the HDD industry.
Beyond establishing a licensed engineering group within the company, Fox also challenged his management team to develop written standard operating procedures (SOPs) and has emphasized technological innovation to make HDD projects more efficient, especially in the collection of drilling data.
Through the changes, the company's longtime motto has remained the same: There Is No Substitute for Experience.
History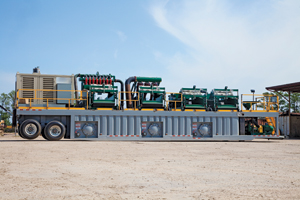 The Laney name got its start in construction 65 years ago when J.M. "Doc" Laney help start Texas Road Boring in 1947. Doc Laney's three sons — Marcus, Dickey and Steve — joined him in the business, working with them until his death in 1978. Within the year, the Laney brothers were ready to strike out on their own and in 1979 formed Laney Inc., a boring contractor based in Humble, Texas, located in northeast of Houston. Laney Inc. focused on boring operations up to 48 in. in diameter using auger boring and slick boring for pipeline companies in the petrochemical market of the Gulf Coast region.
By 1989, a relatively new technology emerged in drilling circles called horizontal directional drilling was starting to become mainstream and a partnership was formed to capitalize on this fledgling drilling market. Veteran driller Robert Hamil approached the Laneys about joining forces to create a directional drilling contracting company — an idea that intrigued Laney Inc. CEO Marcus Laney.
"In those times, HDD technology was a relatively new technology. Marcus [Laney] viewed it as a business opportunity involving an emerging technology," says Fox. "Laney Inc. was already very integrated in the pipeline industry and was already doing boring for the same people and companies that were planning directional drilling projects. He saw this as a natural progression to team with the Hamils and start Laney Directional Drilling."
The new HDD company started out small, with fewer than 10 employees and just a couple of compact size rigs; operations were run from an office trailer in Laney Inc.'s backyard. The move to the current facility was made in 1996. The rise of Laney Directional Drilling coincided with the rise of the HDD industry, with each tapping into lucrative markets along the way.
Laney Directional Drilling got its start doing small diameter, shorter crossings — unlike the extensive lengths and large diameters it conducts today. But that was the HDD industry back in 1989 — short crossings. "We started out doing small, short crossings using smaller rigs," Fox says. "The first Laney directional drill only had 40,000 lbs of pull back and was chain driven. Over the years, as the technology advanced, the rigs got larger, the crossings got larger and the diameters got larger. Today, our largest drill has 1.7 million lbs of pullback."
Today, Laney Directional Drilling is one of the premier large HDD contractors in North America, focusing on large diameter and long crossings in the oil and gas markets. Between 2006 and 2010, Laney crews successfully completed 153 crossings that were of at least 42 in. in diameter — compare that with the fact that the contractor has only done a total of 163 such crossings in its history.
Vice president of business development Grady Bell — an HDD drilling veteran of more than 26 years — has been with Laney Directional Drilling since 2002 and has seen firsthand the growth and reputation the company has nurtured. He notes that what set Laney Directional Drilling apart from its competitors early on were its custom-built drill rigs.
"Back in the day, the superintendents and their crews helped to build the drill rigs," he says. "We were building a drill rig that worked, that didn't break down as much and was easy to maintain and repair. The guys were invested in the drill rigs they were building and built a little better rig to meet their needs. I think that helped us out initially in building our reputation."
Today, Laney Directional Drilling still custom builds its rig fleet — 23 of them over the years — but in recent years purchased three Vermeer D100x120 rigs. The Gulf Coast remains the focal point of its work but has taken on some projects beyond the North American borders, including 13 different countries such as Brazil.
"Historically, we have preferred to work in the Gulf Coast states in the sands, clays and jettable soils," Fox says. "There has been plenty of work there to support our operation without venturing too far into rock locations. Over the last few years, we have spread out and moved to a lot of other locations across the United States and have pursued hard rock crossings. We have added technology and tooling, mud cleaning systems and other upgrades to make that possible and be successful at it."
The emergence of the shale drilling market has become a boon for contractors, particularly those who handle small- to medium-size diameter pipe. Laney is also a player in this market, adding smaller size rigs to drill in the Marcellus shale region — which encompasses all of Pennsylvania, as well as parts of New York, Ohio and West Virginia.
"It has drawn us into the rock business a little more," Fox says. "The business climate with all the work going on in the Marcellus shale region in particular has caused us to take a hard look at that and how we can be successful drilling there. We have reorganized our operation to be competitive in the smaller diameter market."
Expanding in Engineering
Laney officials are excited about the added dimension the HDD Engineering Group brings to the market, and they say this facet sets it apart from its competitors. In operation for just over a year, the Engineering Group has taken on detail engineering projects for more than 100 HDD crossing projects. Most have involved just handling engineering services of a project, but some have included both the engineering and HDD work.
When Fox came on board in 2010, one of the first things he did was tour the various project sites Laney crews were working, asking how projects could be improved, even on subcontractor work. "Time and time again, I heard from people in the field on jobs in which we were the subcontractor on that, 'This project wasn't designed well,' but nothing could be done at this phase because the project has been designed, permitted and awarded to a mainline pipeline contractor. As a subcontractor, we had limited ability to modify the design at this stage in the project. I recognized there was a need for stronger HDD engineering in the industry."
This led to the creation of Laney's HDD Engineering Group in 2011. Licensed in 25 states, the group serves as the specialized HDD engineering arm of Laney. Alan Snider joined Laney as vice president of engineering in March 2011, charged with overseeing this new business division; Paul Bearden also joined the team as its director of research, development and quality and director of international operations. Together, Snider and Bearden have nearly 40 years of HDD experience.
"[The Engineering Group] has enhanced our business greatly. I believe that good engineering leads to a good construction project," Snider says. "We are doing good work and producing deliverables that our owners like but the bigger benefit is supporting Laney during construction when there are design issues. I don't think there is another drilling company that is licensed as an engineering company. There may be a few others that have professional engineers working for them, but they are there to strictly support the construction side of it but are not licensed to do engineer sign and stamp drawings for a client."
Bearden echoes Snider's thoughts. "You don't find many organizations specializing in HDD construction that also house the engineering component," he says. "This service has made a very positive impact to the organization, allowing for the ability to more extensively evaluate projects prior to the start of construction. It has also provided the necessary resources for completing design-build projects where specific clients have requested these services."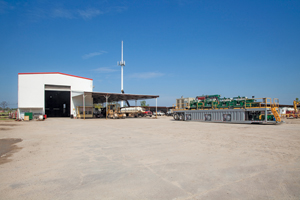 Bearden was tasked with working with the Laney team to develop the SOPs and then incorporate them, which establish a baseline of how projects should be tackled from bidding to mobilization to drilling and allows them to use a broader range of technologies that are available today. "We talked about how Laney did things in the past and how we could refine that. The SOPs keep us more consistent. Every job is different but if we have consistency to tie everything back to, it helps us tremendously in our operations," says Laney general superintendent TJ Strickland, who has been with Laney since 1999, starting out as a crewmember.
Innovation has also been a part of Laney's resurgence, in particular with its new INROCK Dril Data System — a proverbial black box for a drill rig. Installed on a drill rig, the technology collects and stores real-time drilling data, such as flow rates, torque and rate of penetration, as the rig is being used, allowing for any changes in drilling to be conducted without delays. The project clients also have access to this data without leaving their offices.
"Transparency is the ultimate goal for incorporating Dril Data on the rigs," Bearden says. "For many years, the HDD industry has been plagued by the inability to collect and/or store operational data sets without having the potential for some type of human intervention… But because data sets have always been scribed by hand, we've never been in the position to cancel out the notorious question of 'Does this data really represent what happened?'"
Thus far, the Dril Data System has been used on three of Laney's drill as a sort of pilot project, and Snider and Bearden are pleased with its use.
The Future
While Laney enjoys the success it has earned, Fox and company also have their eyes on future endeavors and how the company will reach them. Nothing is impossible, they say, pointing to the growing project lengths and technology being developed to do them. "We recently completed an 11,000-ft crossing under Lake Houston, and we are looking at projects between 10,000 and 15,000 ft in length," Fox says. "The technology that has been applied here at Laney over the last 18 months has allowed us to do things that in the first 22 years at Laney Directional Drilling were never done. We are getting into very detailed science and engineering on hydraulic fractures and inadvertent returns and putting in procedures to reduce that potential.
"Laney wants to continue to move toward being No. 1 in this industry," he concludes. "We want to continue to grow and diversify in the HDD business. We've done that by adding engineering and smaller rigs and expanding our geographical footprint in the United States and globally. We will continue to pursue those opportunities where we see them."
Sharon M. Bueno is managing editor of Trenchless Technology.