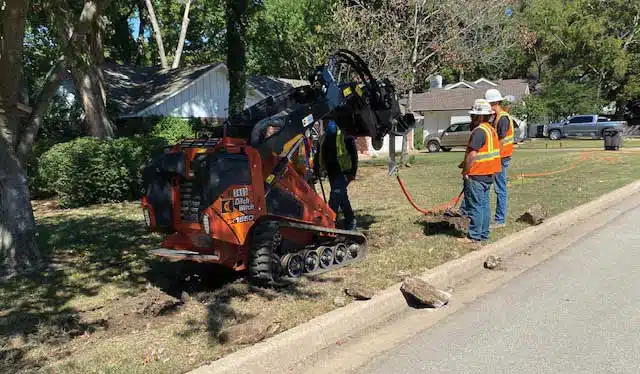 The need for fiber connectivity in rural America has only been exacerbated by the COVID-19 pandemic. Nearly every element of day-to-day life turned virtual.
According to a 2021 study from BroadbandNow, there are at least 42 million Americans without access to broadband internet. Access to affordable and reliable broadband in the 21st century is a critical infrastructure necessity, just like transportation, electricity and water. Extending broadband to rural America is crucial for nurturing robust economic growth, enriching educational opportunities, expanding access to health care through telemedicine, improving public services and safety and increasing civic engagement.
Those without access to reliable internet have been left out since March 2020. But how do communities make the jump to fiber when coaxial cable internet connections from the 1990s and 2 megabits-per-second download speeds are often their only option available?
Providing Quality for All
Most major telecom providers overlook rural parts of the United States where there are not enough people to sustain a robust network. These providers don't want to risk cutting their margins by making investments in smaller communities. This means that for the roughly 60 million people – or one in five Americans – that live in rural America, there is generally only one, if any, internet provider option. In fact, BroadbandNow released an interactive National Broadband Map that shows the disparities in access to broadband providers between rural and urban communities across the United States.
This gap is where Bluepeak comes in. Bluepeak is a cable internet provider with a plan to bring fast, reliable internet access to rural America. Bluepeak offers top-tier technology, so customers in small to mid-size communities have competitive provider options. "The size of the community shouldn't determine the quality of the technology," said Jesse Granger, director of communications at Bluepeak.
Several members of the Bluepeak executive team grew up in rural communities yet spent their careers building fiber networks across urban areas of the United States, and even the world. With the gap COVID-19 created, now felt like the perfect time to go into small communities and bring fiber to those who need it most. "There are a lot of underserved communities in Oklahoma. It's antiquated technology. A lot of people had been promised the moon," explained Joel Deason, director of construction and engineering at Bluepeak, as he illustrated the impetus of Bluepeak's decision to build their fiber network in rural America.
Over the course of 2022, Bluepeak is working to launch fiber in nearly 20 markets across Oklahoma alone. The first of which is Perry, Oklahoma, home of Ditch Witch. Desi Stoops, vice president of market development at Bluepeak and a Perry native, said the team looked throughout the state of Oklahoma and realized there were anchor markets – or centralized places from which the service provider could reach multiple markets – that weren't connected to Oklahoma City and Tulsa, two of which being Stillwater and Enid. Perry happens to fall right in between those two, making it an ideal location for the first rural America fiber project.
Building Community Partners in Perry
With the decision made to bring fiber to rural America, Bluepeak needed a strategic construction partner to make this vision a reality. But Bluepeak did not want to solely focus on the speed at which a partner could install fiber optic. With a project of this size and magnitude, they knew that they needed a collaborator who would truly be a partner to these tight-knit communities. With this at the top of mind, Bluepeak partnered with Mears Group, a family-owned, community-focused construction infrastructure contractor.
To ensure that the community input is incorporated into every project, Bluepeak and Mears representatives work closely with local community members before the team even breaks ground on the project. A key part of this community engagement involves Bluepeak and Mears hosting forums where residents can hear directly from project leaders to learn more about the project and get their questions answered. These meetings help community members to understand the scope of the project, construction impacts during project development and the benefits that the project will provide once completed. It also allows for community members to provide insight and input into the project to ensure that it best fits their wants and needs.
In addition to meeting with community leaders, Bluepeak and Mears make it a priority to ensure that they are good neighbors by minimizing community disruption. This involves developing construction plans that limit damage to property and hazards in the community. In doing so, Bluepeak and Mears work together to ensure their construction plans properly anticipate and communicate any activities that may impact community members, such as planned outages or road closures due to construction. "When we're in the neighborhoods, we want to be good neighbors. Not just their construction partners…it's one big team," explained Deason.
To further enhance community engagement, Mears makes it a priority to hire local talent to help complete the project. To accomplish this, Mears works with staffing agencies or hosts job fairs to hire talented operators to work on projects that directly impact their own family, friends, neighbors and community.
Being a good neighbor and building community partnerships is what sets this fiber connectivity project apart from others. In particular, the project in Perry, Oklahoma. has a seemingly never-ending knot of community ties. When Bluepeak partnered with Mears as their construction contractor, it was only fitting to use Ditch Witch machines – a legendary brand that has had strong community roots since it was started in Perry over 70 years ago.
For Bluepeak installations, the Mears team generally uses equipment on the smaller side – like Ditch Witch's JT20, AT30 and stand-on skid steers – so they can easily maneuver through residential areas without compromising power and productivity. After an installation has been completed, Mears works closely with the local government to ensure proper restoration of the jobsite. In Perry, for example, Mears laid 69,000 ft of underground fiber-optic cable, all of which was covered when the job was complete, making it seem to the community and visitors that construction had not even happened.
Connecting Rural Communities in Action
One of the many Perry community members who has taken advantage of Bluepeak's fiber internet is Spencer Tetik, a motion designer and video editor who works for an agency based out of Kansas City. In this position, Tetik depends on fast internet speeds to upload and download large graphics or videos.
"With my previous internet provider, speeds just weren't there and it made things a bit of a struggle. Sometimes uploads or downloads would time out which made it challenging to do graphic design work with subpar internet," said Tetik. "When I heard that Bluepeak was coming, I immediately started looking into it to increase my upload speed. With Bluepeak, I can upload and download materials almost instantly. It's done before I even have time to think about it, it's great."
Spencer lived in Kansas City for nearly 10 years before he decided he wanted to move back to his hometown to be closer to family. "Access to fast internet allows people who work for bigger companies the opportunity to work from smaller cities like Perry – giving them room to grow and to welcome in different kinds of people here in town."
With the option for remote work and access to fast, reliable internet, people can now work from anywhere, including rural communities like Perry, Oklahoma. The internet capabilities that Bluepeak, Mears and Ditch Witch have brought to rural communities across the country has helped to keep them on the map. Involving the community every step of the way has allowed for a smooth transition to fiber and ensured that this critical infrastructure is easily accessible to more rural communities.
Increasing Access to Endless Possibilities
The partnership has produced outstanding results. Mears Group program director David Owen, explained that the effort is reaching on average 5,000 households per month, with the capacity to reach nearly 12,000 in warmer summer months. "Bluepeak really re-wrote the book on speed to market. It's pretty impressive," he said. "They are moving like I've never seen a company move before."
Not only are Bluepeak and Mears able to bring fiber internet to thousands of rural households at an affordable rate and fast pace, but they're doing so with the community at the forefront of every project. Perry, Oklahoma, is just the tip of the fiber revolution for rural America. Bluepeak and Mears currently have about four to five years' worth of projects in the pipeline, and it's only growing. The access and opportunities these projects are bringing to rural communities are truly endless.
This article was provided by Ditch Witch.