Milton S. Hershey founded a model community in Derry Township, Penn., in 1905 to demonstrate an ideal corporation-community relationship. Even setting aside its namesake's chocolate legacy, the community could still earn its nickname as "Sweetest Place on Earth," for Hershey pride is reflected in the architecture and landscaping of such renown attractions as Hersheypark, Hershey Gardens, Hershey High School and the factory itself, as well as all the exquisite lawns of its upscale residences.  
When natural gas recently became a sustainable, low-cost energy alternative here, it triggered a boom in commercial and residential conversions. UGI Energy Services contracted Miller Pipeline, headquartered in Indianapolis, to begin installation of 11,000 distribution lines in September 2011. The contracted area included Hershey yet never threatened its premium landscapes. Hershey serves as a prime example of the benefits of the utilities installation technique called "stitch-boring."
Ideal Trenchless Alternative
Miller Pipeline is one of the country's largest natural gas distribution, transmission pipeline and utility construction companies. Its crews are highly skilled stitch-borers. Miller Pipeline's Ned Oxenrider, who has been doing it now for more than 30 years, oversees 18 stitch-boring crews on the UGI contract. He noted several benefits to stitch-boring. Since it is done without cutting the ground, it is the fastest technique with the lowest cost of operation. By far the greatest time and cost-savings over other techniques is from eliminating restoration.
"When you can't use stitch-boring, you have to open a foot-wide trench the full length of the lawn from the house to the street," Oxenrider said. "And it's usually not just the lawn. They typically have shrubs, gardens and trees. Going under them we don't disrupt anything. Homeowners appreciate that."
Pneumatic Piercing Tool
Those unfamiliar with stitch-boring find the term slightly misleading. The use of a HammerHead Mole, fundamental to Miller Pipeline's stitch-boring, does not remove material as a true boring technique does, such as augering or horizontal drilling. It displaces material, compressing it to the sides as the Mole progresses. Sometimes referred to by installation crews with nicknames such as "gopher" and "missile," the Mole model used by Oxenrider's crews is a 4-ft long self-advancing pneumatic piercing tool that operates on 35 cfm of compressed air at 110 psi.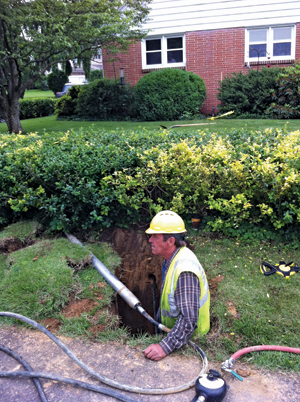 Utilities installation contractors usually select a Mole to accommodate the lines they are installing in diameters ranging from 2 to 5.75 in. HammerHead Trenchless Equipment offers 24 Mole models in this range to maximize production in the customer's ground conditions. All of Oxenrider's three-person stitch-boring crews on this contract carry a 3-in. diameter Mole to create bores for 2-in. HDPE gas line. After making a shot, the line is pushed through the bore by hand or attached to the Mole's air hose and pulled through. In the toughest conditions it will be attached directly to the Mole and shot back through the bore.
One of the typical jobs in Hershey involved shooting six bores for two side-by-side residences from the main distribution line in the street. The crew sent its 3-in. Active Head Mole in a series of 30-ft shots from a launch access in the street to a target pit at the houses.
They began by cutting a 3-by-5-ft opening where the utilities company had marked water and electrical locations in the street. Physically verifying utilities not only eliminates the risk of disturbing other services but also gives the crews an entry pit to use that does not impact the property. Once utilities were located, the crew determined the placement and depth for launching the Mole.
The six shots were completed and the lines set in place for both houses in a single eight-hour shift.
Accurate Shots
Oxenrider said that most of the skill for accurately shooting a Mole develops from common sense. "You don't pick it up in a day, of course. But you think about the length of the shot, how soft or hard the ground is, where virgin soil is, what might be under the road surface. You adjust."
The slender geometry of the Mole's design accounts for its precision. Mark McMillion, who is HammerHead's U.S. regional sales manager for the Northeast and Midwest, said: "A piercing tool follows the path of least resistance. However, deflecting a tool off course isn't as simple as that sounds. Think of driving a fencepost four feet into the ground. Now imagine how hard it is to deflect that post laterally. As with any project, local soil conditions need to be considered before the bore process begins as different soil conditions call for different plans of action."
Oxenrider agreed. "You get a feel for it," he said. "In soft soil it will want to go up. In harder soils it tends to stay down more consistently."
As for direction, Oxenrider said crews feel the vibration in their feet and learn to judge what the Mole is encountering on its path, whether it is working its way around a rock, or an obstacle has completely stopped its progress.
His crews also "tape" a shot before shooting it. With the head of the Mole lying at the target access, the operator wraps electrical tape around the air hose where it lies at the launch pit. If the crew doesn't see the Mole's head at the exit pit when the tape gets to the entry wall, the operator stops it. The unseen Mole must be lying either under the target pit or just to the side of it. Crewmembers will simply dig the pit deeper or wider to locate it. This precaution against overrunning the exit pit eliminates any risk of damage to foundations, sewer lines or other non-targets.
They don't miss often. In fact, Oxenrider said he has plenty of stories to tell of people who were astonished by what he could do with a Mole, asking, "How the heck did you make 'that' shot?" One in particular was a 60-ft shot down a 45-degree slope. Oxenrider said, "I'm not saying it was pretty, but I hit the mark."
How difficult a shot can a person make with a Mole? Oxenrider chuckled, "All depends on how brave you are."  
Elegant Simplicity
McMillion said HammerHead provides Mole training for customers, but it doesn't require much. "Inexperienced users get the idea after only two or three shots," he said, laughing as he added, "It may be called a 'missile,' but it isn't rocket science. The concept is easy — adjusting for the actual conditions is what takes time to learn."
As for servicing, Oxenrider does all Mole maintenance for his crews personally. "They're really simple," he said, "I'll do one in an hour if I have parts on the bench. I try to have enough on hand. Taking it apart and putting it together doesn't take much, but I really take my time. I clean all the debris off, inspect everything, really clean it up before I send it back out."
HammerHead suggests a 50-hour service interval, but Oxenrider said rather than keep logs, they simply service them when crews notice them slow down. Replacing rings and cleaning them brings them back to peak performance.
By June 2012, Miller Pipeline had completed 10,000 of the installations. So far stitch-boring has left Chocolate Town's streets, lined with their Hershey Kisses street lamps, looking unspoiled and as richly sweet as ever.
Joe Bradfield is a senior writer/editor for Ellenbecker Communications.