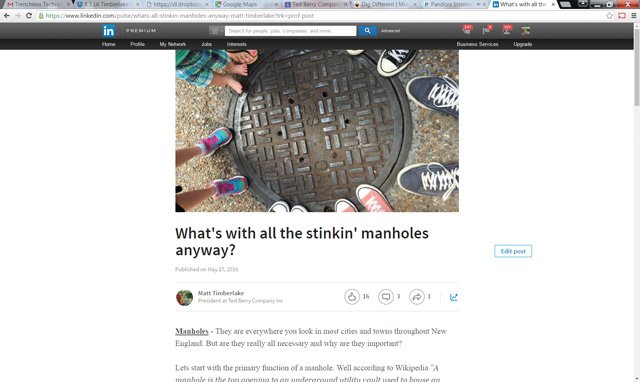 Matt Timberlake encourages businesses to take advantage of the reach that social media platforms hold in today's business world.
Editor's Note: World Trenchless Day – 22-09-16 – is a day dedicated to expanding public awareness of trenchless technologies. Increasingly, contractors, utilities, consultants and manufacturers alike have taken to social media platforms to get their messages across. In the months leading up to World Trenchless Day, we wanted to highlight some of those people and organizations that use social media to market themselves, the work they are doing and raise awareness for underground infrastructure.
When I was a kid, my grandfather Ted would take me to the Chuck Wagon, a local diner, for a coffee and blueberry muffin in the morning. There were always a few regulars and the waitresses would always ask, "What you up to today, Ted?" and he would talk about a pump that he was building or a project Ted Berry Co. may be taking on.
Social media today is something similar to this original idea of interacting with people around you, however it is much different in a number of ways. Social media outlets like Twitter, LinkedIn, Facebook or the other emerging platforms, allow users to instantly interact and share information with people from throughout the world.
One of my good friend Piero Salvo
(@psalvo65)
is the owner of
Game Trenchless
in Canada and although we can't meet at the diner for breakfast in the morning, it is common to share something like "insert photo" or to have a connection like Archie Workman
(@TheGameChanger)
share a
#Drainspotting
picture from the United Kingdom. This is a great way to stay connected to others who share similar interests as you but who you may have actually never met.
RELATED: How One Utility Gets Its Message Out
I use a number of social media outlets and will share why and how I use them.
Twitter
(I am @NoDigMaine)
first and foremost your twitter handle says something about you, who you are, and people identify with it so choose wisely. A good friend Richie Sheridan, a regional sales manager for CUES, has one of the best Twitter handles with
@PipelineCCTV
—this clues you in immediately to his core business and area of expertise. Twitter is a fun social site that I use for sharing pictures of things related to our business and particularly
#Drainspotting.
One of the things I realized was that people were not talking much about buried infrastructure, and if they were, it was probably all news posts of failed and catastrophic events. By sharing photos of drains, manholes and things related to them, I figure maybe I am raising the awareness level of the importance of our buried infrastructure and if I have a little fun along the way, that is great. It is common on any given day for my Twitter connections or family to send me pictures from all around the world of interesting drains and covers. When it comes to raising awareness of our industry, remember "If not me, who? If not now, when?"
I was recently at a small wastewater plant in New England and the superintendent was having a hard time getting support for his plant and collection systems from the community. He said to me, "No one has any idea what we do down here 'at the plant' and they surely don't know how important it is." I asked him what he was doing to engage with the community and asked him if he had considered a utility social media page like Facebook or Twitter. He said no.
RELATED: Join Us to Celebrate the First Ever World Trenchless Day
My advice, start a social media account such as Facebook or Twitter, share the things you are doing, post updates on things like water quality reports and milestones of the crews like training certifications, by talking about what we do people will begin to see our industry for what it is, critically important to life, safety, and the economy of every city and town.
LinkedIn is a professional networking site that has recently developed a bit of an identity crisis; however, I feel it is still valuable and worthy of engaging in. My first rule of LinkedIn is to use it consistently. I spend five to 10 minutes every day on LinkedIn, not much more than that. I will often post a link to a relevant article or news clipping that those in my network may find interesting. Recently, there has been a lot of information on LinkedIn that probably is better suited for someone's Facebook; however, the functionality of LinkedIn allows you to select connections. If you have connections that do not add value to your network, they can simply be removed from your network. LinkedIn is not the place to post a photo of your daughter's first ballet rehearsal, but it is the place to post news about a project you are working on or recently completed.
A few of the benefits of social media and your connections are that you may often find yourself in a place where you can meet and then build on the relationship you have.
Many times, Twitter users who I have never met may schedule a "TweetUp" at a conference or trade show. Last year, I attended the WEFTEC conference and a small group of users that I communicated with for a number of years met in person, a few of these have since become real connections and people that I interact with regularly.
RELATED: Matt Timberlake Named President of Ted Berry Co.
By making these connections it is amazing that oftentimes you may use them for making other connections or for advice, "Hey have you ever run across this [insert situation here]," and they may be able to share an experience with you that helps. Two of my connections who are great follows are Dave Wilson from Ohio
(@sarcastic_poo)
and Jason Tincu
(@JTinc20)
. Both Dave and Jason are wastewater treatment operators and I like to say these guys really know their *&%$. I recently met with a small wastewater treatment plant in Maine and they were experiencing a small problem. I remembered reading one of Jason's posts and was able to give the operator a little of that information so they could solve their problem.
This is the next level of social media, which is social media = results.
Get engaged, give more than you get, and see if it helps you and your core mission.
Matt Timberlake is president of Ted Berry Company Inc. Follow him on Twitter @NoDigMaine.