With corrosive chemicals and gases, extreme temperatures, shifting earth and water presence, manholes frequently experience degradation and cracking. Often, the preferred solution is to replace the damaged section because rehabilitation requires a product that can withstand the most aggressive environments. However, products exist that can successfully smooth and seal finishes and provide structural support in the face of corrosive liquids, infiltration and inflow, and freezing weather and thaws.
A turnkey manhole rehabilitation solution is preferred to ensure all issues within a manhole are repaired, preventing continued leaks and corrosion. Structure Guard is a 100 percent solids epoxy coating that is specifically formulated for long-term protection and structural stability for manholes or wastewater infrastructure subjected to high levels of corrosion and/or abrasion. Used for both interior and exterior pipe lining, it provides a smooth finish, resists chemical degradation, repairs and prevents cracking, restores structural integrity and cures quickly to enhance flow and reduce downtime. These benefits are important for reliable manhole rehabilitation regardless of the location, which is why we regularly utilize this material.
Prior to applying an epoxy, a variety of materials are often applied to stop leaks, fill voids and enhance structural integrity. Such materials ensure a complete repair solution. We typically recommend a variety Quadex grouts, patching materials and cementitious mortars which provide a durable foundation that complements the Structure Guard epoxy lining. Here are a couple of real-world scenarios.
RELATED: Quadex Structure Guard Passes Greenbook Testing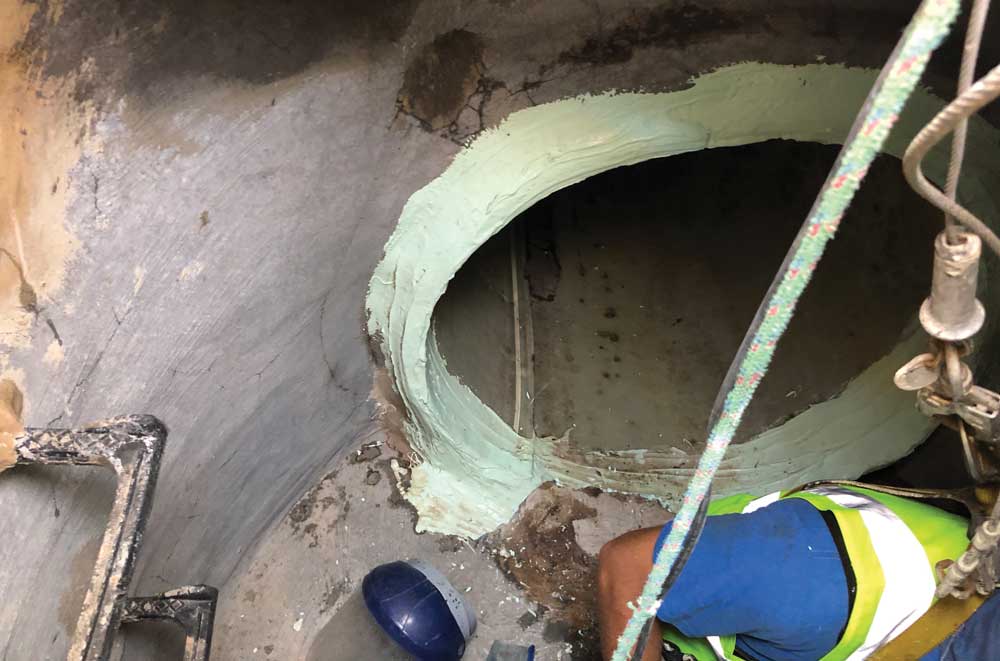 Enhanced Corrosion Protection
In a routine inspection, an Arizona Public Works Department found that 10 sanitary sewer manholes were suffering from excessive corrosion due to years of H2S gas exposure. Over time, the gas had migrated between the liner and walls and slowly degraded the pipe's structure.
Even in this extreme circumstance, a full replacement operation was unnecessary. The compromised manholes were repaired with a 100 percent solids epoxy coating, rather than polyurethane. The 10 manholes were cleaned, prepped and lined with the epoxy, which was applied to a 250-mil thickness for maximum corrosion and leak protection. The project took two weeks to complete, with just four hours of system downtime each day for rehabilitation to minimize impact on nearby citizens. Correcting the issue saved the city thousands of dollars and avoided the time and inconvenience associated with digging up and replacing the damaged manholes.
Long-term Prevention of Corrosion, Infiltration and Inflow
The Ak-Chin Indian Community of the Maricopa Indian Reservation near Phoenix, Arizona had several pre-cast concrete sanitary sewer manholes that were suffering from inflow, infiltration and severe H2S damage. Left alone, they would continue to deteriorate and ultimately fail.
To avoid the cost and disruption of replacing them, a comprehensive three-step rehabilitation approach was utilized. First, leaks were addressed with a polyurethane chemical grout, and a rapid-setting, patching water stop material. Second, a structural cementitious mortar, was applied and cured. Finally, a 100 percent solids epoxy was added to further protect the manholes from corrosion and leaks. Once fully cured, the new corrosion- and leak-proof lining added more than 50 years of design life to each manhole.
Materials Designed to Withstand Harsh Winters and Extremely Cold Conditions
Extremely cold, harsh winters in South Adams County, Colorado, caused multiple manholes to suffer severe deterioration, infiltration and inflow. Without repairs, the inflow and infiltration would continue to degrade the system and ultimately increase the cost of wastewater treatment. If the manholes were not structurally restored, the risk of collapse, sinkholes, and emergency repairs would significantly increase.
RELATED: Maintenance Hole Research: Queen's University Investigates Sprayed Polymer Liner Resistance
The extensive damage required multi-step corrective action, which was made more challenging due to extremely cold weather during the installation phase. To address the loss of structural integrity, the manholes were first lined with a cementitious mortar known for its structural restoration properties. A 100 percent solids epoxy was applied at a thickness of 125 mils for added corrosion protection. The resulting adhesion levels exceeded expectations, providing clean and smooth finished manholes despite the weather conditions during installation.
Rehabilitation to Prevent Infiltration of Diesel Fuel
A train yard in Michigan experienced a diesel fuel spill that required immediate attention. To ensure the fuel would not flow to the nearby river, a contractor was hired to assess the storm drainage system and reline it. After experiencing initial challenges with a subcontractor applying a cementitious liner, the contractor sought a different approach to address the leaking manholes and catch basins.
A 100 percent solids epoxy was recommended to address and eliminate the potential environmental hazard due to its exceptional bond strength and long-term chemical and corrosion resistance. To plug the leaking voids and cracks, a fast-setting water stop product was also specified. The missteps of the original manhole lining contractor were corrected, and the job was completed in just one week. Once finished, the newly lined manholes and catch basins were tested for infiltration and exfiltration. In each case, they exceeded testing standards.
Sealing Manholes and Filling Voids or Cracks
When paired with other repair solutions, we find a 100 percent solids epoxy delivers enhanced capabilities and longer-lasting effects. Its compatibility with other materials and repair solutions makes it a preferred choice for the rehabilitation of pump stations, treatments plants and wastewater infrastructure that is subjected to high levels of corrosion and/or abrasion in both municipal and industrial applications.
Choosing rehabilitation and repair over replacement has numerous benefits, such as lower costs, less disruption to the surrounding community and minimal project time. By choosing an effective, long-life product that can withstand a range of harsh conditions and elevate the performance of other materials, asset owners and installers can benefit from simplified expenses, logistics and project schedules while achieving greater performance.