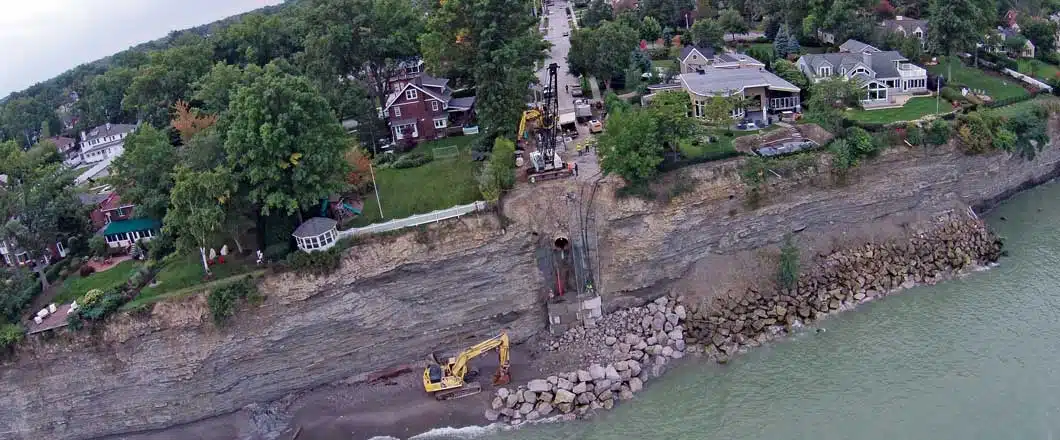 Drones, of all shapes, sizes and configurations, are becoming a common sight on construction projects and slowly but surely are matriculating to the trenchless construction sector.

To understand the rise of the drones, one needs to look at the August 2016 decision by the FAA to pass Part 107 of the Federal Aviation Regulations, which legalized the use of drones for commercial purposes. The Part 107 license covers small unmanned aircraft systems (sUAS) that weigh less than 55 pounds, including everything that is onboard or attached to the drone.
The passage prompted foreword thinking companies to get employees licensed or explore how drones could be implemented in daily operations.

In the trenchless area specifically, we've reported in the pages of Trenchless Technology about a pipeline condition assessment demo completed in 2018 by the Trenchless Technology Center in partnership with the city of Ruston, Louisiana. And we also featured a story with Arizona-based SSC Underground, which deploys drones on its projects. In addition to being a marketing asset for SSC, the company deploys the drone during the planning and design phase, as well as during construction.
Those involved with the technology, and familiar with the trenchless sector, note that overall, we are still in the earlier adopter phase of the technology across the entire construction industry.

RELATED: SSC Underground Deploys Drones on Trenchless Projects (VIDEO)
One of those early adopters is the Engineering Department for the City of Lakewood, Ohio. The City purchased its first drone from DJI North America, a leading drone manufacturer, in 2013. The drone was used for a while before being shelved – by the FAA – and until a FAA licensed operator came forward.

Roman Ducu, project manager in the Lakewood Engineering Department, is the City's FAA Part 107-licensed operator and a licensed helicopter pilot, as well. He also spearheaded the City's recent upgrade to the DJI Mavic Pro from the DJI Phantom 2 Vision.
Ducu notes that the City's drone is equipped with a gimbal-style camera that can pivot and shoot from any angle. The 12-megapixel camera is able to shoot still shots, as well as record in 4K HD. Ducu also appreciates the drone's obstacle avoidance and return to home features.

Lakewood, a western suburb of Cleveland, has more than 5 miles of Lake Erie Shoreline, as well as bluffs over the Rocky River Reservation of the Cleveland Metroparks. The Engineering Department mainly uses the drone to inspect its 58 sewer outfalls that go out over these bluffs.

"We like to use it for dry weather screening and structural evaluation of our outfalls and for other projects as well," says Mark Papke, Lakewood's engineer. "It's a useful tool that saves the City time and money."

Prior to having the drone, Papke and his employees would have to coordinate with the Lakewood Fire Department for use of its boat and inspect the outfalls from the lake using binoculars and cameras. Depending on the location of the outfall that could be an hour to an hour-and-a-half endeavor. The drone can accomplish the same task in about 15 minutes.

RELATED: Spray-Applied Lining Systems Address Unique Infrastructure Problems

The City is also using the drone to monitor the progress of upgrades at its sewer treatment plant. According to Ducu, one of the features of the Mavic Pro is the ability to create a point of interest box and the drone will fly a fixed pattern around that point of interest capturing images at a set elevation. When the task is complete it will return to home.

Drone Flying Restrictions
According to Michael Oldenburg, senior communications manager, for DJI North America, oil and gas utilities today are flying drones within line of sight for routine visual inspections. This includes right-of-way inspection, asset inspections, surveying, and emergency response. "Companies are moving beyond visual data," said Oldenburg. DJI's Matrice 200 drones accommodate this trend by providing side-by-side mounts for visual and thermal cameras. Some other product developments for commercial applications include ruggedized design, water and dust ingress protection and the ability to withstand freezing temperatures.

"Qualified service-based companies are commonly used in the utility industry because of their specialized training, access to up-to-date aircraft and sensors, and experience working safely in challenging or high-risk environments," says Maier.

FAA regulations, airspace clearances, site safety risk assessments, equipment preparation, notifications, and personnel training must be taken into account before taking flight. Oldenburg says about 70 percent of utility firms are outsourcing their drone or UAS program to service providers. However, he sees that trend starting to change. "The early adopters are now starting to bring those teams in-house because they see the value in it. They started small and now want to scale it out."

RELATED: Registration Open for 2019 ICUEE – The Demo Expo

Even with the current flying restrictions drones have become an important tool for oil and gas companies. But usage is likely to expand given a recent announcement of new rules to allow unmanned aircraft systems (UAS), to fly overnight and over people without waivers under certain conditions.

Story compiled by Trenchless Technology staff with information from the City of Lakewood and AEM.