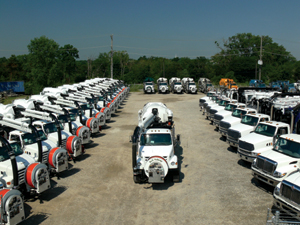 The cost of equipment needed to complete a project can become a burden on an already tight budget. With project costs increasing and funds plunging, purchasing equipment may not always be a feasible choice for some contractors and municipalities in need.
This is especially true when dealing with projects involving sewer cleaning and hydro-excavation. The cost of one of the trucks able to handle these jobs can balloon to $400,000, and contractors and municipalities that require the equipment do not always have the money to purchase. Renting the equipment is becoming a popular and cost-effective option.
In 1995, Jack Doheny Supplies, a supplier of sewer cleaning equipment headquartered in Northville, Mich., established a rental sector to its company with a small fleet of two trucks and one goal — to supply equipment to contractors in need. After about five years in operation, the rental business experienced significant growth in 2000. Through further diversifying its fleet and purchasing new equipment, the company was able to expand.
"We started the growth by using traded equipment and we then realized that the use of used equipment was not sufficient for our customers," says Dan Weber, president of Jack Doheny Supplies. "We were able to secure financing to support aggressive growth and we began to build a fleet of new trucks."
Today, the company provides its customers with 300 trucks, ranging in a variety of configurations to accommodate different industries. The equipment fleet is made up of the latest products offered by multiple manufacturers the company represents. Jack Doheny Supplies then modifies its equipment to support any particular application that may be required out in the field. For example, features such as water and filtration systems may be added in order to accommodate for situations customers may encounter.
"The diversification of our fleet really sets us apart," says Gary Mapes, senior vice president of Jack Doheny Supplies. "We have over 300 trucks that make our fleet unique. For example, we have equipment for the refinery business that is in great demand, which requires a very specialized piece of equipment that can work with combustibles and flammables. We also have the hydro-excavation units that support both the underground industry, as well as the utility industry."
To add to the demand, Mapes notes that the power plant industry has also begun to take advantage of the rental service as maintenance schedules for plant facilities have increased significantly in recent years. However, the largest growth of the rental business has been through business from the utility and trenchless markets.
Another impressive feature of the company's equipment fleet is the age of the equipment.  
"One of our primary keys to success is that 95 percent of the equipment we rent out is less than two years old," says Jack Doheny, CEO of Jack Doheny Supplies. "So, you're not going to get a piece of equipment that isn't in like-new condition."
Superior Service
At Jack Doheny Supplies, the rental sector of the company lives by the motto, "If you can't service it, don't rent it out." With that sentiment in mind, the company has worked hard over the years to develop a service department that could accommodate the large fleet it supplies to its customers.
"Our No. 1 goal is to take care of the customer and help them to be successful," says Kay Doheny, executive vice president of Jack Doheny Supplies.
Through establishing numerous service facilities across the country and bringing in trained crewmembers, the company has the ability to address any equipment troubles at hand.
"As a company, we have the ability to service our trucks wherever they are," says Weber. "Service crews are available at any time to react and address the customer's needs. It's our goal to respond to our customers with the utmost urgency."
"We work with our dealers that think of emergency service as we do," adds Jack Doheny. "Our company looks at this as an emergency business, so we respond as one with service and quality equipment."
Jack Doheny Supplies has service centers for its equipment throughout the United States. There are centers in both northern and southern California, Colorado, Chicago, Baton Rouge, La., Michigan and New Jersey. Indiana, Ohio and Florida each boast two facilities, respectively. In addition to the abundance of facilities ready and able to service equipment, the company also stocks more than $10 million in spare parts for its products.
"We are also able to provide expert advice on the applications of the multiple different products that we provide to the market for any particular application," says Weber. "Each one of our facilities have people who can provide that level of service."      
Maintaining the Fleet
Along with servicing equipment for customers, general maintenance is also important in keeping the company's products in proper working condition. In order to keep its fleet of rental equipment in top shape, the company follows a preventative maintenance program for each vehicle that passes through any of its locations. During this time, the equipment is serviced to ensure that it will perform the applications needed and to hopefully prevent any breakdowns on the jobsite.
"We perform maintenance on our units constantly as they cycle through our shops," says Mapes. "One thing that is so critical in this industry is downtime or lack of it, and with our fleet being as current as it is, we maintain DOT certification on these units throughout their life cycles with us. That in itself prevents typical breakdown, wear issues and downtime for our customers."
Through adhering to a structured maintenance regimen for its products, Jack Doheny Supplies looks to provide its customers with equipment that performs just as well as if the vehicle rolled off of an assembly line. The combination of renting equipment that is under three years old and ensuring the performance of the equipment is a standard of quality the company takes seriously.     
"Our preventative maintenance and recycling program keeps those machines in great condition," says Jack Doheny. "When those machines come through here and there's a dent or a tire is cut, the maintenance program takes care of that. When the machine leaves here and a customer rents it, they can rest assured that it's as good as man can make it."
Rent to Own
Besides being able to just rent out equipment to customers, the company also allows renters the opportunity to purchase the equipment after use. Through using an available financing plan, customers can rent and eventually purchase the equipment they use at a good value and with a guarantee.
"We offer different financial options to the customers such as rent to purchase," says Weber. "Oftentimes the customer generally doesn't have the capital dollar to purchase, so they use the more short-term means like monthly rental to fulfill demand. We give those customers the option to purchase the truck after renting it."
A significant portion of Jack Doheny Supplies' success comes from renters purchasing equipment. Through selling off equipment that is two to three years old, the company is able to replenish its fleet with new pieces.
"By selling equipment, it allows us to keep the fleet current as we grow," explains Weber. "We sell equipment so we can buy new equipment. It's been a good model to follow for the business and we'll continue to follow it as we grow."
Customers who rent the equipment (mainly contractors and municipalities) make up the majority of those who purchase the used products. However, the company notes that there are limited international sales as well. These sales comprise about 5 percent of the overall equipment purchases and include areas in South America, Europe and Australia, to name a few.
Jack Doheny Supplies expects the rental business to continue to flourish. By constantly updating equipment and tending to its large fleet, the company maintains its offerings in hopes of providing customers with the products they need.  
Pam Stask is an assistant editor of Trenchless Technology.