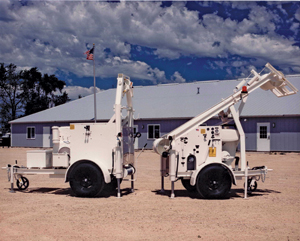 Sewer cleaning is a serious business to cost-conscious municipalities across the United States, whose public works departments are charged with keeping their miles of underground sewer lines free of debris and other obstructions.
Over the years, technology has evolved to make this daunting and important task easier, much more efficient and safe. In another time, pipe cleaning was done manually, meaning workers entered the pipes using a bucket and shovel. Today's technology is a far cry from the manual and potentially dangerous methods of the past. Vacuum trucks, pipeline inspection cameras, high-powered hoses and jetters are the everyday tools for Sewer Cleaning 101 in 2011.
While combination sewer cleaning trucks and high-pressure jetting units are the staples of municipalities, there is one tried-and-true method that some public works officials still prefer: power bucket machines. Once the method of choice for sewer cleaners everywhere, power bucket machines today are used by just a small percentage of public works departments around the country.
"Until the advent of combination sewer cleaners and jet trucks, which weren't devised until the 1950s and became more and more popular during the 1960s and even more so in the 1970s and 1980s, the way you cleaned sewer pipes was a bucket machine," says Karl Dickinson, Jack Doheny Supplies Inc. account manager for Northeast Ohio and Western Pennsylvania. "Power bucket machines are a very effective way of cleaning pipe, especially large pipe."
Power bucket machines can open heavily blocked sewers, even if clogged with large masses of roots, sands and grit. The power bucket machine system involves using two trailer-mounted winch units — a pulling unit and a truck loader unit — each equipped with sufficient steel cable and are set up between two manholes. The truck loader pulls the bucket through pipe, with the bucket scooping up material as it's dragged along the pipe, pulls the bucket out and then loads it onto the loader unit, depositing it into a dump truck. The material is later disposed of, probably to a landfill or the wastewater treatment plant. Buckets and attachments, such as root-cutting and scraping units, can be purchased in various sizes, depending on the pipe size and cleaning needs.
Although power buckets can be used for smaller diameter pipe, combo sewer cleaners and jetters are a better choice for them. "What you are going to use a bucket machine on are pipes that are 36 in. in diameter and larger," Dickinson says. "Combo units are very good for cleaning out pipe but if there is a lot of material in the pipe, they're not an efficient way to do it. The bucket machines are an efficient way to do that and get them very clean."
Beyond clearing the pipe of debris and grit, another key advantage to using these machines is that water is not needed in the process to create a vacuum slurry, making it a cost-effective method, Dickinson says.
Among the drawbacks to using power bucket machines are its lengthy setup and breakdown times and the fact that they need to be set up in the middle of the street. "If you have a pretty long run to do, you will have a traffic situation," Dickinson says. "If you don't get it done, you have to leave the machines in the road, barricaded until the next day. That's why they are not used as much today. With a combo unit, if you don't finish, you can drive it away and come back the next day to continue."
But Dickinson notes that power bucket machines are a quicker way of cleaning sewers than using the combo units and jetters. "If you use a combo machine or jet truck on a large pipe, you are going to have to break them down at some point and dump the material, depending on the size of your truck and how much water you have," he says. "It can take a crew a couple of days to a week to clean a larger pipe, depending on how much material is in there. A bucket machine can do that job in about a day."
One of Dickinson's customers is the City of Youngstown, Ohio, which uses power bucket machines, as well as combo sewer cleaners and jetters, to address its pipe cleaning needs. Youngstown Wastewater Department systems maintenance chief Lou Zorella has been with the department 30 years and says power buckets are how the city handles cleaning of its large diameter siphons and sewer pipes.
"We use them every day," Zorella says. "We've been running bucket machines for as long as I've been here and before."
The City of Youngstown is situated in Northeast Ohio, about 60 miles south of Cleveland and is known for its steel mill past. Youngstown has 750 miles of sewer lines, mostly made of vitrified clay and brick pipe, and the Wastewater Department uses the bucket machines on its six gravity flow siphons that run under the Mahoning River. The siphons range in diameter from 20 to 36 in. "Because of the siphons' location and size, using power buckets is the only way we can get the grit and debris out of them," he says. "We don't use the buckets on the smaller diameter pipes."
Zorella's crews recently completed a sewer cleaning project with its power bucket machines that involved 85 sections of vitrified clay pipe, with cleaning runs of 300 ft each. The pipe diameters ranged from 12 to 24 in. "We get a lot of roots in [the area where the pipes are located] because it's heavily wooded. We dragged the bucket through and then ran a porcupine [attachment] through to scour the lines and get everything out."
The City of Youngstown owns and operates four Sewer Equipment of America power bucket machines, as well as an automatic loader to the dump truck, all purchased about 15 years ago. The City also has three vacuum trucks and a jet truck it uses for its cleaning operations.
"They do a good job with the power buckets in Youngstown," says Dickinson. "[Zorella] knows what he needs to get done and the crews are used to using them. An experienced crew can knock out a job pretty fast."
Power buckets are definitely an investment for its purchaser (they can cost upward to $75,000), as the equipment can last 25 to 30 years with proper maintenance and care to wear parts, such as the bucket and the pullers, Dickinson says.

Sharon M. Bueno is managing editor of Trenchless Technology.