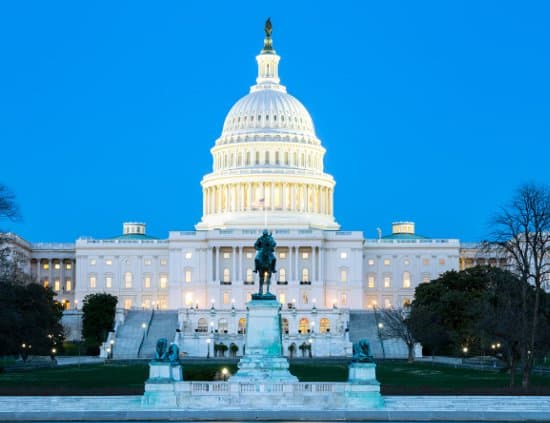 Since March, Coronavirus responses have occupied official Washington's attention almost full time, and NUCA's legislative focus has been no exception. Since the start of the 2020 Coronavirus pandemic began impacting construction operations around the country in late winter, NUCA focused on ensuring that the essential services provided by utility contractors were officially recognized by federal and state authorities, allowing NUCA members to remain on the job. There was also strong support by NUCA to provide loans (with possible forgiveness) for industry small businesses to keep employees on the payroll as the nation rides this pandemic out.

NUCA's outreach in mid-March to the U.S. Dept. of Homeland Security's Cybersecurity and Infrastructure Security Agency (CISA), the agency responsible for securing critical U.S. infrastructure, led to the development of their "Essential Critical Infrastructure Workforce" advisory list. Our industry was placed on this list, allowing state authorities to recognize our industry as essential and keep our projects going. NUCA's lobbying and outreach efforts to CISA and other DHS offices were indispensable in obtaining this relief for NUCA members and their communities.
RELATED: The Trenchless Industry & COVID-19

The "Paycheck Protection Program" (PPP) was passed by Congress as part of the CARES Act and signed into law by President Trump on March 27. The loan program first began accepting applications on April 3, and by April 14 nearly 1.1 million applications had been approved by the Small Business Administration (SBA). About 178,000 construction firms were approved for loans from the initial $349 billion PPP program, making the U.S. construction industry the largest applicant. Construction industry loans total $44.9 billion, which was more than 13 percent of the first tranche of funding.
After the $349 billion small business loan fund created as part of the PPP exhausted its first round of funding in April, the SBA stopped accepting applications and enrolling new lenders. Demand for the loans has been extremely high, and many businesses were unable to have their applications successfully processed in time due to the first-come, first-serve nature of the program.

Extremely high demand for continued relief led Congressional leaders and the Administration to work together to pass in April the "CARES Act 2.0," which included an additional $310 billion for the PPP, $75 billion for hospitals, and $25 billion for virus testing. The Economic Injury Disaster Loan program (EIDL), which provides financing and advances as grants of as much of $10,000 for businesses also received an additional $50 billion to $60 billion.
Congress and the Trump Administration are continuing to discuss a potential fourth Coronavirus relief bill, as well as a major potential infrastructure stimulus package. The Trump Administration has proposed a major $2 trillion infrastructure package, and Congressional Democrats have done the same with a $2 trillion package of their own. Among the priorities in the latter are items directly affecting the utility constructions industry, including rebuilding the drinking water supply lines, the power grid, expanding broadband access, public transit systems, and expanding rail lines. On May 12, House Democrats unveiled their proposal, the $3 trillion "Heroes Act," which would combine aid to state and local governments with more direct cash payments of $1,200 to most Americans, as well as expand unemployment insurance and food stamps, expand voting by mail, and provide $25 billion in funding aid to the U.S. Postal Service. The proposal, which was drafted without Republican input, is unlikely to pass the Senate to reach the White House, but is the opening move in the next round of negotiations.

Senate Republican leadership has been more cautious on additional COVID-19 relief legislation, with Senate Majority Leader Mitch McConnell (R-KY) calling for a "pause" until the effects of the most recent legislation become fully apparent. Republican priorities for a potential future relief bill include measures such as liability protections for businesses that reopen amid the pandemic, a payroll tax cut and reforms to the recent unemployment measures which critics say are reducing incentives to rejoin the laborforce.
Last Word – Educating to Employ: Public Works Programs Help to Close Gaps

Infrastructure Remains a Priority
Coronavirus concerns dominate Washington right now, but that does not mean that other legislation has fully stopped. The first week of May saw the U.S. Senate Environment and Public Works Committee pass two water infrastructure bills – the America's Water Infrastructure Act of 2020 (AWIA, S.3591), and the Drinking Water Infrastructure Act of 2020 (DWIA, S. 3590) The majority of the AWIA bill consists of water resources projects related to ports and shoreline protection, usually overseen by the U.S. Army Corps of Engineers. The DWIA reauthorizes the Safe Drinking Water Act, but includes no increases in funding for the Drinking Water State Revolving Fund (SRF) other than $300 million in grants to assist in the remediation of drinking water contamination. The AWIA and the DWIA are a step in the right direction, but they do not go nearly far enough in providing the funding levels needed for certain programs. Marginal increases to the Clean Water SRF are not nearly sufficient to bridge the necessary investment gap.

NUCA supports Congressional action on water infrastructure, but we remain concerned that these bills do not go nearly far enough in providing the necessary levels of funding required to address America's critical water infrastructure needs. The other part of a possible infrastructure package, last year's America's Transportation Infrastructure Act of 2019 (ATIA, S. 2302) passed in July 2019, still awaits full Senate action. The full House also needs to schedule a vote on the Water Quality Protection and Job Creation Act (H.R. 1497), passed by committee last October, which would reauthorize the Clean Water SRF.

Both AWIA and DWIA should include significant increases in authorized funding for both the Clean Water and Drinking Water SRF programs. These programs have a track record of proven success with the resources they have been provided, and with adequate funding they could do much more to address America's critical water infrastructure needs.

In addition to traditional public funding, Congress should consider measures that would open the door for more private sector investment through innovative financing, such as lifting the cap on private activity bonds (PABs) for water and wastewater infrastructure projects. Removing the PAB state volume cap increases private investment and capital investment, and enables more public-private partnerships, decreasing the risk placed on local governments.

RELATED: Last Word – Following the Money May Lead to New Infrastructure Legislation

Lend Your Voice: Washington Summit, Sept. 21-23
These and other issues will be at the forefront of America's political discourse this year, as our nation attempts to navigate our way out of the COVID-19 crisis and towards economic recovery. NUCA expects these will be priority issues discussed at our upcoming Washington Summit, which was rescheduled from its original May date to a new date in late summer. NUCA's summit is now being held Sept. 21-23 on Capitol Hill, and is an event that helps you to participate in our nation's legislative process by lending your infrastructure and business knowledge and expertise to your lawmakers and their staffs. (To register for this year's Summit, please go online to www.nuca.com/summit. Registration is open and awaiting your information.)

Progress made this year on these issues will follow into the future as the larger debate continues over how best to rebuild America's infrastructure and restore the American economy to full functionality and prosperity.




Eben Wyman is principal of Wyman Associates, which represents NUCA governmental affairs activities in Congress and federal regulatory agencies.