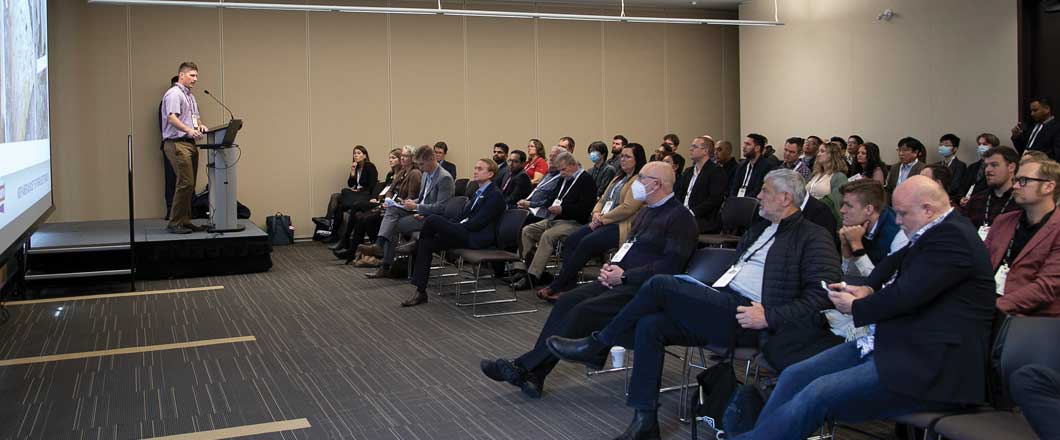 When it was all said and done the hard work of the volunteers with the North American Society for Trenchless Technology (NASTT) Canadian chapters paid off as 818 attendees made the trek to Toronto's Beanfield Centre for the 2022 No-Dig North.
Taking place Oct. 17-19, No-Dig North featured a day of NASTT Short Courses – Municipal Grouting, HDD and CIPP – and two full days of technical sessions and networking opportunities.
The conference is a joint effort between the NASTT Canadian chapters, NASTT and Benjamin Media Inc.
"Everywhere I looked people were engaged in visiting exhibitor booths, attending the technical sessions and networking event," says NASTT executive director Matthew Izzard. "There are many installation and rehabilitation programs under way across Canada and the demand for knowledge, equipment and skills was evident in the feedback we received from exhibitors and sponsors."
Things unofficially kicked-off with a networking reception with exhibitors on Oct. 17. The official start to No-Dig North was the Kick-Off Breakfast on Oct. 18. This included a welcome from No-Dig North chair David Crowder, R.V. Anderson Associates Limited, and co-chair Gerald Bauer, Stantec.
Breakfast also included the official presentation of the No-Dig North Canadian Projects of the Year Awards. The winning projects were:
Stamford Interceptor Phase II Trunk Sewer Rehabilitation — Rehabilitation Project of the Year
York Durham Sewage System Forcemain Twinning Project — New Installation Project of the Year
Groat Road Storm Trunk Rehabilitation — Honourable Mention
The breakfast culminated with a keynote presentation by Lou Di Gironimo, general manager, Toronto Water. He provided deep insight into the agency's experiences with trenchless technologies. He noted that Toronto Water is one of the largest water, wastewater and storm water systems in North America.
In 2022 ,its capital budget is over $1.4 billion with approximately 38 per cent going toward its underground infrastructure. He then went on to discuss the tools in its toolbelt for repairs and new infrastructure, as well as some of the new technologies they are incorporating. All of this combines to make Toronto Water one of the most active utilities in North America when it comes to the use of trenchless methodologies.
Following breakfast, attendees were able to visit with exhibitors before heading off to the heart of the show, the peer-reviewed technical presentations. Technical program co-chairs were Bruce Yao, Paragon Systems, and Marya Jetten, Jacobs, who were backed by a volunteer group of peer reviewers and track leaders.
Outside of the technical presentations, attendees were able to visit with 90 exhibitors that ran the gamut of the trenchless industry. These included local contractors and suppliers, as well as companies that operate across Canada, North America and globally.
Looking ahead, Izzard sees great things for No-Dig North. The 2023 No-Dig North will be in Edmonton, Oct. 23-25 and plans are already under way for No-Dig North 2024, Oct. 21-23, in Niagara Falls.
"The success and reputation of No-Dig North has been noticed internationally with the growth in overseas registrations," says Izzard. "The International Society for Trenchless Technology council has recognized this by voting to award their 2025 International No-Dig Show as part of No-Dig North [Oct. 26-29] in Vancouver, further increasing the size and profile of the Canadian trenchless technology market."
NASTT Municipal & Public Works Scholarship
A key aspect of No-Dig North is the municipal and utility owner attendees. Without their willingness to use trenchless technologies on infrastructure projects, there would be no trenchless industry. That's why the No-Dig North Municipal Scholarship is so important to the vitality of the conference.
"The NASTT Municipal & Public Works Scholarship program enables the owners to develop their knowledge of trenchless technology and engage directly with the designers, contractors and equipment suppliers," says Izzard.
Scholarship recipients who attended No-Dig North:
Bay de Verde Heritage Premises
City of Brandon
City of Calgary
City of Hamilton
City of Niagara Falls
City of Ottawa
City of Regina
City of Selkirk
City of Stratford
City of Sudbury
City of Surrey
City of Toronto
City of Winnipeg
EPCOR
Halifax Water
Region of Halton
Region of Niagara
Region of Peel
Region of York
Simon Fraser University
Town of Devon
Town of New Tecumseth
Town of Sylvan Lake
For more information on No-Dig North, including volunteer opportunities, the 2023 Project of the Year Awards and scholarship opportunities, visit nodignorth.ca.