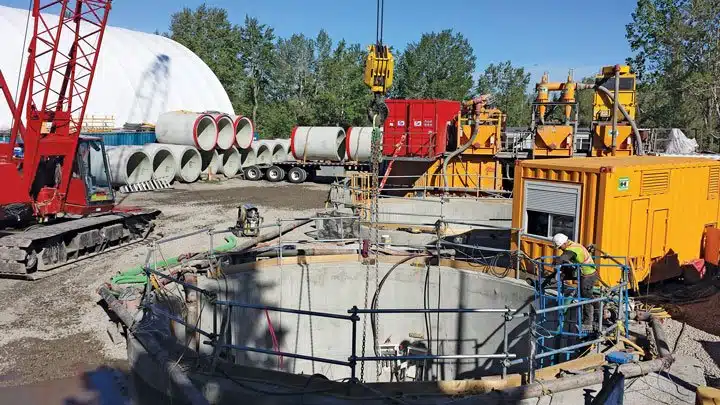 In the 1990s, microtunnelling was in its infancy in Canada and the projects had mixed results, leading owners and engineers to shy away from the technology in favour of traditional tunnelling or other trenchless methods. Then, in 2011, Ward & Burke Construction Ltd., re-introduced the method to the country, and the rest, as they say is history.

Ward and Burke Construction Ltd., based in Ireland, brought the updated microtunnelling technology – already a mainstay in Europe – to Canada to complete the Gore Road project – a new 1,200-mm ID sanitary sewer pipe running directly under an existing 1,800-mm concrete pressure pipe water transmission line and an existing creek at Gore Road, in Brampton, Ontario. Based on the success of that project, owners and engineers took note, and the door began to open for additional projects in Ontario.

That marked a trend of increased innovation in the microtunnelling market in Canada and across North America. The first curved drive in Canada took place in 2013. Longer drive lengths, compound curves, and now tighter radii and larger diameters increase the range of what can be accomplished with microtunnelling techniques.
"The market is emerging and varies greatly [by province]," says Craig Vandaelle, general manager, tunneling Michels Canada. "Ontario seems to be more progressive and definitely the most active and strongest market for microtunnelling."

RELATED: Microtunnelling Under the Mary Hill Bypass
Microtunnelling in Canada
Let's take a look briefly at what changed from the 1990s to 2011, and 2011 to today.

The mixed results in the 1990s were due to machines not being robust enough to handle the glacial till ground conditions across the county. According to John Grennan, P.Eng., director of Ward & Burke Construction in Canada and the United States, the ground conditions contain granite cobbles and boulders and, in most locations, are unavoidable.
"The tunnel boring equipment must be able to break them down and ingest them to advance forward," Grennan says. "The older microtunnel boring machines (MTBMs) manufactured in the 1980s and 1990s did not have the torque and the cutting head technology to deal with these cobbles and boulders."

The end result when the machines met these earthen adversaries was the construction of rescue pits to remove the obstructions and with that, came increased project costs. The methodology fell by the wayside until the Gore Road project.

"Owners and engineers quickly realised that the microtunnel equipment could now deal with these glacial till ground conditions and also provide many advantages over traditional open-face tunnelling systems," Grennan says. "Groundwater and cohesionless ground conditions had plagued many tunnel projects with open-face tunnel equipment. Massive dewatering and ground improvement attempts had failed on many occasions due to varying and varied ground conditions, resulting in tunnel delays and cost overruns."

In these conditions, microtunnelling did not need dewatering or ground improvement and after years of owner and engineer frustration when it came to dealing with these conditions, microtunnelling has grown especially in Ontario.

"It has grown from non-existent to a significant market in the last five years. It's expanding with greater expertise by consultants, contractors and suppliers," says David Archer, P.Eng., engineering and business development, DECAST.

DECAST, based in Utopia, Ontario, manufactures reinforced concrete microtunneling pipe and in 2016 expanded its facility to 475,500 sq ft, to meet the increasing demand for the pipe across Canada.

According to DECAST, in addition to the improved technologies, the resurgence is due to the fact that projects to install underground conduits – water mains, sewers and others – are now tunnelled or partially tunnelled and microtunnelling offers less disruption while construction is performed. The company adds that microtunnelling involves no underground labour.

RELATED: DECAST Microtunneling Expansion Creates Jobs, Invests in Local Economy

"Tunnels have to be deeper to clear the web of utilities less than 10 m in depth. Open-cut methods are not so easy when the risk of cutting a T1 line for a building or housing development is considered," says Tom Fuerst, utility tunneling manager, The Robbins Co. "Microtunneling puts the pipe below this web of utilities in shafts that are not so expensive – even though the entry and exit shafts could be the most expensive components of the project cost."

According to Fuerst's estimate, 10 years ago, there were 10 or fewer microtunnelling systems in Canada. Today, that number is about 40 or more, he says.

Population growth drives the construction market and Canada, in most provinces, is a growing country. According to Statistics Canada, the population of Canada grew to 35,151,728 (a 5.0 per cent increase) from 2011 to the 2016 Census. Most microtunnel projects are driven by a need for increased capacity for water and wastewater systems.

"There are a few factors that are all interrelated and summed up they push a market forward: Population growth, geology, purpose of the pipe and skill of consultants," Fuerst says. "I do feel there has been a recent tendency by the consultants to 'over-spec' microtunnelling. It is easy for them to copy and paste a microtunnelling spec into bid documents."

It's no surprise that Ontario – the population center of Canada – is the epicenter of microtunnelling in Canada especially with the major infrastructure work taking place in the Greater Toronto Area (GTA). And some of these projects are receiving industry accolades.

Award-Winning Work
The 2017 Trenchless Technology Project of the Year for New Installation is the Rebecca Trunk Wastewater Main for Halton region. The project involved more than 4 km of 1,200- and 1,350-mm microtunnels within Oakville, an urban and affluent town along the shore of Lake Ontario. The project included nine microtunnelling drives (eight curved) ranging in length from 180 to 626 m), with seven of the drives completed in rock. Ward & Burke was the contractor on the project.

RELATED: Project of the Year 2017 New Installation Winner: Rebecca Trunk Wastewater Main

And in 2016 the Trenchless Technology Project of the Year for New Installation Honorable Mention went to the Twinning of Etobicoke Creek Trunk Sanitary Sewer, completed by Dibco-CRS (a joint venture consisting of CRS Tunnelling and Dibco Underground). The project involved construction of 576 m of 1,800-mm ID sewer 10 m below the Active Runway 23 and Taxiways J and H at Pearson International Airport. This project also received the Centre for Advancement of Trenchless Technologies (CATT) 2015 Project of the Year Award of Excellence.

Fuerst notes that the rapid growth in the GTA, has helped drive MTBM use in Canada and looking across the country, the microtunnelling market varies.

The Growth is Spreading
"The markets can vary based on the skill set of the local contractors, where one is stronger in horizontal directional drilling (HDD) vs. MTBM or a new method such as Pilot Tube Boring for example," he says. "If you ask the consultants who design the MTBM projects where they are from, I'll bet a lot were born outside Canada where microtunnelling is more pervasive. Or, it can vary on the purpose of the pipeline. For example, if a contract calls for the installation of a sewer line vs. a force main, microtunnelling vs. the HDD method, would be cheaper and the more appropriate technique. However, geology is typically the primary driver for the technique used in all markets."

RELATED: 20 Years Later: Looking Back at the Development of the Small Boring Unit

Grennan says that Ontario has a developed microtunnel market thanks in part to the many successful projects since 2011. He adds that the most microtunnels in Canada, by numbers and length, have been completed in the GTA.

"This [success] has resulted in a great confidence in the area for microtunnelling," he says. "Owners and engineers have become very comfortable with the installation method and want to use it as their No. 1 method due to the high success rate and low number of issues to date."

In 2016 Ward & Burke installed 15,240 m of pipe and completed 30 curved microtunnels. To put that into perspective, that is four times as many curves completed in one year by the contractor than all of the curves in the United States since the method was first introduced. And the meters installed approximately equalled the full U.S. market combined.

"We saw the emergence of microtunnel projects four years ago in Calgary," Grennan says. "The scale and size of the microtunnel projects has grown rapidly since this time and we have been busy in Alberta microtunnelling for the last three years. Alberta now boasts some of the largest microtunnel projects constructed in Canada."

Looking at the remaining provinces, Grennan notes that Manitoba has just entered the microtunnel market with two large microtunnel projects constructed in Winnipeg in 2017. Quebec, Saskatchewan and British Columbia all use more traditional tunnelling methods.

Both Archer and Vandaelle agree, adding that Alberta – specifically Calgary and Edmonton – are growing and other markets like those in British Columbia lagging behind.

What Lies Ahead?
"We still have a nervousness by owners and engineers to utilise the advantages of the equipment and technology available to them," Grennan says. "It is very similar to the Toronto market six years ago. It will take a few successful projects to build confidence in the area. Other provinces, in general, have fewer trenchless and tunnel projects planned so the scope for microtunnelling potential is far lower."

Canada is the North American microtunnelling innovator but, the industry is still in its infancy compared to markets in Asia and Europe. In Europe, microtunnel drive lengths of more than 2 km are common and many projects have been completed with internal pipe diameters of 4 m.

Looking ahead, the microtunnelling market in Canada still has challenges.

"We still see a reluctance by some owners to let go of the old tunnelling systems and embrace the technology available," Grennan says. "We are also seeing a reluctance to utilise the full potential of the equipment in terms of the diameter of installation and length of installation."

Fuerst sees other methods possibly disrupting the microtunnelling space.

"Methods, such as tunnel boring with a machine vs. drill and blast, and methods for the installation of smaller pipe such as Pilot Tube Boring, will eventually cut into their market share," Fuerst says. "The 'web of utilities' in the top 10 m of earth in urban centers, which are gaining population, and the political and social factors created by shafts and slurry plants in the way of traffic, may make infrastructure designers seek methods that go deeper. This will make microtunnelling less cost-effective and open the door to other methods such as HDD and tunnel boring."

In the short-term Fuerst sees continued growth for microtunneling, "as it is a proven method that will only get more cost effective as tunnelling and auger boring contractors compete to hold market share."

"The microtunnel market in Canada has grown from non-existent six years ago to a busy market today," Grennan says. "Numerous successful projects have been constructed to drive the industry further forward. We hope that these successful projects will help increase further acceptance of the method and make Canada a world leader in microtunnel utilisation in the next few years."

Mike Kezdi is associate editor of Trenchless Technology Canada.