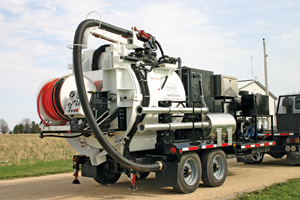 It seems as if all we hear about when we turn on the news is the bad economy, prices going up and the value of the U.S. dollar going down. These are the toughest times the United States has encountered since the Great Depression.
Yet work must go on. The needs of our nation's infrastructure continue to escalate and there seems to be no end to the government regulations on sewer maintenance and water treatment. When we look for new equipment to meet these demands, we find that the prices for this equipment continue to rise. A new combination jet/vac truck can cost in excess of $400,000.
The good news is that there may be a light at the end of the tunnel. There are other options to be explored. Depending on your needs, the "one size fits all" jet/vac combo may not be the only answer. There is a large market of alternative products that can help you reach the same end result. I would like to touch on two different alternative concepts in this article:  First, the idea of a separate jetter and vacuum system and second, the trailer-mounted combination machine.
I have spent the last 10 years of my career in this industry visiting with cities and contractors all over the United States, helping them to find the right equipment for the job. One thing I have found is that many times a city will be on a sewer maintenance program, cleaning lines on a regular basis. This is a great way to reduce the problems in the collections system. When I ask them how dirty the lines are when they go out on a daily basis, they tell me: "Not too bad, we keep on top of the trouble areas so they never get out of control." Then I ask, "That's great, how often do you use your vacuum?"  Amazingly, I rarely hear that they are vacuuming more than 20 percent of the time. What this tells me is that the other 80 percent of the time they are paying for fuel and related expenses to haul their large vacuum system around town. As I explore and ask more questions, I find that they are using their vac more for jobs like hydro-excavating, catch basin cleaning and even leaf removal. All great uses for a vacuum — but let's face it, does it make economic sense to be pulling employees off of the jobs that the equipment was intended?
The answer here could be found in splitting the uses of this equipment. A separate jet truck could spend a day cleaning and never need a vacuum, and a separate trailer vac could spend all day working other projects like the ones mentioned above. Then if the jetter crew runs into a line that needs the attention of a vacuum, it can be married with the trailer vac for those jobs. The best part of this scenario is that you can get a top of the line jet truck and trailer vac for under $300,000. More work done and less money spent — now there is something that will appeal to a tax payer and a city council. There are other upsides to this concept, too.
A rear-mounted jetter with a new eco-friendly drive system will cost less in fuel and also make for a very quiet machine for the operator, potentially reducing worker's comp claims for hearing loss. This also decreases and may eliminate any noise complaints from residents. The length of a stand-alone jet truck is also significantly shorter, making it easier to access those hard to get at locations. When getting a separate jetter you can also expand the amount of water you carry on board. Jet trucks can be equipped with as much as 3,500 gals and still be significantly shorter than a combination jet/vac truck.
As for the trailer vac, you will experience benefits from better boom maneuverability, easier access to tight locations and the many configuration choices. If you find that your needs in hydro-excavation are growing and you are using your vacuum equipment more and more for that application, you can customize the trailer vac to that application. The variations in this product are vast. Sizes of trailer vacs go up to 6 yds with 3,000 cfm blowers. That can make for a very powerful machine. If the budget is really tight, there are options to go smaller and keep the performance high.
Save even more money and remove the chassis part of the equation all together. A trailer-mounted jetter can make use of trucks already in your fleet and can deliver a great deal of performance, as well. A typical trailer will feature a 40-gpm pump at up to 3,000 psi, with a 700-gal tank. This can give you an equivalent run time as a truck with 1,500 gals of water and an 80-gpm pump. In 6- to 12-in. lines, 40-gpm at 3,000 psi will deliver results as quick as a much bigger system. If you consider an option like this, you can have a top of the line trailer jet and vacuum trailer for around $200,000.
If you have to have the vac and the jetter in one combined unit for your typical applications but still need to save money, consider a trailer-mounted combination unit. A typical trailer-mounted jet/vac combination will cost well below $200,000 and offer you up to 3 yds of debris tank, 600 gals of water, and the performance of a 40-gpm, 2,000 psi pump with a 3,000 cfm blower. These units can be equipped with many of the same great features as their truck-mounted counterparts. Extendable booms, wireless remotes and hydraulic doors and dumping are all available in a trailer mounted jet/vac combo.
As you can see, there are several different "less expensive" types of equipment that will allow you to accomplish the same tasks as a $400,000 plus combination jet/vac truck. This is especially important now with slashed budgets and the need for all government decision makers to be better stewards of taxpayer's money. Instead of allowing ourselves to be limited by the economic instability of our times, we can focus on finding new ways to accomplish our missions for less money. Remember, just because we've always done it one way, doesn't mean there may not be a better way.
Brandon Shelton is a regional sales manager for Sewer Equipment of America.