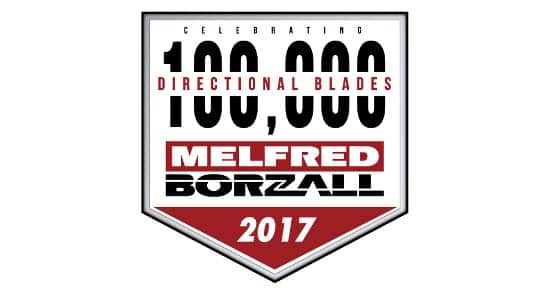 Melfred Borzall, one of the horizontal directional drilling (HDD) industry's pioneers and the biggest name in HDD tooling celebrated the manufacture of 100,000 directional blades in 2017.
The company celebrated in style at ICUEE 2017 in Louisville, Kentucky. The family-owned and operated company showcased the sparkling, powder coated 100,000th blade in its booth. Weighing in at a robust 35 lbs. and measuring 15-in. in length, the 100,000th blade is an UltraBit 3, one of the most popular tools in the Melfred Borzall lineup. Ideal for hard, compact soil and gravel, conical carbide cutters allow this blade to chew through tough ground with minimal complications. Specially-designed tapering minimizes drag that can compromise torque. The blade is built to last, with chunky carbide facing covering its entire length.

The blade was awarded to one lucky customer at a private dinner ceremony at the trade show. Invitees to the private dinner party were made privy to upcoming new product releases and a bit of the story behind Melfred Borzall's evolution in the HDD industry.
Melfred Borzall has an impressive foothold on the HDD market with its unmistakable red tooling and more than 71 years of experience in the industry. Dick Melsheimer, one of the founding fathers of HDD itself, works alongside his two sons, Eric and Peter, to innovate and remain relevant to the modern-day HDD driller. Melfred Borzall is staying true to its roots by focusing solely on tooling and firmly believes this allows laser-like focus on higher quality, longer lasting red tools.

To learn more about the history of Melfred Borzall, visit melfredborzall.com/our-story or watch the video below about the making of 100,000 blades.