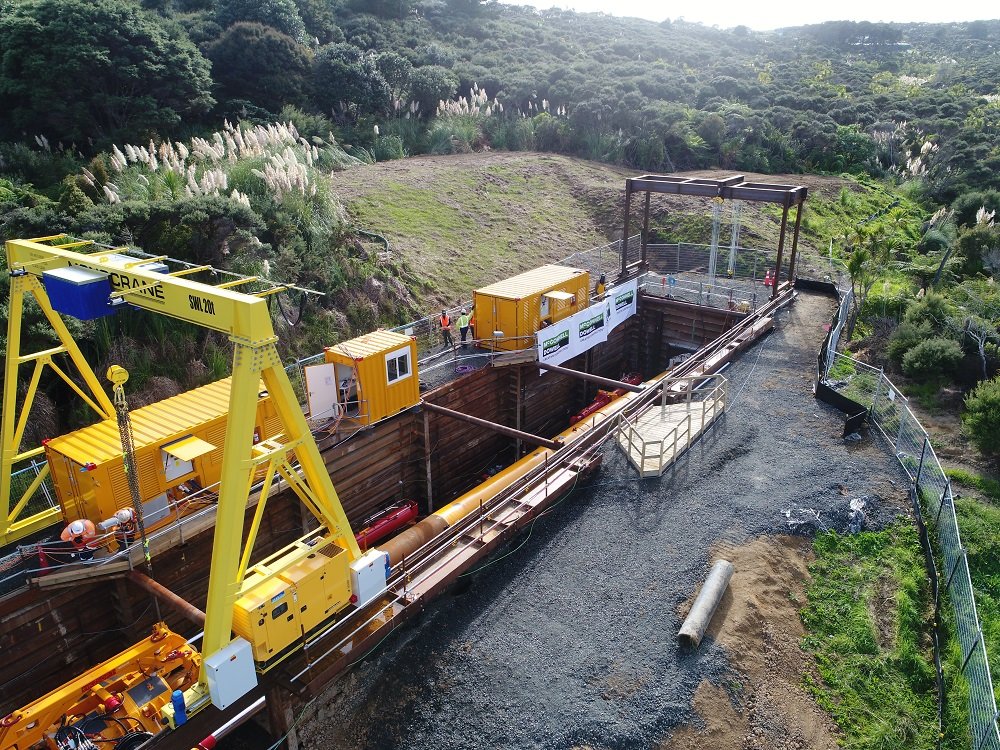 Just under four months after launch, the site crew in New Zealand's Whangaparaoa can report the successful breakthrough of the microtunneling machine "Blanche." But that's not all. With a length of 1,930 m, contractor McConnell Dowell's project team sets a new distance world record with the Direct Pipe method.

Watercare's Army Bay Wastewater Treatment Plant project, on the Hibiscus Coast near Auckland, will create an additional 2.9-km long sea outfall. The pipeline connects the pump station with the discharge point, about 1 km off the coast. This will significantly increase the capacity of the wastewater treatment plant.

Special attention is being paid to environmental protection so as not to impact the surrounding recreational and fishing area. Under no circumstances must the local flora and fauna be affected. This fauna includes kiwis, New Zealand's national symbol, which are under special protection. The Direct Pipe method is ideal for such sensitive installations. Herrenknecht's patented pipeline installation method uses an AVN microtunneling machine.
RELATED: 2018 Project of the Year New Installation Winner: Valley Crossing Project Gulf of Mexico Direct Pipe Method Shore Approach

The pipe string is attached to it and simultaneously inserted during the tunneling process. This is done with the help of the Pipe Thruster. With pushing power of up to 750 tonnes, it thrusts the pipeline under the ground. Pipeline installation takes place in one step. In this way, the environmental impact is kept low and the landscape remains intact.
The highlight of the project is the distance world record cracked at 1,496.48 m – the longest pipe string ever laid with Direct Pipe so far. All in all, the drive went smoothly.

"The world-record breaking Direct Pipe drive at Watecare's Army Bay project would not have been possible without the expert assistance and timely backup that Herrenknecht provided contractor McConnell Dowell right from tender preparation, through establishment of the plant to successful breakthrough," says Brent Whiting, McConnell Dowell project manager.
RELATED: First Direct Pipe Project Completed in Poland

The AVN machine was lifted out of the sea at the outfall and towed ashore. The new discharge at Watercare's Army Bay Wastewater Treatment Plant is scheduled to go into operation early next year and will equip the facility for future population growth.

SOURCE – Herrenknecht