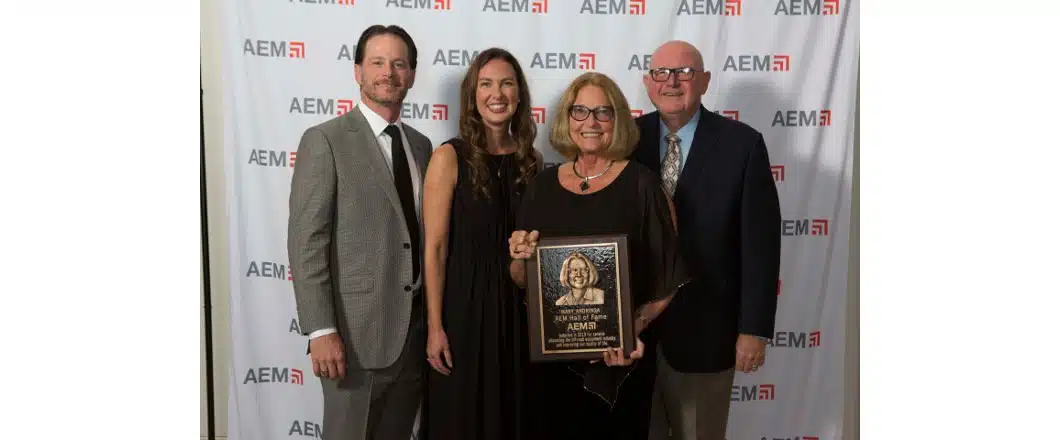 Mary Andringa, chair of the board at Vermeer Corp., joins her father and brother as a member of the Association of Equipment Manufacturers (AEM) Hall of Fame. She was honored Nov. 20 at during the AEM Annual Conference in Florida.

"We are very pleased to announce and congratulate Mary Andringa as the latest inductee into the AEM Hall of Fame," said Dennis Slater, AEM president. "She joins an elite group of respected industry leaders whose work and accomplishments inspire the next generation to continue our industry's legacy of progress enhancing productivity, sustainability, and economic and social prosperity."
The AEM Hall of Fame recognizes individuals whose innovations, ideas and leadership have advanced the off-road equipment manufacturing industry and contributed to its success in the past and into tomorrow.

RELATED: Women in Trenchless: Mary Andringa Puts Family Values to Work
About Mary Andringa
Mary Andringa's commitment and relentless leadership positioned Vermeer Corp. as a strong voice in the industry – for lean manufacturing, for the education of our future workforce, for the legislation of policies having a positive impact on manufacturing, for family-owned and -operated companies and for taking care of the people of Vermeer.

Her own investment into lean manufacturing led to organization-wide change for continuous improvement and growth. An example of success: Vermeer's 12-in. in-feed brush chipper went from raw steel to finished product in two days, rather than 52.
Starting her career teaching elementary students, Andringa has a passion for education and continuous learning that's continued throughout her time at Vermeer. This passion prompted Vermeer to expand its education initiatives at all levels – early childhood education with an onsite early learning center, college-age students with an international leadership program and onsite facility at Iowa State University, as well as adults with preparation for retirement.

She actively communicates and collaborates with legislators on issues that matter to advanced manufacturing, exporters and small- to medium- sized businesses. She served on the President's Export Council and Ex-Im Bank Advisory Committee, chaired the National Association of Manufacturers (NAM) and was co-chair of the Iowa Governor's STEM Advisory Council.
Continuing the legacy her father left, Andringa helped define and promote the Vermeer 4P Philosophy (principles, people, product and profit), with people being our most important asset. Vermeer initiatives include an onsite primary care clinic and pharmacy for employees and their families.

RELATED: Vermeer: Building on a Legacy

She is now chair of the board at Vermeer after filling roles as CEO, co-CEO, president and COO. Her level of passion and commitment have made her a voice of change and innovation not only at Vermeer, but in the industry and community.

Andringa joins her father, Gary Vermeer, founder, chairman emeritus Vermeer Manufacturing who was inducted into the AEM Hall of Fame in 1996 and her brother Robert "Bob" Vermeer, chair emeritus Vermeer Corp., who was inducted in 2016.

Nominations for the AEM Hall of Fame are open year-round. An independent panel of industry experts evaluates potential inductees, and honorees are publicly announced and celebrated during special ceremonies at AEM's annual conference of member companies.

RELATED: AEM, SkillsUSA Team Up to Tackle Manufacturing's Skills Gap

More than 60 industry leaders have been inducted into the AEM Hall of Fame since its inception in 1993. Learn more and read their stories at aem.org/HallofFame.

SOURCE – AEM