Charleston Water System (CWS) is no stranger to using trenchless technology to address its underground infrastructure needs. Recently, CWS employed it once again to structurally rehabilitate 15,600 lf of reinforced concrete and ductile iron sewer and more than 20 manholes.
Charleston Water System is a public water and wastewater utility located in Charleston, S.C., providing retail water service to more than 110,000 accounts and wastewater service to 50,000-plus accounts serving areas of Charleston, Berkeley, and Dorchester counties. CWS also provides water service on a wholesale basis to the Department of Defense, as well as six neighboring municipalities and utilities.
The project began as a condition assessment of CWS' Church Creek Interceptor; its initial data showed that a closer and more comprehensive evaluation was needed. The large gravity sewer collection line was installed 30 years ago and consists of 24-, 30- and 42-in. reinforced concrete pipe (RCP). Additionally, there are several key crossings — roadways, waterways and railroad tracks — of the line that are made up of ductile iron pipe.
"It's an effort we started over three years ago. Our first efforts were to go in and determine the worst parts of the line and label those as a Priority 1 need," said Chad Hendrix, project engineer with Charleston Water System. "That represents about half of that length in various sections. In the future, we will go back and rehab the parts we didn't reline in this phase."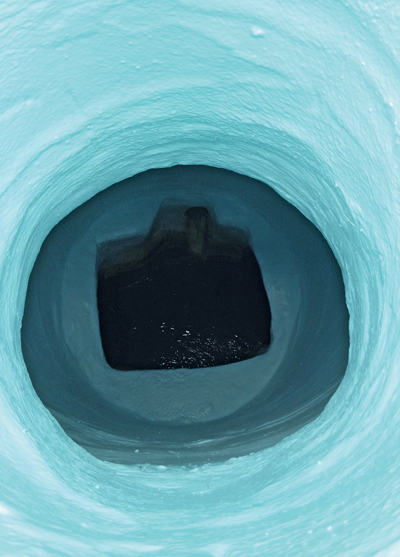 The initial phase Hendrix referenced was an abbreviated cleaning and inspection (CCTV) process that was handled by consulting engineering firm URS to determine the condition of the existing interceptor and access and identify the extent of the deterioration. From this evaluation, it was determined which sections of the line were deemed in need of immediate rehabilitation and which could wait a little longer.
"Because it was a reinforced concrete pipe, the sewer gasses and their resulting corrosion were really eating [the line] up," Hendrix said. "And because of where it was located, it was a tough pipe to access and maintain."
The primary issues with the line were hydrogen sulfide and the resulting corrosion, attributing to the severe deterioration to sections of the line. Some portions of the line run through areas with restricted access, which had resulted in minimal maintenance over the years. Due to the lack of routine maintenance, sediment had built up in some areas, reducing the hydraulic capacity.
"There was no doubt the corrosion was creating I/I issues," Hendrix said.
Design Plan
The area where the interceptor is located had many challenges CWS had to deal with, including a wetlands area, as well as being behind neighborhoods and through a city park. "It's been a challenging project," said Russell Huggins, P.E., director of engineering for Charleston Water System. "Access was one of the areas we had to solve as part of the design. How were we going to get a contractor back there? How would we clean it?"
The design plan called for temporary, all-weather roads to be constructed in order to mobilize the equipment needed for the project, such as the vacuum excavation trucks and CCTV equipment. Tideland Utilities Inc. was subcontracted to construct the access roads. There was a large section of the line that was cut off by a waterway and a rail line so easements needed to be obtained prior to the access road construction. Temporary bypass pumping also needed to be constructed, as the line had to remain open while the rehab work was being done.
Cured-in-place pipe (CIPP) was the trenchless method selected to rehab the interceptor, installing the liner using water inversion in various sections. Layne Inliner was awarded the contract for the CIPP work in June 2013. Layne's first job function was to perform heavy cleaning of the entire line including a 24-in. interceptor not included in the original survey and again evaluate via CCTV. Through this final CCTV effort (with the added heavy cleaning) several sections of 24-in. omitted from the original limited survey were determined to be a greater priority for lining than those originally identified. The scope of work consisted of the CIPP installation of approximately 8, 500 lf of lines, ranging in diameters of 24, 30 and 42 in. In addition, approximately 22 manholes along the CIPP sections were included for rehabilitation.
Dun-Right Services Inc. was contracted to perform the manhole rehabilitation, which involved heavy, high-pressure cleaning, having the manhole walls built back to their original dimensions and a new coat of Raven 405 being applied.
"The main problem with the manholes was corrosion. Several of the manholes, especially where the forcemains would come in, were in pretty bad shape," Hendrix said. "They had been lined in the past but we went in and sandblasted them and built them back to their original specifications using a cementitious coating. Dun-Right Services came in and relined them using the Raven product."
He noted that the Raven product will likely be brought back to handle the manhole portion of the second phase of the Church Creek project at a later date.
The project is due for completion at the beginning of August. Layne has completed CIPP efforts on all 36-in. lines and some of the 42-in. sections, leaving several sections of both 24- and 42-in diameters left to line.
One of the keys to the success of the project has been the communication between CWS and its affected residents, letting them know every step that was being taken before it occurred. "We have made extensive efforts in talking with residents in the area and the neighborhood associations to make sure everybody is aware before we get there, to let them know where we are going to be, why we are there and how long we will be there," said Huggins. "So far, we have had a positive response."
Huggins noted that Charleston Water System has used trenchless methods as often as it can, depending on the situation, including horizontal directional drilling, microtunneling and CIPP. "We are always looking for opportunities" to use trenchless when it is warranted, he said.
Sharon M. Bueno is managing editor for
Trenchless Technology
.