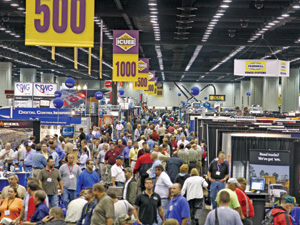 The International Construction and Utility Equipment Exposition (ICUEE), organized by the Association of Equipment Manufacturers (AEM), returns for the 2009 year.  
"The Demo Expo," as it has been nicknamed, will be hosted on Tuesday, Oct. 6 through Thursday, Oct. 8, in Louisville, Ky., at the Kentucky Fair & Exposition Center — a tradition since 1987. The biennial show began as a small field demonstration in 1964 and blossomed into a formal expo by 1966. ICUEE has been growing ever since, with 2009 projected to be the biggest yet — breaking records set during the previous show in 2007.
ICUEE prides itself in being the top exposition for demonstrations of construction and utility equipment.  With its hands-on nature, attendees can operate equipment for themselves and learn about the newest products and innovations in the industry. More than 115 education sessions, including field trips and an Horizontal Directional Drilling (HDD) Workshop, supplement the wide spectrum of machinery available to test. According to show director Melissa Magestro, 100 percent more education has been added to this year's show.   
More than 1 million net sq ft have been reserved for the 950-plus exhibitors and 25,000-plus attendees to achieve the best possible experience. To make this even more attainable, ICUEE has provided a "MyShow" section on its Web site, where attendees can sign in and design their own schedule by searching for a certain product, exhibitor or session they want to see or attend and compile each event into a custom list. Everyone can also see online all of the new products being presented with a description, picture, and company and booth number so that those of interest can easily be located.
New to ICUEE this year is the co-location of the National Rural Water Association's (NRWA) H20 X-PO.  Like already existing co-locations, IUV Tech 09 and the IP Safety Conference & Expo, it is held in conjunction with ICUEE. This show focuses on presenting the latest water and wastewater utility equipment and products to the industry's professionals. With around 150 exhibitors for H20 X-PO alone, the dual shows promote a broader networking and learning experience.
To learn more about ICUEE, visit www.icuee.com, call toll-free at (800) 867-6060, or e-mail info@icuee.com.
Some of the trenchless products that can be seen at ICUEE 2009 are featured below.

Leanne Butkovic is an editorial assistant for Trenchless Technology.
Exhibit Hours
Oct. 6    8:30 a.m. to 5 p.m.
Oct. 7    8:30 a.m. to 5 p.m.
Oct. 8    8:30 a.m. to 3 p.m.
Akkerman Inc.
Since 1973, Akkerman Inc. has manufactured distinctive microtunneling, pipe jacking, tunneling, guided boring and earth pressure balance equipment. We attribute Akkerman Inc.'s reputation for superior reliability and responsive service to our team of experienced engineers, field technicians and our extensive parts department. We're bringing it all to you at ICUEE 2009. Please visit our outdoor display #K103, featuring 6,500 sq ft of live demonstrations and real life displays of all our equipment lines.
Allied Construction Products
Allied's all-new generation of Hole-Hog piercing tools provide the least expensive method for underground pipe or service replacement in construction and installation work. The Hole-Hog, which makes a clean, compacted tunnel, travels underneath obstructions, such as roads, driveways, parking lots, runways and foundations without disturbing existing surfaces and landscaping. When impassible conditions are encountered, the Hole-Hog is easily reversed with the patented quarter-turn reverse mechanism (except the 4000). Depending on the model selected, the Hole-Hog makes holes from 1 7/8 in. to 6 in. in diameter.l. Visit Allied Construction Products at Booth K175.
American Augers
American Augers — an industry leader in auger boring manufacturing — introduces the 84/96-1800 NG, the biggest and most powerful auger boring machine available on the market today. The 84/96-1800 NG allows for an increased ability to pull auger, steering rods and push product and improves the visibility to the master pusher. It has a low centerline and wide stance for machine stability, hydraulically assisted clutch with a power assisted actuator that is easy and comfortable to operate, ergonomic operating controls that allow for feathering of the rotation and slow turn of the shaft for easy auger installation. The 84/96-1800 NG includes an updated gauge system that includes engine tachometer, engine warning light and hydraulic thrust pressure reading. Visit American Augers at Booth K125.
Blue Demon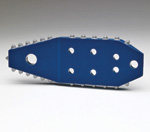 Blue Demon's new Extreme Taper Conical is good in hard soils, soft rock and some medium rock formations. It is designed for better penetration. Bolt Patterns are available for Vermeer, Ditch Witch and other major manufacturers. Call us at (800) 282-6769 or see us on the Web at www.bluedemon.com.
CETCO Drilling Products
PROSHOT is an easy mixing, water soluble, high-strength polymer for horizontal drilling applications. PROSHOT may be used in a wide variety of soil conditions. It can be a stand-alone drilling fluid additive or used in combination with HYDRAUL-EZ or SUPER GEL-X. PROSHOT eliminates clay and shale swelling, bit balling and sticking problems. This super high-quality polymer drilling fluid additive creates extreme lubricity, greatly reduces torque and increases penetration rates. Call your CETCO regional sales manager or your CETCO Drilling Products distributor for other innovative ideas and drilling fluid products at (800) 527-9948. See us in Booth 1534.
Digital Control Inc.
Digital Control Inc.'s (DCI) DigiTrak F2 locating system is the ultimate ball-in-the-box locator, advancing the HDD industry with a more intuitive and easier-to-use system than anything else on the market. The F2 system consists of a handheld receiver, remote display, battery charger and rechargeable lithium-ion batteries. With a single-button user interface and graphically driven menu, the F2's active display enables DCI's exclusive look-ahead capability in a view similar to the DigiTrak Eclipse locating system. The F2 includes the advanced features of Off-Trak locating and Target Steering to easily and accurately navigate the drill even when obstacles prevent tracking over the drill head. For more information, go to www.digitrak.com. Visit DCI at Booth #613.
ISCO Industries
ISCO Industries is the nation's largest distributor of HDPE pipe and quality McElroy Mfg. fusion equipment, both for sale or rental. ISCO stocks McElroy's full line of equipment from manual models to the largest wheeled and tracked units (up to 65 in.) to fusion accessories and special tooling. Check out all of the McElroy productivity equipment in ISCO's booth, #L102. Besides selling and renting equipment, ISCO is also a McElroy Authorized Service Center. ISCO offers the industry's most complete Fusion Manual with step-by-step instructions, and tips for successful fusion. For complete fusion product information call (800) 345-ISCO or go online at www.isco-pipe.com.
Lewis Mfg.

New Kevlar Bundling & Pulling Grips are the latest addition to Lewis Mfg's grip lines. These grips are made of plastic-coated Kevlar fibers that are lightweight, yet much stronger than steel wires. Kevlar grips are traditionally used in overhead or underground operations when pulling or suspending electric or fiber-optic cable. These Ouchless Lewis Grips do not have the metallic fraying as traditional grips do, thereby eliminating the chance of being injured from metallic strands that have been abraded. The Kevlar strand can be used in essentially all grip configurations. Kevlar grips can also be used when a metallic grip is unsuitable, such as when pulling into an energized environment. For more information, call (888) 398-4719 or visit www.lewismfg.com. Lewis Mfg.'s booth is #440.
McElroy
The new DynaMc Hand Pump (HP) machines provide the power and pressure required to butt fuse pipes size 2-in. IPS to 12-in. DIPS (63-mm to 340-mm) with a hand-powered pump. The double-action hand-pump paired with high-velocity cylinders create faster carriage speeds for critical opens and closes during the fusion process. The DynaMc 28, 250 and 412 HPs — each available in two- and four-jaw configurations — comes with an easy-lift cradle that can be removed to make the machine smaller for tight working environments. For more information on McElroy and the new DynaMc HP Series, visit www.mcelroy.com or visit McElroy at Booth N1015.
McLaughlin
McLaughlin has introduced the V500 low-profile vacuum excavator designed to provide easier access to confined spaces. The unit features a shorter wheelbase and a height of only 84 in., allowing contractors to access areas normally not reachable for larger units. With a 575-cfm blower, 3,000 psi of water flow and a 3-in. diameter suction hose, the V500 low profile provides efficient spoil removal. The unit also includes the industry-exclusive three-stage filtration system that allows for both wet and dry vacuum excavation and a quiet pack power system for reduced engine noise levels. Visit McLaughlin at Booth K120.
Melfred Borzall
Hard, rocky soil is no match for Melfred Borzall's new addition to their line of Eagle Claw bits. The all new 4-1/4-in. Eagle Claw is ready to rip through the toughest jobs — sandstone, shale and cobbles. The 4-1/4-in. Eagle Claw features carbide buttons to minimize wear, quick-change carbide cutter teeth and a balanced cutting design to improve stability and decrease vibration. Aggressive tri-tooth carbide cutting action gets through the hardest conditions, and the conical shaped steering face allows for quick reactions to directional pushes. Melfred Borzall's Directional Depot has more than 60 years of horizontal drilling experience behind this innovative tool design. Visit Melfred Borzall at Booth #619.
Nesco Sales and Rentals
Nesco Sales and Rentals is proud to exhibit Brindle reel trailers at ICUEE 2009. Come and see a wide selection of trailers from single reel, self loading BRT90s to multi-reel RL4RTs. Also see our reel loaders and scrapper at the OK Champion booth. Finally, check out our Hogg985, a powered reel dolly, at the Hogg and Davis booth. For more information or an invitation, please call us at (800) 252-0043. See us in Booth N1049.
Railhead Underground Products
Go "green" with the Direct Bore I from Railhead, now available in 9- and 13-in. sizes. Designed for the big drills — 140,000 to 1 million lbs and larger — this new rock bit is made for the bores that do not require a mud motor. The large steering shoe allows the user to correct faster than what was available until now. Made from heat-treated steel alloys, the bits feature replaceable teeth, as well as replaceable carbide in the water ports. The pin back allows for fast make-up of the tooling. The Direct Bore I is available exclusively from authorized Railhead dealers. Call (817) 594-6663 for the dealer nearest you.
The Robbins Co.
The Robbins Motorized Small Boring Unit (SBU-M) is ideal for long crossings, gravity sewers and wherever lines and grades are critical. The SBU-M, available in diameters from 48 to 78 in., allows for installations of up to 500 ft or more. The manned-entry machine utilizes an ABM or pipe jacking unit and generates torque with an internal drive motor. A cutterhead-mounted with disc cutters excavates rock from 4,000 to more than 25,000 psi UCS. Continuous steering is achieved using hydraulic articulation cylinders. The SBU-M has been proven on projects around the world. Stop by the Robbins Booth # L425 at ICUEEor isit www.TheRobbinsCompany.com or call (440) 248-3303.
Roose Mfg. Co.
Roose Mfg. Co. of Pella, Iowa, announces its newest single reel carrier — the Model RR-114. It has a load capacity of 14,000 lbs by 120 in. in diameter and reel width of 62 in. It encased 12-volt hydraulic power allows for effortless lifting. Six models are now available to carry single reels. Two- and three-reel capacity models are also available. Roose Mfg. Co. is in its 39th year of manufacturing quality products. For more information, call (800) 552-3276 or visit www.roosemfg.com or at its booth at the show at  #1542.
Slabach Enterprises
Two new standard colors add to the choice Slabach Enterprises' Wheeler Reeler reel trailers customers can choose from. The "I" series will handle up to a 10-ft diameter spool of Innerduct, as well as cable, wire and many other reel types. The I-60 will handle 6,000 lbs and the I-85 will handle 8,500 lbs for a diversity of needs. A variety of smaller sizes, payload capacities and accessories are available to choose from. Visit Slabach at Booth K109.
Super Products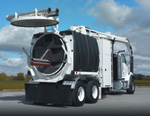 Super Products' Mud Dog hydro excavators feature the safety, reliability and versatility essential to meet demanding excavation applications and harsh environments. The Mud Dog is the only hydro excavator on the market with an ejector plate unloading system to scrape the body clean, making it the fastest and easiest unit to unload. Super Products designs and manufactures equipment that is easy to operate, easy to clean and easy to maintain. In addition to its Mud Dog hydro excavators, the company offers its SuperSucker industrial vacuum loaders and Camel sewer and catch basin cleaners. For more information on Super Products' line of Mud Dog Hydro Excavators, call visit www.muddogeasy.com or call (800) 837-9711.
TT Technologies
The Grundomat pneumatic piercing tool from TT Technologies is one of the most economical, versatile and environmentally friendly tools in the industry. It uses less air than other pneumatic piercing tools to provide a powerful, accurate bore. High-air efficiency means smaller, more fuel-efficient air compressors can be used to power the tool. Also, the trenchless nature of the tool is less disruptive and costly than open-cut methods. The tool has minimal impact on the environment as it utilizes natural biodegradable lubricants. The Grundomat serves as a complement and, often, an economical alternative to larger, more expensive directional drilling equipment. The Grundomat is ideal for water, sewer, landscape and irrigation, gas, electrical and plumbing contractors and FTTH installations. Visit TT Technologies at Booth K110.
Underground Tools Inc.
Underground Tools Inc. (UTI) offers one of the industry's most comprehensive selections of premium quality directional drilling pipe for nearly every make and model of drill rig on the market. It is readily available and fits drill rig sizes from mini to maxi. UTI drill pipe is made from top quality materials with careful consideration given to precise threaded connections. In addition, HIWS drill stems Versions I and II are available through manufacturer-direct distribution at UTI. Visit us at Booth #224.
Vacuworx
The only thing "mini" about this lifting powerhouse is its compact size. With a 6,600-lb lifting capacity, the MC3 Mini Lifter handles your material handling needs with ease. The MC3 is a groundbreaking lifter, designed with the underground utility contractor in mind. Since the lifter is self-contained, your options for the host machine are endless. The lifter attaches to normal size host machines, as well as mini excavators, skid steer loaders and others, thanks to its light dry weight of 900 lbs. For more information on our new MC3 lifter or to locate a Vacuworx authorized dealer, call us at (866) 664-3450 or visit our Web site at www.vacuworx.com or at its ICUEE booth at #1601.
Vermeer Corp.
The AXIS guided boring system from Vermeer Corp. features a laser guided system that provides pinpoint accuracy in the trenchless installation of 10- to 14-in. pipe for on-grade water and sewer projects. This pit-launched system has the ability to install up to 350 ft of steel, clay, and HDPE or PVC pipe in one bore. Spoil is removed from the cutter head via a vacuum excavation system, keeping the pit clean. The AXIS system can either push or pull the product pipe into place allowing flexibility in the type of product installed. Visit Vermeer at Booths K225 and K332.