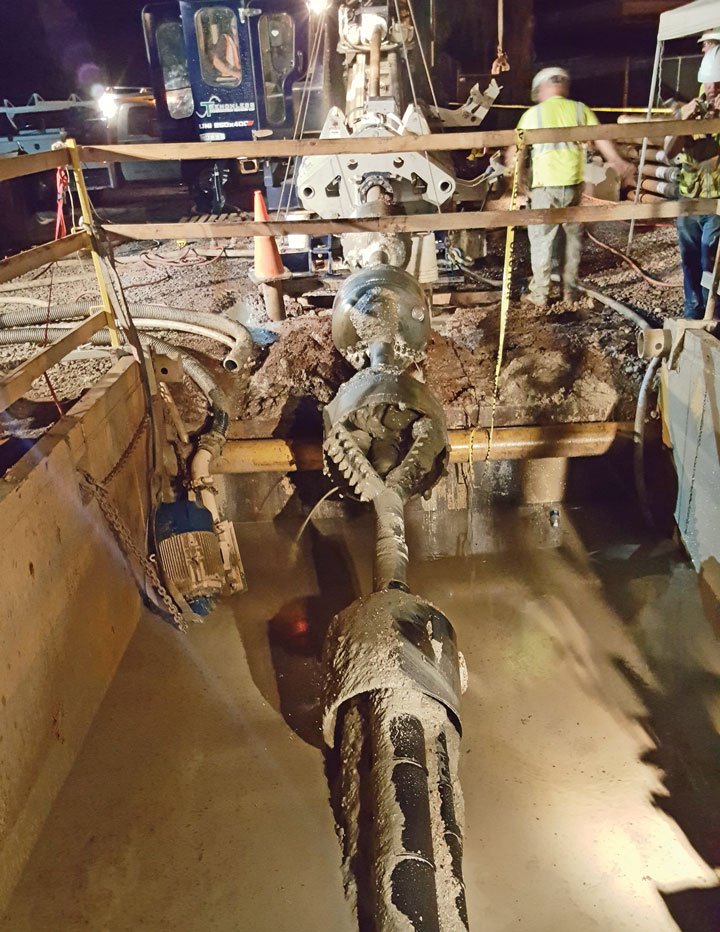 In June of 2016, Trenchless Construction Services LLC successfully completed a challenging HDD crossing under the Pearl Harbor Channel for Pacific Energy Solutions, LLC, a subsidiary of NextEra Energy Inc., headquartered in Juno Beach, Florida. The HDD channel crossing was a smaller but critical part of the construction required to fulfill a power purchase agreement between the U.S. Navy and NextEra Energy.

Environmental Chemical Corp. (ECC) provided the project construction management team, which was headed by Kevin McCaskill. The overall project required turnkey construction of an extensive solar panel array on the Waipio Peninsula and the conveyance infrastructure to the Grid on Joint Base Pearl Harbor Hickam (JBPHH).

RELATED: Lifeguarding Hawaiian Pipelines with CIPP
HDD Connection
The Pearl Harbor Channel Crossing portion of the project initially required an HDD installation of 2,000-plus lf of three each of 6-in. HDPE SDR 9 and one each of 2-in. HDPE SDR 9 Pipes from the Hospital Point Area on JBPHH to Waipio Peninsula. The proposed 6-in. and 2-in. HDPE pipes were to be used as casings for transmission and fiber-optic cables crossing under the Entrance Channel into Pearl Harbor.

The HDD contractor selection process began late February 2016. Due to the project's location in an extremely pristine and environmentally sensitive area of Hawaii, and the varying soil conditions anticipated, Trenchless Construction Services, LLC utilized a "team approach" to prepare the final design, work plan and final proposal for the project. During the final design, Trenchless Construction Services called on Luke Erickson of McMillen Jacobs & Associates for engineering assistance. Due to the length and depth of the proposed bore and the testing and acceptance criteria, Trenchless Construction Services opted to upsize the HDPE Pipe to 8-in. SDR 7 and 3-in. SDR 7.
In March 2016, Trenchless Construction Services was selected as the HDD contractor for the project. An aggressive guaranteed completion date of July 23, 2016, with work activities restricted to Monday through Friday from 7:30 a.m. to 5 p.m. required a rapid mobilization of materials and equipment from the main land to the Oahu, Hawaii, worksites.

Although Trenchless Construction Services had been in the HDD business since 1999, and had completed numerous challenging HDD installations, this project was one of its longest and its first in Hawaii.
PRE-Construction Phase
Immediately following a formal notice to proceed in early March, Trenchless Construction Services began formulating a team of key trenchless employees, material and equipment suppliers and sub-contractors to assist with the construction project.

RELATED: HDD Rig Shopping Catalog: What's Out there for Today's Drillers?

Based on the work plan, the first order of business was to acquire additional HDD equipment and staff training with the new equipment. After considering several options, Trenchless Construction Services purchased a new Universal HDD 110 X 120 directional drill. Universal HDD general manager Alex Veytsman was instrumental in providing the new 110 X 120 Directional Drill to meet the contractor's construction schedule. Universal HDD also provided operational training of trenchless employees and assisted with the initial on-jobsite set-up.

To better address the team's drill fluid requirements, Trenchless Construction also acquired a new MCT-550-3625 Drill Fluid Mixing and Cleaning System from Mud Technologies International.

Due to logistics, as well as Navy vessel traffic in and out of Pearl Harbor, including the 2016 RIMPAC event, and the accuracy required at the exit point, the optional use of a conventional walkover or wire grid locating of the pilot hole construction was eliminated. Trenchless Construction Services requested and SlimDrill International operations manager Rollin Boyd provided a Gyro locating system with pilot hole tooling for the project.

Specially designed down hole reaming equipment was provided by Radius Professional HDD Tools sales manager Charlie Cox and Everett Engineering owner Dan Martin.

Drilling fluid material and mix designs were provided by Warren Lear, HDD tech service manager at M-I SWACO.

A number of specially designed items including the multiple conduit pulling head were designed and built in house by Trenchless Construction Services' Dave Bennett.

Getting to Work
Mobilization and Set-up at the drill entry point began April 24, 2016. Set-up on the JBPHH Site, within the Captains Housing Area, required the removal of existing facilities and construction of temporary security and noise abatement barriers. BMP Installation in accordance with the NPDES Permit and design documents, drill entry/containment pit, and equipment pads were constructed as we awaited barge arrival on the HDD equipment from the mainland.

Pilot hole construction with a Universal HDD 250 X 400 started on May 18, 2016. The 9 7/8-in. pilot hole was completed on May 25, 2016. Gyro down hole guidance was provided by Art Nieto of SlimDril International.

During the pilot hole construction, Trenchless Construction Services HDPE fusion technicians using company-owned Pit Bull 14 and 412 McElroy Fusion Machines and Cool Pac Equipment, fused, stationed, and tested the 8,000-plus lf of HDPE Pipe along a cleared corridor on the Waipio Peninsula side of the project.

Staged reaming and swabbing of the bore hole to 30-in. I.D. using the Universal 250 X 400 at the entrance point on JBPHH and the Universal 110 X 120 at the exit point on Waipio Peninsula was completed on June 20, 2016. The 8-in. and 3-in. HDPE SDR 7 casings, fused and stationed adjacent to the drill exit pit on Waipio Peninsula, were pulled into place by the Universal 250 X 400 stationed at the entry pit on JBPHH on June 22, 2016.

RELATED: HDD Used to Replace Failing Electric Underwater Power Cable on San Juan Island

During pilot hole, reaming, and pipe pull back operations, drilling returns were recycled and excess drilling fluids were contained and tested by Engineering/Remediation Resources Group Inc. (ERRG) prior to disposal at approved disposal sites.

Completion
The success of the "Pearl Harbor Channel HDD Crossing Project" can be attributed to a total team effort by a highly qualified and dedicated group of Trenchless Construction Services employees. Mark Handy, superintendent/110 X 120 drill operator, Tony Arriaga, 250 X 400 drill operator, Shane Whited, crane operator, Russell Swett and Brett Blacker, recycle operators/fusion technician, Rob Green, fusion technician/mixer operator, and Dave Bennett, mechanic, worked closely with an outstanding support group including, ECC Staff, and local equipment suppliers/sub-Contractors.

John Gustafson is managing member of Trenchless Construction LLC.