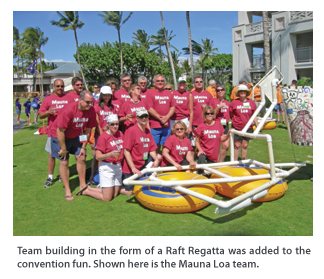 This year's annual PCCA Convention had a special venue — the Fairmont Hotel on the Kohala coast on the Big Island of Hawaii. The meeting was held Feb. 27-March 4. There were more than 230 conventioneers in attendance.
Steve Rizzo, a highly regarded professional speaker, kicked off the convention with interesting stories of his life of working with such famous entertainers as Jerry Seinfeld, Rodney Dangerfield and Eddie Murphy. This was followed by the welcome reception hosted by PCCA president Ron Tagliapietra, Michels Corp., and his wife Bonnie. From that point on, the convention was a blend of exciting social activities and strong business meetings.
Randy Swisher of the American Wind Energy Association gave an overview of the wind energy market. The alternative energy market has had tremendous growth in recent years and the future is very promising.
Swisher indicated that in 2008 wind power had a 50 percent growth in wind power generating capacity. Texas and Iowa are the main wind power states in the United States. He noted the United States is the largest in the world from the standpoint of wind power. The Department of Energy projects that by 2030, wind should provide up to 30 percent of U.S. electricity; now it is at 2 percent. He noted items of concern for the market — financing for new projects and insufficient transmission infrastructure.
The Annual Construction Industry Roundtable was again moderated by FMI. Chris Daum, Mark Bridgers and Andy Patron were on hand from FMI.
Team building was added as a fun event to the convention. The first-ever PCCA Raft Regatta was held. Team members were provided with all of the pieces and parts to build rafts and then race them on the open ocean. This was an exciting event and everyone had a great time.


The Annual Auction brought in more than $120,000. This was followed the next day by the well done Annual Associates Exhibit & Breakfast.
The convention wound down with a marvelous luau on the grounds of the Fairmont Hotel. Tagliapietra thanked everyone for attending as he continued his term as president. PCCA will hold its mid-year meeting July 22-25 at the Marriott Resort in Vail, Colorado. Walt Disney World's Contemporary Resort in Florida will be the location of PCCA's 2010 Convention to be held March 17-22.