When Dale Michels created Michels Pipeline  Construction in 1959, he wanted it to embody one simple philosophy: Work hard and take care of your customers and you'll be successful.
Now 50 years later, not much has changed — except the size and scope of the operation that Dale modestly started is exponentially larger than when he hung out his shingle. The business philosophy and values that Dale instilled in his company, his employees and his sons who now run the company still resonates.
The patriarch of the Michels' family and construction company passed away more than 11 years ago, but his presence remains strong within the walls of the Michels Corporation campus, as well as the jobsites.
"Our culture and values have not changed; however, we are 10 times larger than we were when my father was alive," says Michels Corp. president Pat Michels. "Sometimes family-owned businesses do not survive a generational transfer and in some cases they not only survive, they flourish."
And flourish it has. The company that started with just four employees, now employs more than 4,000 across North America, has 8,000-plus pieces of equipment (including 65 Michels-manufactured drilling rigs) and specializes in 14 different construction services from horizontal directional drilling (HDD) to cured-in-place pipe (CIPP) to fiber-optics to tunneling to wind energy.
In addition to its home base in Brownsville, Wis., Michels Corp. also has 14 office and yard locations in North America, including Houston, Phoenix, Chicago, Seattle, Green Bay, Wis., and Nisku, Alberta, Canada. No longer just doing work in this continent's borders, Michels' projects reach as far as Cuba, Guam, Israel and Trinidad.
Now known around the world as Michels, the utility construction company has carved out an impeccable reputation for itself with its customers, as well as its competitors by continuing to listen to Dale and his wise business teachings: Work hard and take care of your customers.
Getting Started
A few years removed from serving in the U.S. Army, Dale Michels was working as a welder as the 1950s were coming to an end. But he didn't want to work for someone else anymore and decided the life plan for him was to own and operate his own company. Dale approached his brother-in-law Ted Koenigs and Ted's business partner, Jim Michel (no relation to the Michels' family) with his idea: The three would become partners in a construction company, with Dale being the majority owner. At the time, the two had a burgeoning building supply company in the Milwaukee area.
The three men decided to create Michels Pipeline Construction. The year was 1959. A year later, the company became incorporated and in 2001, the name became Michels Corp.
A Brownsville native, Dale founded his company in his hometown, which is about 40 miles north of Milwaukee. Where the Michels' home office sits today was the former Brownsville Canning Factory. Dale used to work at the factory and when he was ready to open the doors to his own company, he decided to purchase the factory (which was going out of business) and the land around it and build there.
Compared to today's operation, the new company was a simple business. "Dad was the foreman, we had four employees and my Mom drove the dump truck," says Pat Michels. "She can still drive one today and still work the clutch. She's proud of it."
Today, it is Dale's wife Ruth serving as the company's CEO — a position she assumed following her husband's passing in 1998. Three of their four sons are firmly entrenched in the company, taking hold of the reins after their father's passing. But at one time or another, all four have been a part of the company, starting when they were in their teens. Dale's oldest son Pat is company president, overseeing the pipeline and utility divisions. Tim Michels (who recently ran for the U.S. Senate) is vice president and handles the company's road construction and pits and quarries operations and Kevin Michels, vice president of fleet and equipment, is responsible for all the materials and equipment purchasing, as well as the maintenance and transport of the company's 8,000 pieces of equipment. Steven Michels worked for the company at one time but now works in the family's outside business.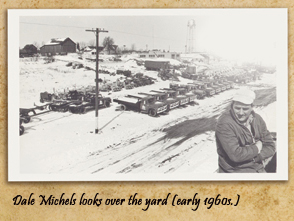 In 1959, the company started off as a gas pipeline construction company, providing construction and installation of natural gas distribution systems to Wisconsin utilities. But Dale and his brain trust were always looking for ways to expand its offerings and find and conquer the next challenge. During the early 1960s, the company entered the telephone cable construction field, providing outside plant construction and installation of buried telephone cable systems. In the 1970s, the company's sewer, water and tunnel division was added.
Twenty years after completing its first telephone cable project, Michels became one of the first contractors involved in the construction of fiber-optic cable systems in the United States. And in 1988, Michels mastered what was then a technologically advanced new method of underground utility construction — horizontal directional drilling — that would become a foundation of the company. As HDD has grown as a market, so has it at Michels, becoming one of the company's strongest business segments, as well as a complementary force to its other utility construction divisions.
"There was a demand in the industry many decades ago to be more environmentally friendly when it came to river crossings and [crossing] other types of wetlands," Pat Michels explains. "Through a lot of ingenuity and innovation, Michels stepped up and met that demand. We're one of the pioneers in HDD today."
Michels currently has more than 65 drilling rigs in its fleet, with some having up to 1.2 million lbs of thrust and pullback — all manufactured at its Brownsville facility. "In the late 1980s, the industry was still rather young. Michels was looking for bigger, more capable equipment that we couldn't readily find in the marketplace," says longtime Michels executive vice president Brian Johnson. "That, along with Dale Michels' self-taught engineering genius and love of equipment, put the Brownsville shops to work to build a better drill rig."
To learn more about Michels Corp.'s history,
click here to watch a 50th anniversary video that was produced by the company.
In the early 2000s, Michels entered another trenchless segment, this time on the rehabilitation side. "In 2003, Michels saw the cured-in-place pipe market beginning to grow," Johnson notes. "The troubled outlook for the U.S. infrastructure and failing water and wastewater lines, along with Michels' knowledge of the municipal wastewater and water systems through our sewer, water and tunneling business, propelled Michels to get into CIPP."
In 2004, Michels took a giant leap into the competitive CIPP market by acquiring a well-established CIPP business, Gelco Services, Salem, Ore. The company was then re-branded as Michels Pipe Services and has become a stalwart in the CIPP industry, taking on challenging and complicated projects and winning industry accolades in the process.
As the company took on more projects and entered more construction arenas, having just one base of operations became impossible to meet customer needs. Today, Michels has 14 office and yard locations throughout North America. The Canadian office opened in 1997 and its strength there continues to grow.
While Michels has acquired a number of businesses over the years, Pat Michels notes that 80 percent of the company's growth is organic, with just 20 percent coming from acquisitions, such as the Gelco Services purchase. "When we do make an acquisition, it's usually a smaller mom and pop operation that complements what we do but needs additional capital and human resources to help it grow to the next level… That said, we have made highly strategic acquisitions along the way that have further complemented our business and contributed to our growth."
Generational Changes
Dale Michels was not the type of person to run his company from behind his desk. He liked to get out to the jobsites and get his hands dirty, all the while interacting with the crewmembers and project owners — in other words, being accountable. Those actions have lived on through his sons.
"My father was all about hard work and was always focused on taking care of the customer," Pat Michels says. "It's really a powerful combination. If you have a dedicated workforce and always keep your focus on satisfying the customer, any business should be successful. And Michels has certainly been successful over the years because of that philosophy started by my father 50 years ago."
Pat Michels says none of that has changed in the years since the Michels' brothers have headed up the company. Dale's sons firmly believe in that philosophy. "It did seem like he was always out in the field, and my brothers and I try to get out there as much as we can," he says. "There's just no substitute for the owner of a company showing up on a jobsite and showing the [crewmembers] that we appreciate their hard work and showing an interest in what they are doing.
"Also, you'll have your finger on the pulse of what is happening in the field. You can't run a company from behind a desk."
Sounds like something that Dale Michels would have said. But is that a surprise given that the Michels' brothers learned at the feet of their father about business? All four sons started working for the company in their teens, starting out with what Pat Michels describes as "menial tasks." But starting out that way, learning from the bottom up, was a subtle way of teaching them how to do things the proper way.
"Looking back, we now know that our Dad was just trying to instill a work ethic in us," Pat Michels says. "And I guess it worked. And now we are doing the same for the next generation. My brothers and I are very conscious of the efforts our Mom and Dad made for the inevitable generational transfer and we're trying to apply the same amount of energy and effort to making a second generational transfer and some day have a third generation run Michels."
Dale and Ruth Michels have 10 grandchildren, with the oldest being Pat's son Phillip, who's a senior in college but already paying his dues in the yard. Phillip will be working on a pipeline spread this summer.
Though a family business through and through, with a number of the Michels clan working in various capacities, the company is successful because of its long-tenured employees and other key company officials, such as Brian Johnson, who has been with Michels for more than 25 years, and senior vice president Bob Westphal, who oversees the pipeline and directional drilling operations and is described by Pat Michels as "an industry stalwart."
"We have very low turnover, with many employees having worked here 30 to 40 years," Pat Michels says. "We've even had cases in which we have third generations working for us — grandpa, dad and son."
So what's next for the utility construction giant? Not a company to just rest on what it does well, Michels Corp. continues to look for other challenging avenues to grow.
"We always look for challenging opportunities," Pat Michels says. "The more challenging the job, the more difficult the scope of work, the more satisfying it is to accomplish it successfully. I think it also demonstrates the type of company we are to our customers in the market. We are always looking for what the next wave of utility construction will bring, whether it's a new discipline or innovation using existing technologies or if it's new demands to be more compliant with the environment."
As the company continues to diversify and impact the utility construction market that Dale Michels loved so much, Pat Michels wishes his Dad could have experienced the tremendous growth just one time. "He'd be so excited. We wish he could come back for just one day and see all the growth that's happened and how Michels continues to diversify and perhaps more importantly, how we have maintained the culture that he established 50 years ago: Work hard and take care of your customers."
Sharon M. Bueno is managing editor of Trenchless Technology.
Ruth Michels Receives DCA's Highest Honor
In February, Ruth Michels became the first woman to receive an Honorary Membership to the Distribution Contractors Association (DCA). The award is based on the member's outstanding contributions to the association, their communities and the utility construction industry for decades. Ruth joined Dale in receiving the award as being the only husband and wife team to have ever received such an honor.