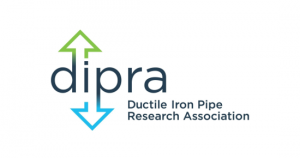 The Ductile Iron Pipe Research Association (DIPRA) selected Patrick Hogan as its new president as part of a management succession plan, given the coming retirement of Jon R. Runge, who had been president of DIPRA since 2013.

Hogan, who was announced as president March 6, brings national expertise in governmental affairs to DIPRA, an industry group whose members champion the safe delivery of water through reliable infrastructure systems. Hogan has served in senior positions for political campaigns in Wisconsin as well as for a national trade association in Washington, D.C.

RELATED: Iron Clad: The AMERICAN Cast Iron Pipe Co. Story
"With water infrastructure issues at the forefront of the national conversation, I am honored to represent DIPRA," said Hogan. "This is a critical time to bring together the right parties to address solutions at federal, state and local levels, and to assure the American public that their water supplies are safe, sustainable and affordable for generations to come."

Shortly after Hogan came on board two significant actions occurred relating to the nation's infrastructure. On March 9, the American Society of Civil Engineers' (ASCE) released its 2017 Infrastructure Report Card that gave a D grade to water and a D+ grade to wastewater infrastructure in the country.
"That our nation's water infrastructure is in need of repairs after non-stop service for generations is expected. With more than one million miles of water pipelines running underneath our communities, repairing and replacing them must be a priority," Hogan said. "The country's focus on improving our infrastructure is a great step toward creating the pipeline systems that we deserve, but to do so, we also need to make the investment into the right kinds of pipes that are durable and resilient. This is necessary so that our communities select pipeline materials that deliver financial value not only now, but for generations to come. In short, we need pipelines that are going to withstand the ravages of time and the various soils and weather conditions around the country, and not crack under stress."

Hogan continued, "to raise the grade with ASCE and maintain the confidence of citizens, our state and local decision-makers must choose well. They do so with the aid of technical and professional evaluations that narrow the field of all possible pipeline materials to those that truly perform well, and will last for lifetimes to come."
RELATED: Choosing the Right Pipe

And on March 16, President Donald Trump released his proposed budget. DIPRA applauded the commitment to water infrastructure development in the proposed budget.

"We're pleased that during a time of significant belt-tightening across the federal government, President Trump continues to recognize the importance of updating our nation's water infrastructure," said Patrick Hogan, president of DIPRA. "We look forward to supporting the President's vision of investing a trillion dollars in our nation's infrastructure. By investing wisely now, we can ensure that water infrastructure reliably serves communities for generations to come."

The budget proposal includes a 2 percent increase in the Clean Water and Drinking Water State Revolving funds to $2.3 billion. It also shows $20 million for the Water Infrastructure Finance and Innovation Act program which matches current-level spending.

"We believe this shows how seriously President Trump and EPA Administrator Scott Pruitt are taking the urgent need to strengthen America's aging drinking water system. DIPRA applauds this effort and will continue to work with all stakeholders throughout the process: From Budget through Appropriations," Hogan said.

Founded in 1915, DIPRA has served as a resource and technical advisor to the water industry. DIPRA also provides representation on standards-making committees as well as technical research on a variety of applications-based topics.