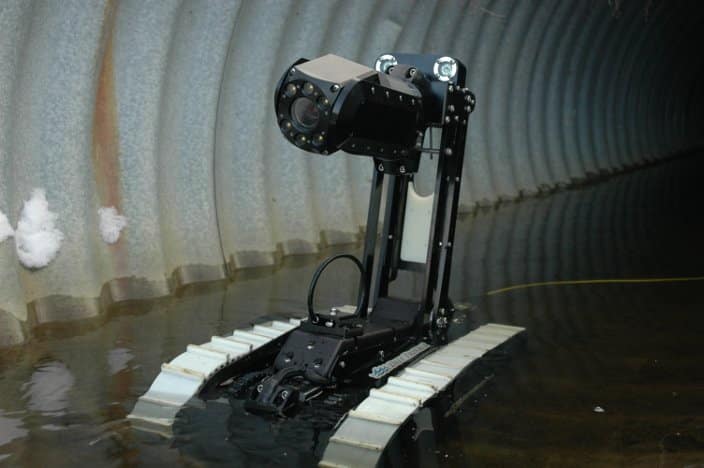 While in Washington D.C. for the 2017 NASTT No-Dig Show, Ontario, Canada-based Deep Trekker Inc. received the Abbott Most Innovative Product Award for Rehabilitation.
The North American Society for Trenchless Technology (NASTT) honored
Deep Trekker for its DT-340
, the world's only truly portable, battery-operated crawler system. Everything needed for trenchless inspection comes in two carrying cases, with no need for dedicated trucks or complicated systems. The system deploys in under 5 minutes. Deep Trekker introduced its enhanced product line of trenchless technologies at NASTT's No-Dig Show. This event provided the ideal platform to display the DT-340 Pipe Crawler and its robust features to industry professionals.
"We were absolutely thrilled to be chosen for this award from the wide range  of new technologies," said Sam Macdonald, president of Deep Trekker Inc. "We aim to make the most robust, yet easy to use and deploy systems for infrastructure inspection, and the DT-340  Pipe Crawler was developed keeping these principles in mind."
NASTT annually recognizes two companies with state-of-the-art products in either new installation or rehabilitation for their achievements in advancing the trenchless industry. In October 2010, NASTT re-named these prestigious awards in honor of the late Joseph L. Abbott, Jr. Joe was an active member of the society since its inception in 1990.
Performing regular inspections of buried infrastructure have proven to be the most challenging factor for many municipalities due to the lack of accessibility and affordability.  One small town spent $400,000 to hire a CCTV service company to conduct inspections of it storm water pipes. Realizing after that they could conduct their own inspections using trenchless technology; this lead them to purchase a Deep Trekker DT- 340 Pipe Crawler at a fraction of the cost. It is this type of time and cost savings that lead to the DT-340 being the recipient of the Abbott award.