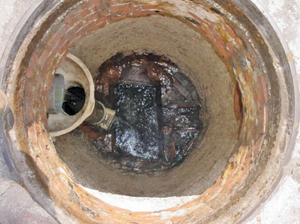 Whether made of brick or concrete, manholes do not last forever — at least not in leak-free condition. Various soil and other atmospheric conditions will deteriorate the manhole over time and once a leak springs, it only gets worse. But wait, the average Joe might think: What's wrong with water getting into the sewer line? Isn't it designed to move water? If only it were that simple.
To those in the industry it goes without saying — extra water and increased flow result in increased pressure through the lines and higher traffic into treatment plants. And that's where the water turns into financial losses. Imagine the unwanted inflow that can occur in a leaky manhole in particularly wet ground conditions — say near an ocean. Now consider all of that extra water pushing into and through the water treatment plant. How much money is literally washing into the sewers each year?
Home to 1 million Floridians, Pinellas County is the state's most densely-populated county. As is often the case in densely-populated areas, maintaining and rehabilitating the existing infrastructure is of increased importance given the limited access available to construct new sewer lines and other underground utility structures.
In the interest of upkeep and more significantly of cost-savings, the county has recently embarked on an initiative to rehabilitate its sewer systems using the SpectraShield system installed by Jacksonville, Fla.–based CCI Spectrum Inc. Now three years into the program, the reduction in inflow-and-infiltration (I/I) is increasingly evident. More importantly, the county is saving money.
The Situation
Faced with an aging water infrastructure with significant inflow-and-infiltration problems, the Pinellas County Utilities Department opted to rehab the existing manholes.
"We had a number of old manholes, especially along the beach," explains Pinellas County utilities engineering director Mike Sweet. On average, the manholes were between 40 and 50 years old and had not been maintained very well in that time. "We wanted to extend the life of the manholes in the easiest, fastest and most cost-effective way possible."   
Familiar with CCI Spectrum's lengthy history of rehab work throughout the state, the department looked to CCI and SpectraShield to solve its I/I troubles.
SpectraShield was introduced by Jamie Hume in 1993 through CCI Spectrum, the company he formed in 1989 to develop solutions for aging wastewater systems. Spectra Shield is a multi-layered stress skin panel system made up of a modified polymer moisture barrier, a polyurethane/polymeric blend foam surfacer and a modified polymer final barrier coat.
Designed to improve structural integrity and prevent further corrosion, Spectra Shield has an applied thickness of 3/4 in. and it is suitable for manholes, wetwells, large diameter pipe and other water infrastructure systems. Installers are certified and licensed and have installed Spectra Shield in thousands of structures throughout the United States.
The Project
Pinellas County undertook a pilot program of 50 manholes that had been part of a poorly-maintained beach utility. In several instances, the leaks were bad enough that water gushed in from all sides.
"After we completed the pilot program, the results encouraged us to continue with a additional 500 manholes and we've continued from there," Sweet says.
"We've done, literally, hundreds of manholes for them," says Bill Goodman, Florida marketing representative for CCI Spectrum. "It's gone really well."
The first step of applying SpectraShield is to inspect the structure and prepare the existing surfaces by removing soils and eroded materials. This is typically done with water blasting, which leaves behind a workable surface to which SpectraShield can be applied.
The next step is the application of the moisture barrier. The moisture barrier is a modified silicone polyurea that serves as the inside layer or base coat of the multi-layer spectra shield system.
Next, the surfacing coat is applied, which is comprised of a closed cell polyurethane. The surfacer fills voids and eroded areas for a renewed interior surface like that of a new pipe.
The final coat is the corrosion barrier, which is another silicone-modified polyurea. Once in place, the three layers act in concert to keep outside water out and prevent inside water from corroding the pipe.
The Results
"We've sealed the system up so that we've seen significant reduction in I/I during peak flow times," says Sweet.
Even though the county hasn't seen a particularly wet season since the program began, Sweet is confident that the results will hold. "If during a typical wet season we had three times capacity coming through the system, now we've got two times capacity," he says.
A reduction in inflow means an overall reduction in flow to the treatment facilities, which is a significant cost-savings in itself. Not only that, but opting to rehab rather than replace the manholes has meant substantial savings per manhole, with the estimated replacement cost being three to four times that of the $1,600 average cost to rehab each manhole. Multiply those cost reductions by the 1,800 manholes completed thus far for Pinellas County and the savings are staggering.
Additionally, general maintenance and upkeep is easier on the manholes, further lengthening their life and bringing additional cost benefits. "CCI guarantees SpectraShield for 10 years," says Sweet. "But I've seen tests that indicate it could last 100 years. Even if it separates, it creates its own watertight liner."
Pinellas County has extended its program into other areas of its water infrastructure including pump stations, of which there are more than 300 in the county. "Salt water can deteriorate pumps in wetwells," Sweet says. "Heat and chlorides wreak havoc on materials and gases cause mortar breakdown. By sealing these structures we're able to reduce further leaks and prevent mineral and gas attacks on our infrastructure."
Given the environmental challenges present in a coastal county with high summertime temperatures, such preventative measures pay dividends far into the future. "We've found a way to extend the life of our water infrastructure at a reasonable cost," Sweet says.
Greg Thompson is assistant editor of Trenchless Technology.
Manhole Maintenance

Current estimates indicate that there are some 20 million manholes in the United States, half of which have outlasted their design-life. Many utilities have begun addressing the increasingly pressing need to rehab or replace manholes.

Some parts of the manhole, such as the cover and casting are typically replaced rather than rehabbed. In fact, the entire manhole, chimney and all, can be replaced, though this is often costly and intrusive.

Rehab and renewal technologies are numerous. Pinellas County provides an example of one such technique, though depending on the state of a particular problem manhole, other options might be considered. These can include:

Grout (either cementious or polymer)

Poured-in-place Concrete Liners

Cured-in-place Liners

Pre-formed Manhole Units

Mechanical Inserts and Seals

Depending on the nature of the defect of the manhole, one option may be better suited than another. Combining field knowledge, inspection data and engineered design elements, an experienced manhole rehab consultant will be able to match the best method to the task at hand.