Fort Drum, in Jefferson County, New York, is home to the Army's 10th Mountain Division and, with a population of nearly 13,000 on 107,265 acres, is one of the most active military bases in the United States.

Like any municipality, Fort Drum deals with infrastructure challenges caused by population growth and aging facilities. They also face winter temperatures as low as −30 F. Additionally, Fort Drum roadways, culverts and bridges also contend with heavy military equipment — including tanks and Mine-Resistant Ambush Protected vehicles (MRAPs), which weigh between 14 and 18 tons.
In July 2016, a 56-ft wide, road-supporting culvert needed rehabilitation. The culvert consisted of four 142-in. by 91-in. corrugated metal pipe (CMP) arches laid parallel to one another with a separation of 3 ft between each barrel and only 2.5 ft of cover over the barrel crowns.

"This is a very good example of what is called a 'buried bridge.'" says Norman (Ed) Kampbell, P.E., president of Rehabilitation Resources Solutions. "With relatively little cover, the CMPA barrels really had to do a lot of structural work, so any rehabilitation technique had to be structural, which along with the arch shaped geometry of these culverts, ruled out cured in place pipe (CIPP) and most of the other common techniques."
This was especially true given the military loading classification that applied here — the existing buried bridge structure was classified for wheeled traffic of 41 tons for one direction traffic and 27 tons for two direction traffic; for tracked vehicles it was classified as 37 tons and 25 tons, respectively.

Two other complications applied: the buried bridge is set in the Black River, a recognized trout stream, and the military roadway needed to stay open. The structure couldn't simply be torn out and replaced, and river diversions had to be limited and carefully managed.
RELATED: Improving the Flow: Relining a Culvert Under Marine Boulevard

Kampbell has been working with various rehabilitation solutions for many years, developing rehabilitation approaches for challenging situations like this. "Here in Fort Drum, it really seemed like CentriPipe, a solution from AP/M Permaform, would be perfect," he says. "CentriPipe is a centrifugally cast concrete pipe (CCCP) technology that uses a spincaster to apply thin layers of concrete to pipe interiors. The spincaster is great because it casts a very dense and even pipe wall structure. And PL-8000 was just what this project needed — completely structural on its own, and it adheres well to most surfaces, including CMP."
The Right Concrete
PL-8000 is a fine aggregate composite concrete (FACC), distributed by AP/M Permaform and used with the CentriPipe process.

"The sophistication of this fine aggregate concrete should not be taken lightly by the design engineering community," says Kampbell. "And it's not just its strength characteristics, which dramatically exceed those of most concrete products. Low permeability, good freeze/thaw characteristics, the right thixotropy and thin shell toughness — AP/M Permaform has really got all these right with PL-8000, and that makes it a great choice for culverts and buried bridges like this one."

RELATED: Keeping the Trains Running: MuddRuckers Completes Challenging Trenchless Culvert Repairs for CN Rail

Great Contractor, Great Project
Arold Construction Company, based in Kingston New York, has been in the paving and construction business since 1973, when Gary Arold started the firm as a 17-year old. Arold Construction is also the region's licensed CentriPipe contractor.

"We've been doing CentriPipe projects since 2011, mostly municipal and some for NYSDOT," says vice president Ryan Arold. "I think we're at the point where it's recognized that this really is the right technology for many large-diameter culvert and sewer rehabilitations. We're excited to be taking on more and bigger projects."

"This was four big pipes, side by side," says Arold operating superintendent Nathan Baldwin. "And because the Black River is a trout stream, we had to be careful about dewatering and diverting the stream, and the project also called for a fish ladder to be installed."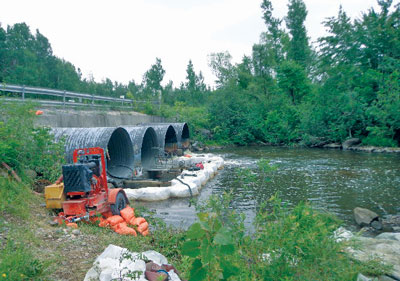 To handle diversion efficiently and safely, water was diverted with cofferdams and bypass pumping from two of the arched CMP culverts and these two were completely rehabilitated before the process was repeated with the final two. Diverted water was filtered through large bio bags before being reintroduced to the river. Dewatering also required some CMP repair before lining began. "The pipes weren't exactly failing, but some of the CMP was rotting out," Baldwin explains. "Water was coming up through the bottom of the pipes and leaking out of the headwall in places."

Arold filled voids with pea gravel and PL-8000, poured some new invert sections and patched some headwall areas.

RELATED: NYSDOT Embraces Centrifugally Cast Concrete Pipe for Trenchless Storm Sewer Rehab

Actual rehabilitation work began with some spraying and troweling of PL-8000 into the lower 'corners' of the arched CMP. "The spincaster works best with a smooth invert," Baldwin explains. "So we did some filling before inserting the spincaster — that helped us spray even concrete layers, and monitor thickness."

PL-8000 was mixed on site for pumping to the spincaster. On each culvert, a total of nine passes were needed, spraying thin layers to accumulate a total thickness of a little more than two inches over the corrugations. This thickness was enough to meet the military loading requirements. Consistent layer thickness was assured three ways; visual inspection during application, simple depth gauges prior to curing, and monitoring the amount of PL-8000 bags used per pass. The finished and cured pipes were smoothly finished, and look very much like brand new concrete arch pipes.

Total time on site, for rehabilitation of all four pipes plus the installation of a fish ladder (also made with PL-8000), was a month and a half. "It's true that a lot of features made this rehabilitation an unusual challenge," says Ryan Arold. "But really, this is just the kind of project CentriPipe is made for, and once we got down to the actual application of PL-8000 it all went quickly. We're very happy to have worked with Fort Drum on this, and also happy this outstanding rehabilitation technique is available in New York!"

Angus W. Stocking, L.S. is a licensed land surveyor who has been writing about infrastructure since 2002.