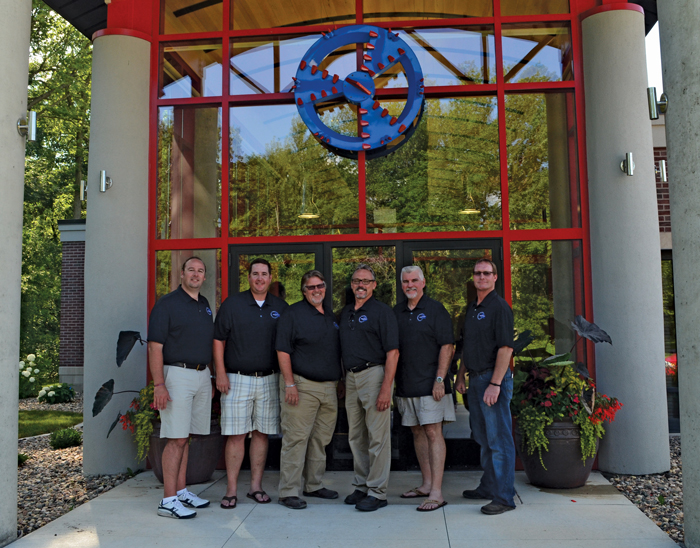 Akkerman Inc. marked its milestone 40th anniversary July 18 with a special open house at its Brownsdale, Minn., facility. The event included tours of the corporate office and facility, equipment demonstrations and a barbecue-style reception to end the day.
Akkerman Inc. is a manufacturer of pipe jacking, microtunneling, guided boring and earth pressure balance systems, having sold equipment in more than 17 different countries. The open house attracted customers and industry friends to the Akkerman facility from as far away as the United Kingdom. 
Company president Maynard Akkerman started the day off with a presentation of the company's history, which begins with his father's and mother's (Don and Marlys Akkerman) utility construction contracting business. The manufacturing side grew out of that business and Don Akkerman sold the company to Maynard and his wife Robin in 1987. The presentation detailed how much the industry and company has grown over the years and how it has expanded to include extensive sales around the globe. Today, a third generation of Akkermans is employed by the company.
Rob Tumbleson, vice president and director of sales and marketing, also gave a presentation of the company's product lineup, which includes its new 4815a Guided Boring Machine, which features a maximum jacking thrust of 265 tons with a fast advance speed rated at 100-tons. The rotational torque operates in two ranges, 0-10,500-ft-lbs and 0-26,000-ft-lbs maximum torque. Each torque range offers a two-speed option, 35-rpm and 50-rpm in the low torque setting; and 23 and 35 rpm in the high torque setting. The 4815A is designed to work out of 15-ft minimum round or square shaft. The dogging frame's7.5-in. cylinders have a 30-in. stroke and reposition on center every 24-in. to allow for up to 96-in. pipe segments. The 4815A performs with all existing GBM tooling currently used on 240, 308 and 4812 jacking frames.