Jim Mor started his contracting company Clear Flow Drains in 2004, concentrating on residential and commercial plumbing. In 2005, Boston Water & Sewer was looking for a solution to replace very old laterals without having to continually dig up roads and yards.

Clear Flow and Maxliner USA provided three cured-in-place pipe (CIPP) pilot programs, the City of Boston tested them and legalized CIPP. The first few years, Clear Flow completed six to 12 projects a year, then, in 2010, the City got serious about cleaning up the Harbor and The Charles River, known as "Dirty Water." The storm drain that leads to the harbor and 100-year old sewer line run parallel. At points where the 100-year old sewer lateral runs over the storm drain, with cement breaking away, there is a great amount of inflow and infiltration (I/I), and lining is saving the day. So, while you still probably don't want to swim in the river, it is now much cleaner. Clear Flow is now averaging four to 10 projects a month .
"The support we received at the start and still do from MaxLiner USA is a huge part of our success, including keeping all our paperwork up to date, required by the city of Boston. Their system and continual innovations in liners allows us to overcome any hurdle we face with old pipes and cold weather," said Mor. Clear Flow uses the Maxliner System and epoxies, MaxLiner Wovoliners and Max Green Cal Hose.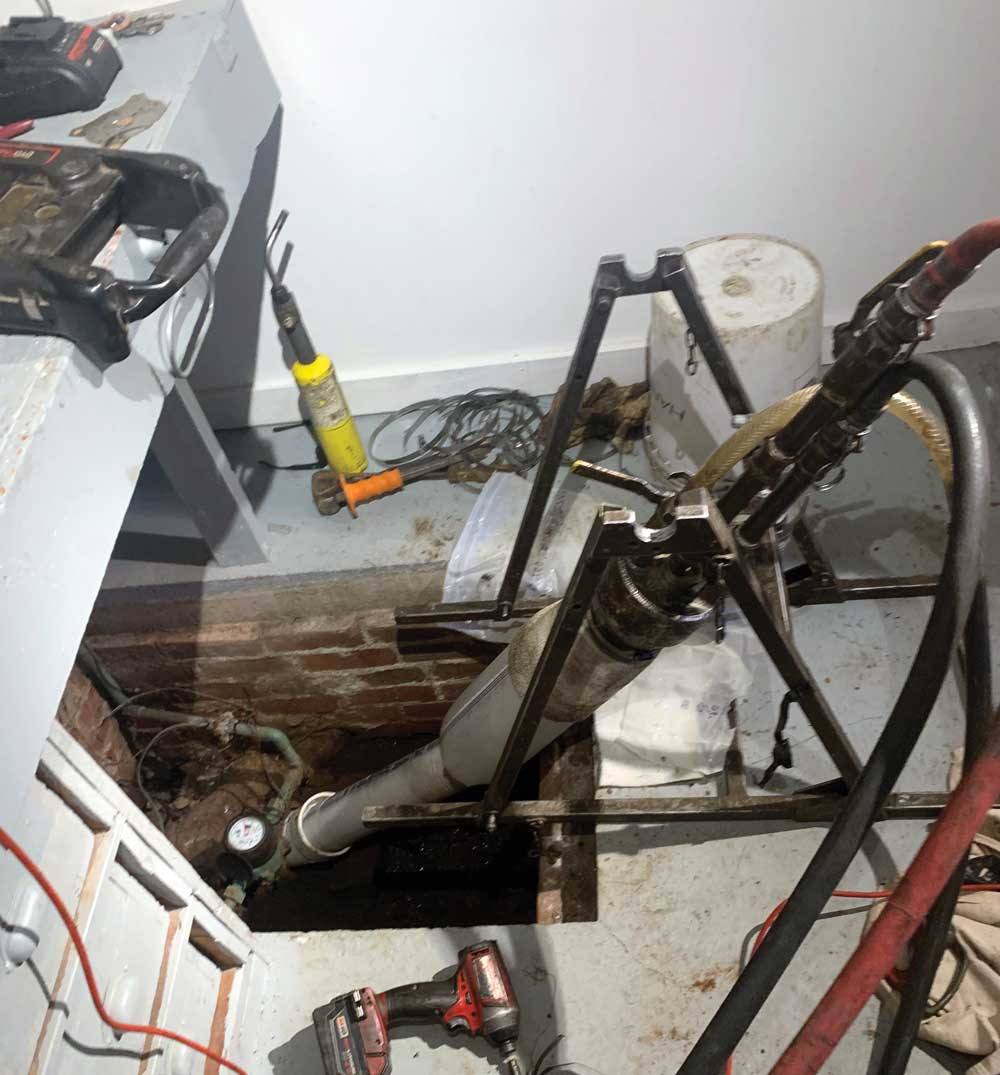 RELATED: MaxLiner Featured on "This Old House"

Jim's son, Brian Mor, worked with his father off and on in high school, then started working full time in 2005 when he graduated.  Brian Mor said, "I didn't like CIPP at all. It was long days and a long learning curve. Although, being featured on 'This Old House' in 2006 was pretty cool for a 19-year old. However, once we started doing CIPP regularly, we really got into a groove, and I began to really enjoy my work.  So much so, I started training clients for MaxLiner USA.  The best part about that was seeing all the different plumbing configurations, the way people worked in different parts of the country. I learned a lot from other plumbers, new ways of doing things, which I think is why we are so successful today."
"In 2006, we had no idea the success we would have today, by retooling the business to focus on CIPP services," said Jim Mor.

RELATED: CIPP Makes All the Difference in Michigan's 'Downriver' Region
A few of those successes:
The Harvard Social Club (for Harvard Alumni) is a 150-year old historic building with a rain leader and a flat roof with no pitch. Pipes in between the walls running down six stories were leaking, onto their bars, rooms and historical artifacts. Because of all the old moldings, it would have cost way too much to remodel. Clear Flow lined from the roof all the way down, through elbows, 90 and 45 degree turns. The project was completed in two weeks, as it required a lot of prep work. There was no damage at all to structure, and the club didn't have to shut down any of the rooms. They even kept the bar open the whole time. The club was featured in the movie "Departed."

Brigham and Women's Hospital was working with a construction company who had finished the operating rooms in one of the wings, but they were having issues with the sewer lines backing up under the morgue and three operating rooms. Instead of disturbing the operations, Clear Flow shot liners into two cast iron pipes, one 50 ft with a 6-in. diameter, the other 60 ft with a 8-in. diameter, through the hallway underneath the morgue and operating rooms, allowing the hospital to continue to work and generate revenue on average of $30,000 a day per room. 

Concord Prison, outside of Boston, had two rotted cast irons pipes, 3-in. and 4-in. in the kitchen, which needed to be operable every day. Clear Flow had two days to complete the project, with a lot of hurdles. They could not begin work until 6:30 p.m., after all the meals were served, and had to be done by 12:30 a.m. But, before they started, they had to clear security, which took 1 ½ hours, get to the lining job and set up, with only one day to clean. The next evening they completed four shots, each 10 to 15 ft with branches. However, they couldn't cure with hot water, as there was not enough time. So, they set up a line of air control boxes, for an ambient cure, getting the job done on time, without shutting down the kitchen for a single meal.

RELATED: Municipal Pipe Market Turns to New Materials to Address Aging Water Infrastructure

Lincoln Laboratory at MIT operates a suite of radars at the Lincoln Space Surveillance Complex in Westford, Massachusetts, to provide U.S. military and government agencies with important situational awareness of space. The Millstone Hill Radar is used for tracking space vehicles and space debris. This radar has been operating since 1957, when it successfully detected the Soviet Sputnik I satellite.

The radar is out in the middle of the woods. They discovered asbestos in the cast iron pipe running under the Millstone Hill Radar. It was scaled and breaking down. Clear Flow lined 60 ft that went directly under the building that houses the radar, out to the main.  They were not able to go inside the building and disturb the radar, so they dug outside and back shot into the building in six hours.