Trenchless Technology is here to help. This story is part of a special Sponsored Content section that presents you with answers to some questions you may when it comes to tackling your upcoming jobs, whether it's how to approach a point repair or what you should consider when purchasing various new equipment. The companies participating in this How to Guide share their expertise on how their products/services can get the job done faster, save money, keep crews safe or solve a customer challenge.
Hydroexcavation is the preferred method of digging a hole, or excavating, when working in sensitive areas because it successfully mitigates hazards like costly utility line strikes that are often associated with traditional mechanical excavation.
Extremely efficient hydroexcavation equipment has the reputation of a more precise, less-destructive, and safer method for daylighting (digging to expose and visually confirm the location of underground utilities), soil trenching (an excavation when the depth is greater than the width used typically to prepare for installation of in-ground cables, pipelines or utilities), digging piling holes (digging holes in a variety of sizes and depths to lay any type of piling), removing debris, and cold-weather digging (where pressurized and heated water is injected into frozen soil for year-round digging and excavation).
There are three key steps to take when you want to dig a hole with a hydrovac. The first two steps apply to every digging project.
STEP 1 – MARK
Mark your proposed excavation site with white paint
STEP 2 – CALL 811
Call 811 days before you plan to dig. Provide an address of where you plan to dig, including nearest cross street, the county where the site is located, as well as the type of project you're excavating for, and the exact area on the property where you're planning to dig and that was marked with white paint in STEP 1.
After contacting 811, expect to receive a ticket number and instructions for how much time the utilities have to respond to your request, as well as how to confirm that all utilities have responded before you can safely dig. State laws vary, but generally utility companies have a few days to respond to the request and mark buried lines with color coded paint and/or utility flags. After waiting for marks and confirming ALL utilities responded to your 811 ticket, you're ready to begin digging.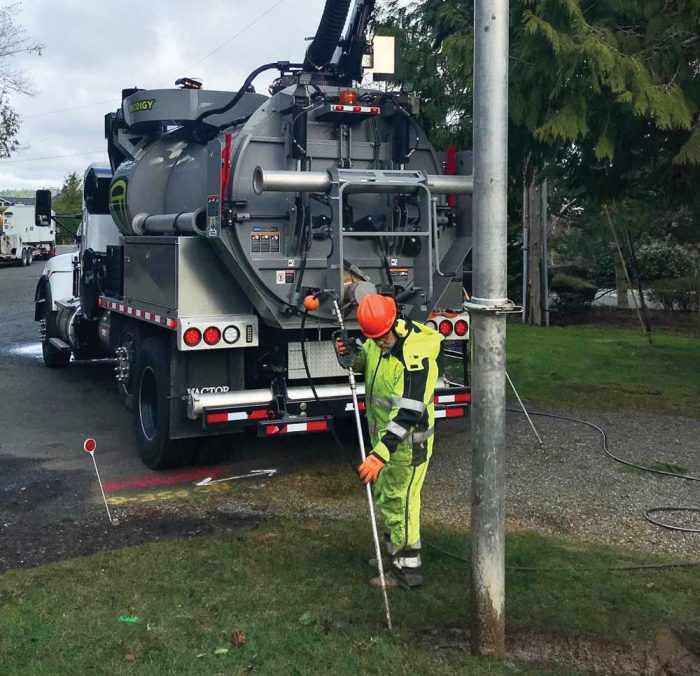 STEP 3 – DIG
Now it's time to dig that hole! The third and final step is using a hydrovac to dig around existing utilities, gas mains, and power lines; without risking damage to the infrastructure or injury to workers on the site.
Digging a hole with a hydrovac is achieved in four simple stages:
Slice the ground surface using the wand and straight tip with either forceful injections of air or water
Vacuum up the dry or wet excavated material that is displaced
Change the tip of the wand to a rotator and, again using air or water, break up and remove the soil. As the non-destructive excavation continues, the vacuum removal of the spoils will allow you to see and confirm the presence of a utility line, create a trench, or clear out debris, depending on the job
Successfully avoid damage to utilities or tree roots
Hydroexcavator manufacturers continue to offer options for even more precision and control in the digging process. Consider optional features offered by some manufacturers when determining how you can dig smart.
Debris bodies of varying volumes and payloads for mid-size to full-size excavations. A larger debris body is designed to maximize dig time and minimize dump time.
Compact hydroexcavator models for tight urban areas requiring maneuverability, may be available in non-CDL configurations, and offer quick setup allowing operators to flip a single switch to begin operations; greatly reducing set-up and tear-down time.
Vacuum systems of various types, with flow and pressure ratings to most effectively break up and remove soil types such as wet or rocky soil, compacted dirt and clay, or loosely compacted soil and sand. Based on different geographies and local soil conditions, there may be other useful options and accessories worth the investment.
Additionally, hydroexcavation best practices define pressure limits based on excavation depth. New technology is available to prevent water system pressure from exceeding site or industry requirements and effectively take human error out of the equation for increased safety.
All these features contribute to increased productivity on the job. The result is smarter digging that will be even more profitable for you.